Here at Indiewalls we're always on the lookout for what's next in the world of travel, hospitality, and design so we've rounded up the top 10 hotels opening in the US in 2016. Each of the following properties is bringing fresh travel experiences to visitors from around the world.
Renaissance New York Midtown Hotel
Opening this year in the Garment District, this Renaissance New York Midtown is slated to be the first digitally-enhanced hotel in New York. Featuring a "living wall" of projected digital displays that react to human movement and a virtual concierge that helps guests navigate the city's hotspots and attractions. The Renaissance Midtown is a dynamic, evolving experience characteristic of New York's continuing shift into the digital age. Noted New York firm Jeffrey Beers International designed this 348 room hotel.
Opening in May 2016, EAST Miami Hotel boasts a prime location above the Brickell Centre, connecting the hotel to a variety of retail shops as well as access to Miami's South Beach and Design District. The hotel will feature a rooftop bar and restaurant showcasing authentic Uruguayan cuisine as well as a variety of regularly scheduled events to entertain short- and long-term guests as well as city residents.
The Las Alcobas boutique hotel chain is opening a location in Napa Valley this summer. Known for its friendly, down-to-earth service and luxury comforts, Las Alcobas will be establishing their foothold in St. Helena, deep in California's wine country.
Known for its locations in Chicago and New York, The James Los Angeles is set to be the West Coast debut of The James hotel brand. Opening this year in West Hollywood at Sunset La Cienega, The James is expected to bring its usual experience of elegant modern style and local flavor to the Sunset Strip. With interiors crafted by Denihan Hospitality Group, this new build in California promises to impress from an art, design, and tech perspective.
The Cal Neva Resort & Casino on Lake Tahoe, previously owned by Frank Sinatra, is a resort straddling the California-Nevada border. Currently undergoing extensive renovations and slated to open late in 2016, its rich history of Prohibition smuggling and patronage by celebrities, mobsters, and Kennedys makes it a fascinating destination for travelers looking for more than just a ski resort.
The Trump International in Washington, DC will be the Trump version of an Old Post Office. This majestic landmark, built in 1899, is transforming into a vast luxury hotel. Slated to open this fall, the hotel will undergo extensive interior remodeling, but the outside architecture will remain the same. A 315-foot tall clock tower makes it the second tallest building in the nation's capital.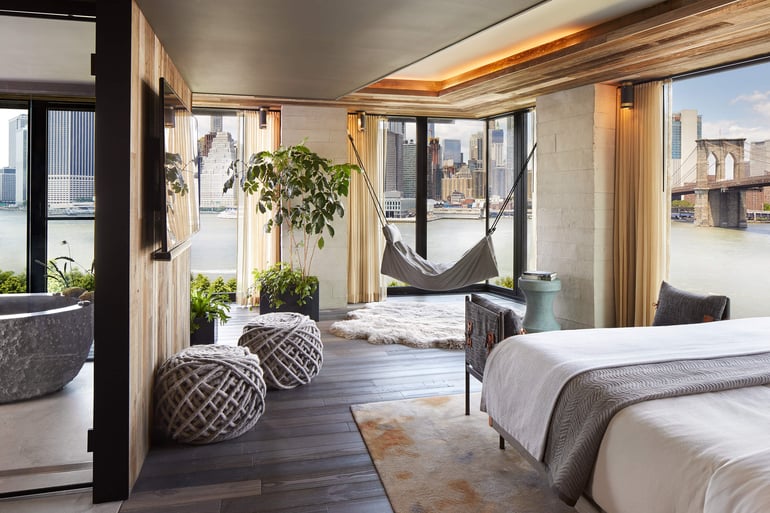 The 1 Hotel Brooklyn Bridge is a waterfront building that continues 1 Hotels' model of creating beautiful, chic hotels that are quite literally green. Opening in late 2016, the Brooklyn Bridge hotel will be covered in plants and wide open sun spaces in a tribute to nature, building a way to create a "seamless transition from outdoors to indoors".
The Kimpton Mason & Rook in Washington, DC is a stylish boutique hotel, perched right on the city's lively 14th St corridor and poised to open this spring. Echoing the subtle flair and elegant refinement of DC itself, the Mason & Rook promises a tasteful yet distinctive hotel experience.
Sister to the Riff Chelsea, the Riff Hotel Downtown is opening in New York City's Greenwich Village this month. Similar to its sibling, the Riff Downtown promises quirky wallpaper, exposed brick walls, vintage tap fixings and other small yet defining details that make this hotel a fun stay in the city.
The LondonHouse Chicago Hotel, opening this spring, is housed in the renovated London Guarantee Building, one of Chicago's earliest built high-risers. Bursting with history and situated right at the crux of Chicago's Magnificent and Cultural Miles, the LondonHouse is all set to offer a brilliant experience incorporating both past and future. Hospitality design powerhouse Simeone Deary Design Group handled the properties interiors.
We look forward to visiting these properties when they open and experiencing their unique design aesthetics firsthand.