Galleries and museums aren't the only spaces that have a monopoly on art. Around the world, hotels are increasingly looking to enrich guests' experiences with artwork. From commissioning specific pieces to collecting famed masterpieces, these hotels are looking to make their mark on redefining where and how people encounter art.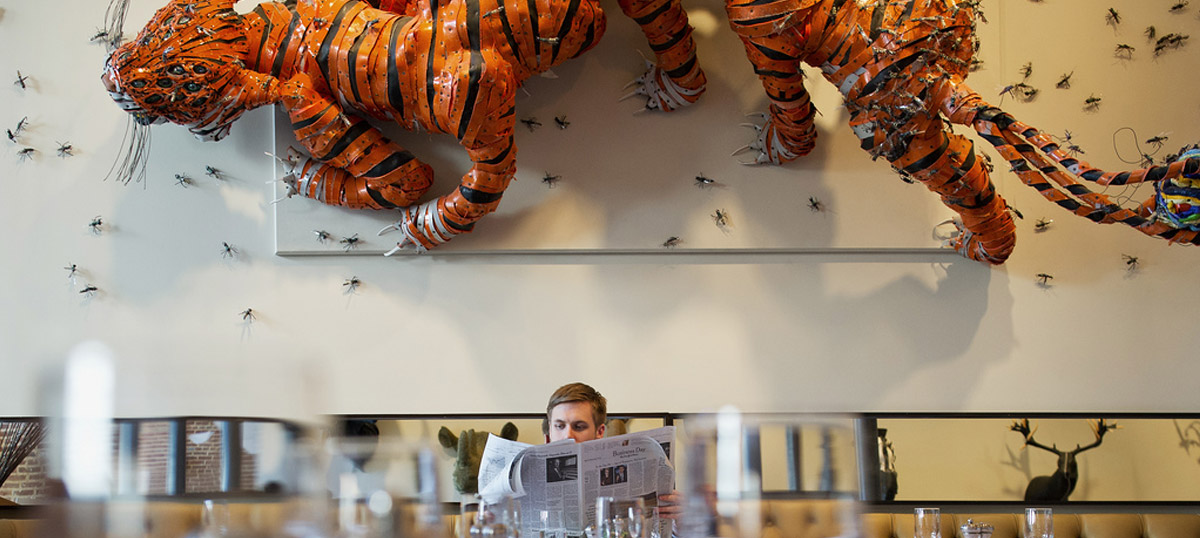 Johnston Foster's The Keeper, displayed in 21C Louisville, Kentucky.
Both an art museum and a boutique hotel chain, 21C Museum Hotels is the only North American museum dedicated wholly to collecting contemporary 21st century art. It features both permanent exhibits and special installations as well as site-specific commissions by award-winning artists such as Daan Roosegaarde and Camille Utterback.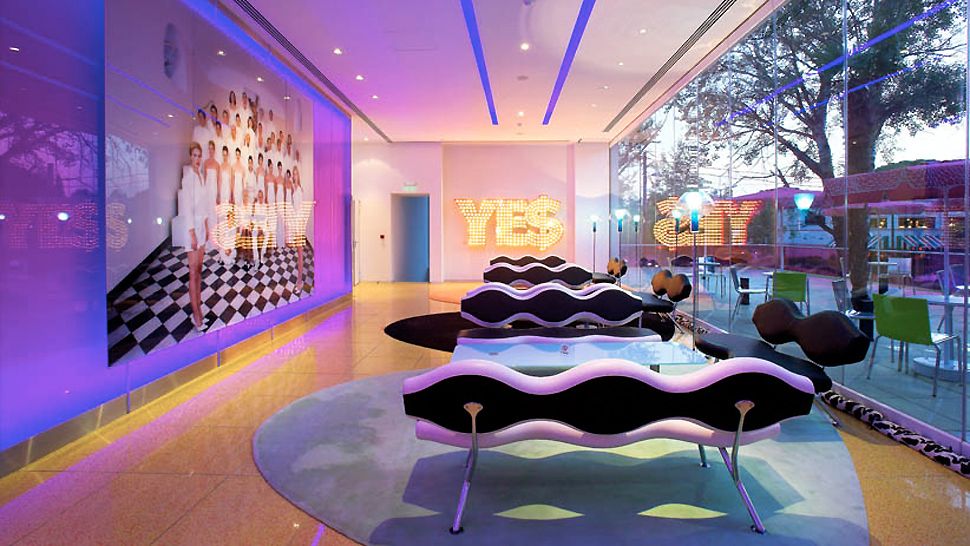 The Semiramis lobby, showcasing Sue Webster and Tim Noble's YE$ and furniture designed by Karim Rashid.
The Semiramis, with its pop art and neon color scheme, looks more like a fluorescent candy store than a boutique hotel in Athens, Greece. Designed by renowned industrial designer Karim Rashid and populated with works from hotel owner Dakis Joannou's private contemporary art collection, this property holds surreal, playful art pieces that feed off the vibrant futuristic design of the hotel itself.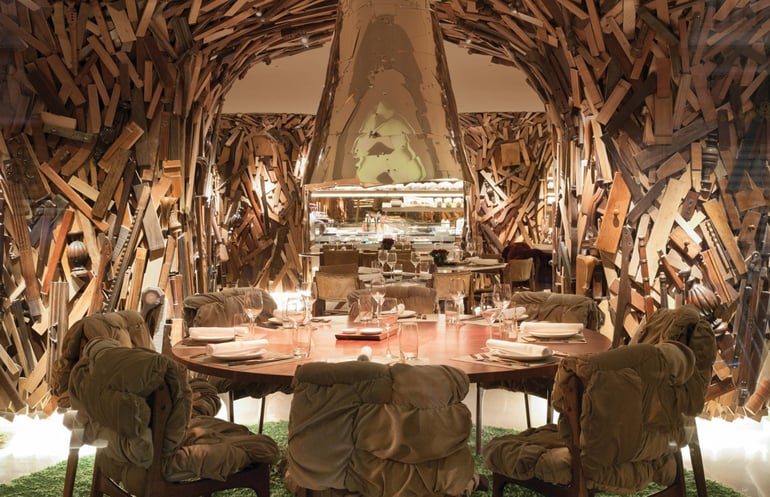 The NEW hotel restaurant, designed by Fernando and Humberto Campana.
The NEW Hotel, owned by the same group and also located in Athens, is the Semiramis' tamer sibling. Featuring works from Dakis Joannou's private collection, the NEW hotel has a more eclectic feel, showcasing pieces from both local Greek artists and internationally famous creatives such as Laurie Anderson.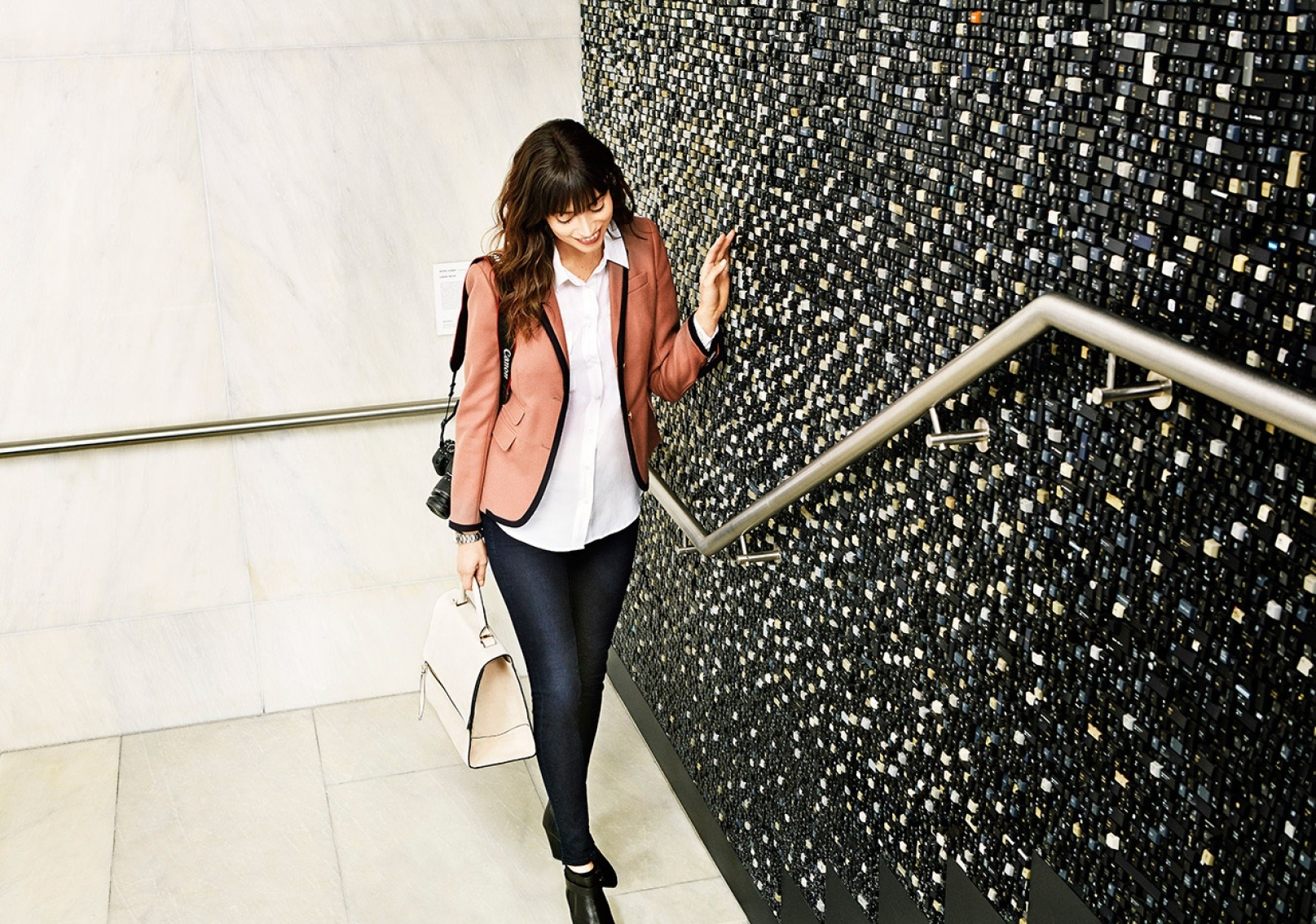 A guest at the James New York enjoying Sarah Frost's QWERTY 5, a wall-mounted piece made out of discarded keyboard keys.
The James New York is a boutique hotel in SoHo whose artistic focus is visible in all aspects of the property. From designs on privacy screens to the mural on the brick facade outside, art is injected into every facet of The James hotel experience. Both established and emerging artists are hosted in the space in an effort to reflect the rich artistic history of their SoHo location.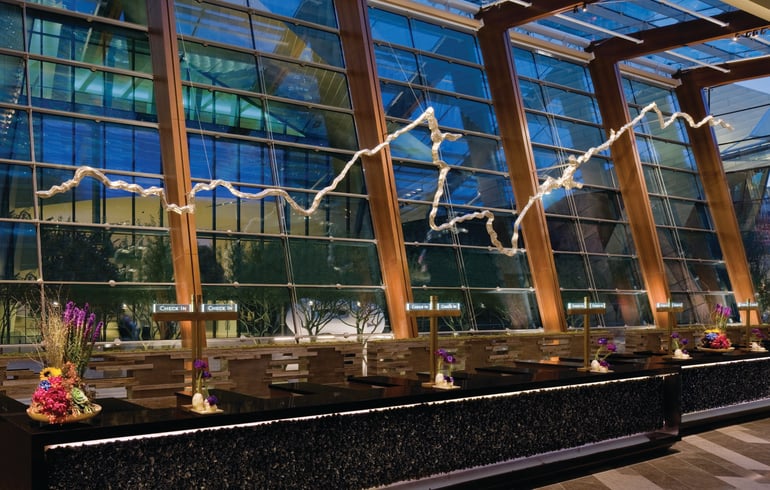 Maya Lin's Silver River, inspired by the Colorado River that waters Las Vegas, hangs in the ARIA Resort lobby.
The ARIA Fine Art Collection is the first major permanent collection of art in Las Vegas to be integrated into a public space, the ARIA Resort & Casino. Boasting works from world-famous artists such as Jenny Holzer, Frank Stella and Maya Lin, the ARIA collection holds everything from installations and sculptures to paintings and prints. Guests can even download a digital tour to help them best experience the resorts collection.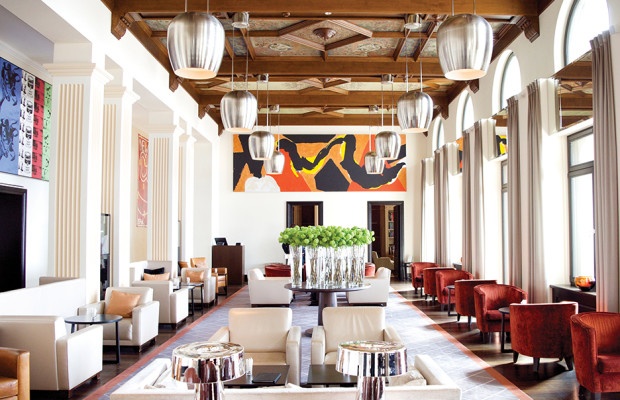 The Dolder Grand lobby, featuring Andy Warhol's Big Retrospective Painting, on the left.
Located in Zurich, the Dolder Grand Hotel hosts the most esteemed private art collection in Switzerland. Their rich history of tradition combined with acclaimed works by over 80 artists allows the property to create poignant juxtapositions. Paintings from artists like Salvador Dali and Camille Pissarro appear alongside more whimsical pieces from Takashi Murakami and Sylvester Stallone.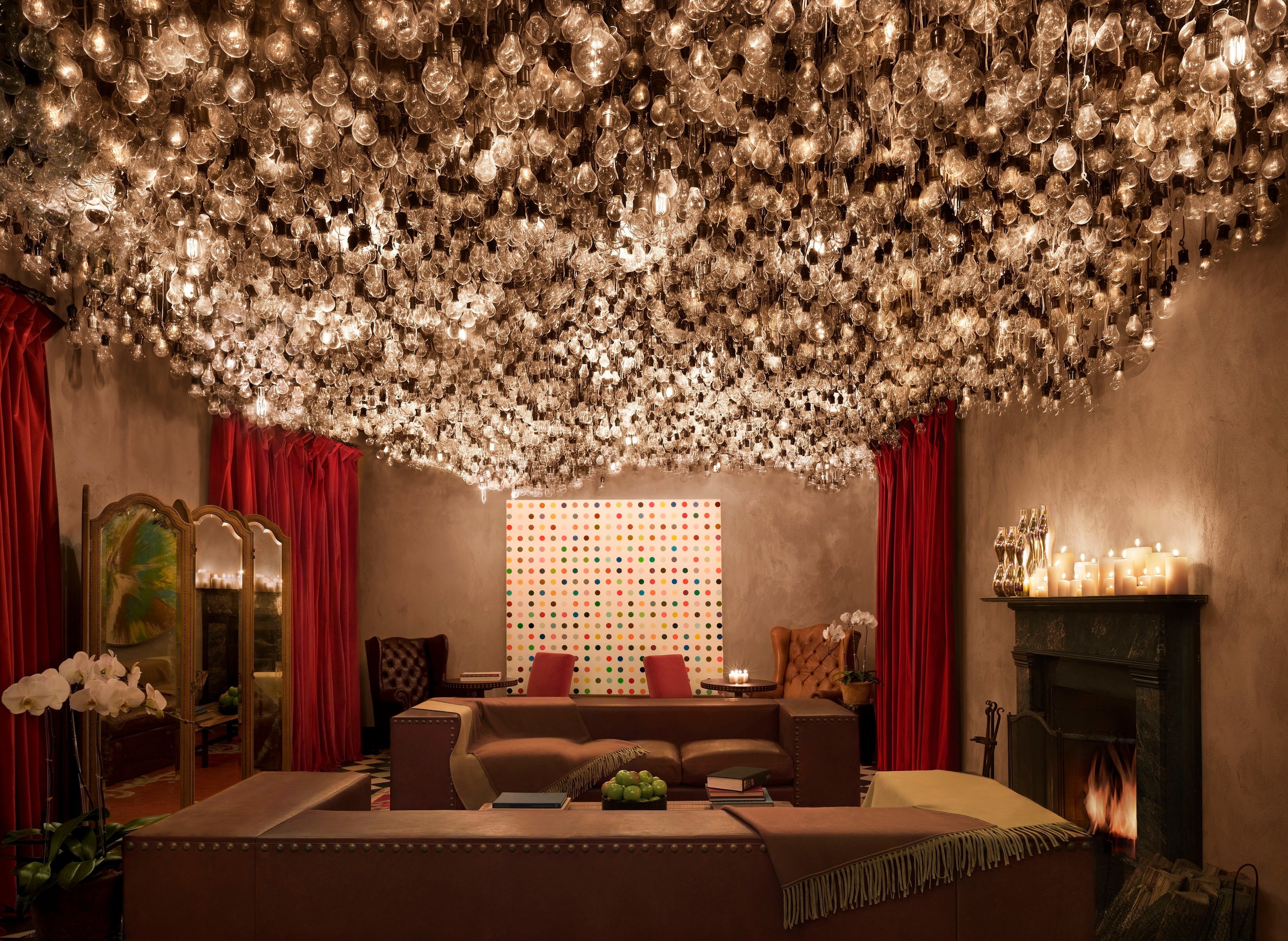 The Gramercy Park Hotel lobby, recently redesigned by artist Julian Schnabel, exhibits one of Damien Hirst's iconic (and controversial) spot paintings.
The Gramercy Park Hotel in New York has long been known as a luxury boutique with a sensational art collection. None of the collection is permanent as the hotel seeks to continuously provide guests with a fresh experience, but they routinely show works by famous contemporary American masters such as Jean-Michel Basquiat, Andy Warhol, Damien Hirst, and Enoc Perez.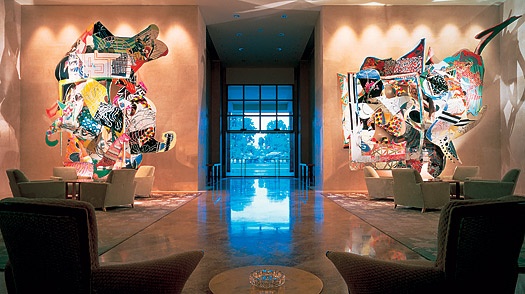 Two wall reliefs from Frank Stella's Moby Dick series in the Millenia lobby.
The Ritz-Carlton Millenia hotel in Singapore is home to 4,200 pieces of art, including pieces by Dale Chihuly, Frank Stella and David Hockney. The vast majority of the works were commissioned specifically for the hotel, including a massive three-ton roof sculpture by Frank Stella. Hotel guests, as well as the public, are encouraged to take a self-guided digital tour through the space.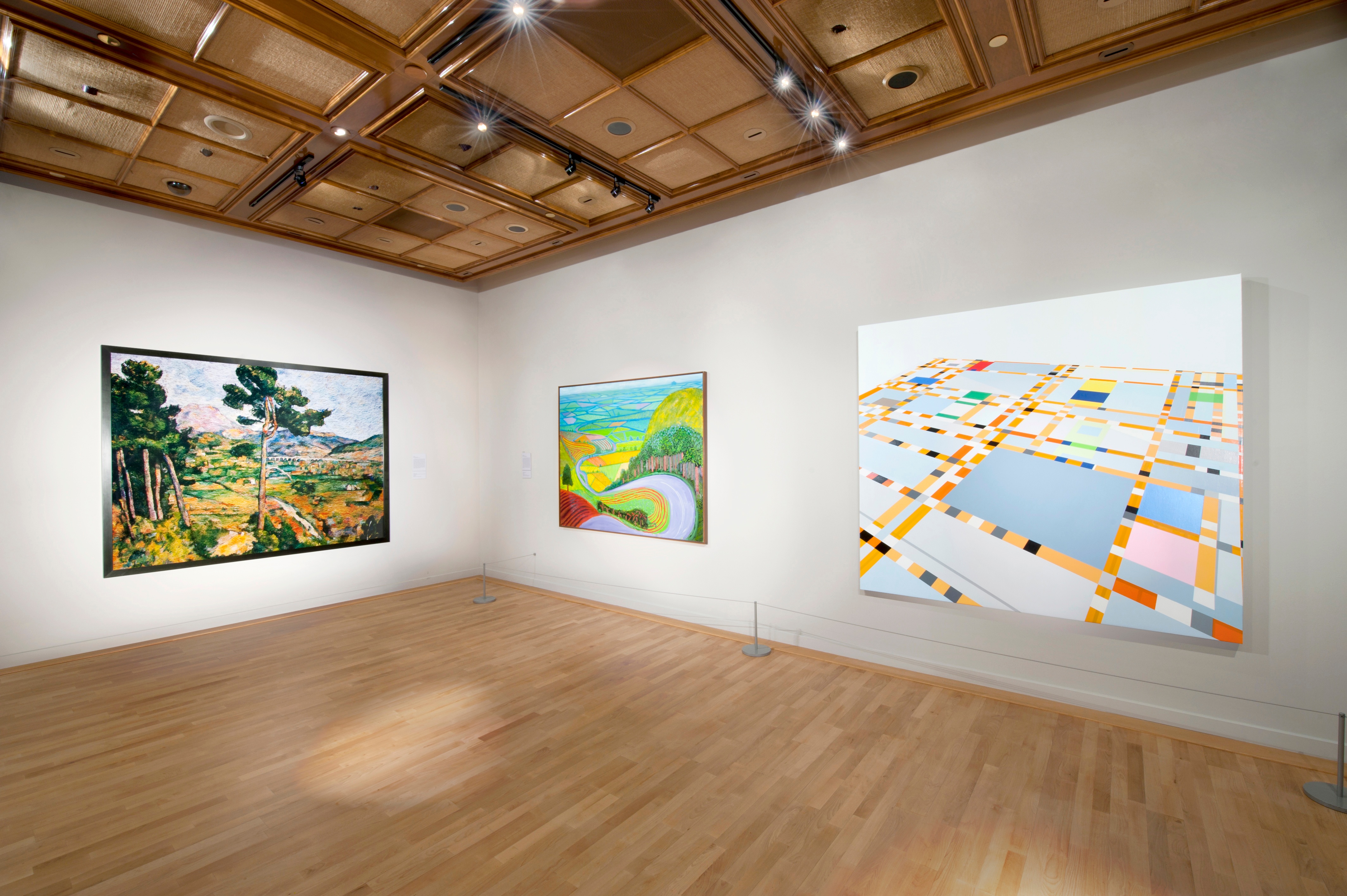 The Bellagio Gallery of Fine Art includes works by Monet, Chagall, and Frankenthaler among others.
The infamous Vegas hotspot The Bellagio is best known for gambling, dancing fountains, and luxury suites, but as the first hotel on the strip to include an art exhibition, they can now add distinguished collection among their accolades. The property is currently hosting over 40 Picasso paintings, spanning a 30-year period of his work, and the main entrance features a four-piece sculptural installation by Masatoshi Izumi. By exhibiting impressionist masters such as Monet and contemporary powerhouses like Chihuly, the Bellagio has built a reputation on juxtaposing traditional art with the lights of Sin City.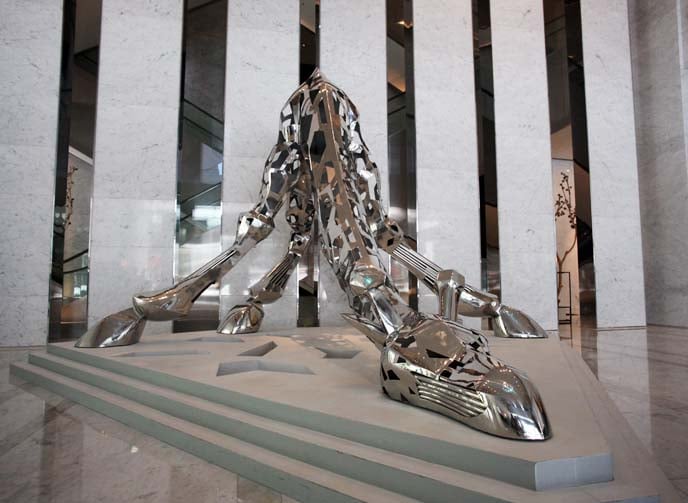 Li Hui's Giraffe - Camouflage for the Industrial Era in Le Meridien Taipei's lobby
The playful art collection of Le Meridien Taipei, a Taiwanese hotel, lives throughout the entire property. Each of the 160 rooms has different works and the public spaces, which are filled with larger installations, are open to both guests and the public. The collection features largely Asian artists with a few Europeans. Most of the pieces range from slyly humorous to whimsically comic. Visitors can enjoy works from Li Hui, Ye Yongqing and Hiroshi Ohashi as well as Nick Veassey and Fred Eerdekens.
As part of an industry whose performance is directly affected by fluctuation in the economy, hotels are always on the lookout for ways to differentiate themselves and their experiences. Art continues to be a favored method of differentiation as its potential for variety and uniqueness is as boundless as human creativity itself.
(Cover Image: The Gramercy Park Hotel)
Want more Art x Culture?