According to the official NYC x DESIGN website, the city's leading design festival "highlights the unique creative, cultural, educational, and economic opportunities in New York City." We couldn't agree more — which is why we're all about making time to soak in as much as possible until May 22nd.
But, since time is also a commodity that seems to be in shortest supply these days, we're doing the heavy lifting for you: here's our curated list of leading installations and events that are definitely worth your while.
Stop #1 - Designing Spaces that Engage with Art + Technology Installations: Design Talks at Design Pavilion
Official: "Design Talks NYC is a fascinating and culturally relevant conversation and story series featuring architecture, design, art and civic visionaries and creative leaders."
Why We Recommend: With this panel discussion, creatives come together to discuss the transformation of space through technology and art. As a company with a foot in both, we're fascinated to listen in on a conversation with leading experts from the field.
Where: Durst Building, 4 Times Square, between W42-W43 Streets, on Broadway, Manhattan
Date: Wednesday, May 15th, 2019
Time: 6:00-7:00 pm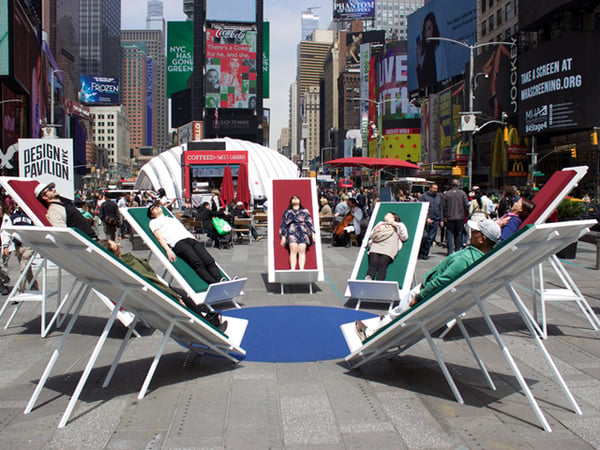 Design Pavilion at NYC x DESIGN.
Stop #2 - Greenery: Unlimited || Open House
Official: "Part shop, part showroom, part rejuvenating space to experience nature, Greenery Unlimited is the world's first biophilic design store. It is a place dedicated to helping people successfully incorporate nature into living and working spaces."
Why We Recommend: Biophilic design has been growing in popularity lately, extending into a more than a few of our own projects. Greenery: Unlimited is the first store (to our knowledge) dedicated exclusively to serving this growing popular appetite for immersive, nature-inspired interactions with space.
Where: Greenery: Unlimited, 91 West Street, Brooklyn
Date: Friday, May 17th, 2019
Time: 5:00-8:00 pm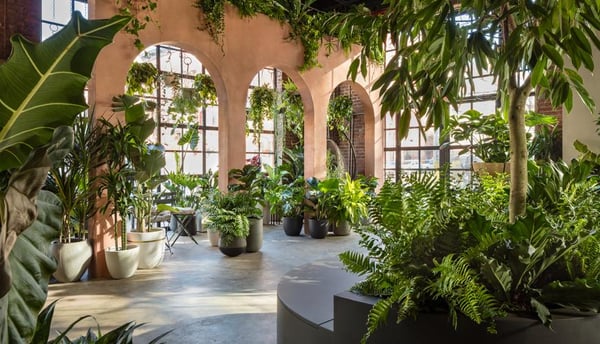 Inside Brooklyn design shop, Greenery: Unlimited. Image credit: NYC x DESIGN.
Stop #3 - ASID X ICFF Talks: Aging in Place in an Urban Environment: New Design Solutions
Official: "Learn how multi-family and community housing in urban environments is evolving to reflect new family structures and an aging population. Attendees will come away with practical ideas to help create flexible living spaces to fit and adapt to the current trends of universal and accessible design."
Why We Recommend: A staple of the New York design industry's annual calendar, ICFF brings together the best of contemporary design, interiors, fixtures and finishes. At this talk, we're fascinated to explore the way that new approaches to interior design and architecture are emerging to suit the needs of social and cultural shifts.
Where: Jacob K. Javits Center,

655 W. 34th St.

Manhattan

Date: Sunday, May 19th, 2019
Time: 12:00-1:00 pm
Stop #4 - Arlo SoHo x Indiewalls: An Evening of Design With Art (#HumbleBrag, ahem!)
Indiewalls is all about creating community and bridging the worlds of art and design. What better way to celebrate them all than with an evening of making art on the roof of one of NYC's leading design hotels?

This year, for the first time, we've partnered with Arlo SoHo in honor of NYC x DESIGN to transform A.R.T. SoHo, Arlo's Rooftop bar, into a fresh and festive gathering space with a series of hand-painted murals. Lose yourself in a botanical wonderland that complements the hotel's seasonal theme, Arlo Blooms.
Where: A.R.T. SoHo — Arlo Roof Top Bar

Arlo Hotel SoHo 231 Hudson St 11th floor New York, NY 10013

Date: Wednesday, May 22, 2019
Time: 5:30-7:30pm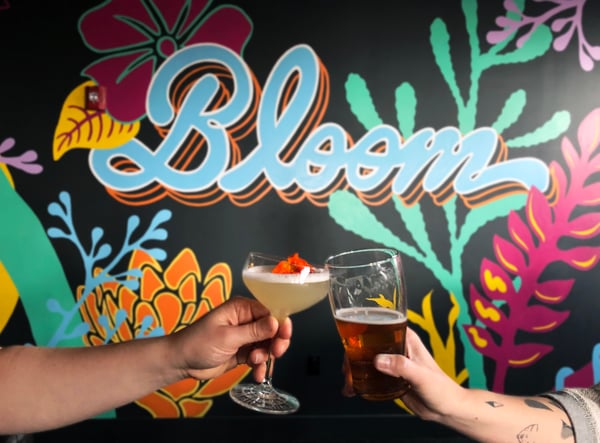 Hand painted mural at Arlo Roof Top Bar. Learn more about this project over on our project gallery.