Need That Finishing Touch? Visit The 10 Best Design Boutiques in New York. It's those finishing touches that give any space that extra dose of charm and dynamism. You can bring any room together with the right piece of art, that perfectly placed side table, or a little black accent piece.

But where do you find those perfect finishing touches?
You could go to Restoration Hardware and buy off the shelf, but you want something special.
You could luck out and stumble upon a cool old clock outside someone's apartment or a brilliant painting at a flea market, but you can't rely on serendipity for every project.
You need a go-to list that will inspire you and make your client's day.
Here are our 10 favorite boutiques and galleries in New York to help encourage that serendipity.

676 Driggs Ave, Brooklyn, NY 11211
Your one-stop shop for an amazing variety of curated antiques. Think recycled rugs, repurposed furniture, barnwood frames and more. It's basically that perfect yard sale without needing to pick through the junk.
Brooklyn Reclamation also makes custom furniture.

120 Spring St, New York, NY 10012
Imagine walking into the Natural History Museum and being able to buy the displays or, even better, displaying miniature displays on your coffee table.
The Evolution Store is two massive floors of skeletons, fossils, meteors and insects. Their items are as unique as we are and one could make a brilliant statement piece for that quirky client.

69 West St, Brooklyn, NY 11222
from the source manufactures their own designs, creating bespoke wooden furniture that will last a lifetime. With so many beautiful woods to choose and a collection of iron bases, you can mix and match to create your own custom piece.
Their selection of pre-made items change on a regular basis, so visit often.

1261 Broadway, Ste 309, New York, NY 10001
"Manhattan's local vintage furniture store."
While the shop itself is small, the owners of Furnish Green explore the city for unique pieces and bring them to their New York showroom every day. Think gorgeous 1960s bachelor chests, vintage emerald typewriters and mid-century jade ceramic table lamps. You'll never see the same thing twice though, so snag your favorites while you can.

55 Great Jones St. New York, NY 10012
The Future Perfect is the place to find those unique pieces to add character to a space—showcasing many special edition objects from a diverse group of designers. They pride themselves on featuring work by not only established design figures, but also emerging artists.

6 E 2nd St, New York, NY 10003
Divided into three parts—Original, Furniture, and Dried Goods—John Derian is the boutique for socialites featured in Vogue looking for Robert Ogden lamps. But the shop is also stuffed to the gills with quirky, rustic images giving off an air of old French design.

36 Waverly Ave, Brooklyn, NY 11205
This "by appointment only" interior showroom features handmade furniture, textiles and interiors by Ry Scruggs and Nadia Yaron, "two ladies working hard in Brooklyn."
We love their woven pieces, like this custom rug from a Moroccan women's collective.

405 Broome St, New York, NY 10013
Located in lower Manhattan, Matter is a contemporary design store featuring furniture, lighting, wallpaper, home accessories and jewelry.
Their in-house product collection, MatterMade, "aims to set a new standard in luxury American craft for the contemporary market."
It's a great place for neat finds like this Iris pendant light and the one-of-a-kind kinetic artifact from Karl Zahn.

82 Franklin St, New York, NY 10013
R & Company represents a group of designers, curated by Zesty Meyers and Evan Snyderman. Their goal? To promote "a closer study, appreciation and preservation of 20th and 21st century design."
We're in love with one of their artists, design duo the Haas Brothers, who create whimsical nonfunctional design objects that feel like they came straight out of a storybook.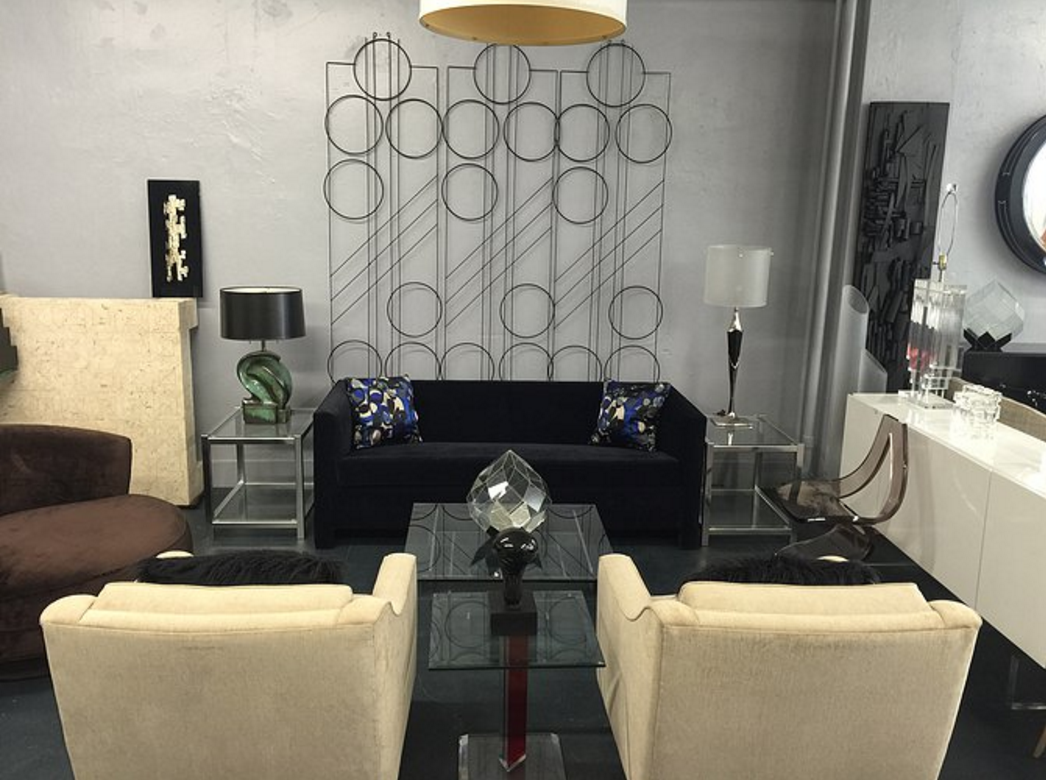 155 W 29th St, Ste 306 New York, NY 10001
The SPACE107 showroom offers a stunning collection of furniture designed by the links of Karl Springer, Paul Evans, Tom Parzinger and Milo Baughman.
The mix also includes art, home accessories and sculpture from the 20th century as well as custom-built items and refurbished vintage furniture for those with more contemporary style.