Over the last decade, offices have transformed from uniform spaces to engaging gathering places. Coworking communities, with their desire to create comfortable and fun environments, are on the forefront of this trend. We've scoured the globe and found 10 of the best workspaces. They are defined by design, originality, and intrigue.
Neuehouse - New York, NY, USA
In the heart of New York city, a dramatic space designed by the Rockwell Group, Neuehouse, welcomes solo entrepreneurs in the field of design, tech, fashion, entertainment, publishing, art, and communications. The building has an industrial vibe that is augmented by modern, luxurious interiors. A gigantic staircase anchors the main room and serves as a striking feature that is both inviting and useful.
The 1961 - Siem Reap, Cambodia
Existing somewhere between work space and art gallery, The 1961 houses feature exhibitions in addition to communal work areas. Contemporary desks, tables and coffee tables create a working atmosphere whereas the log-tree table, stacked books, and disco balls set an artistic vibe. Their dual interior aesthetics create both a social gathering place and a studious workspace.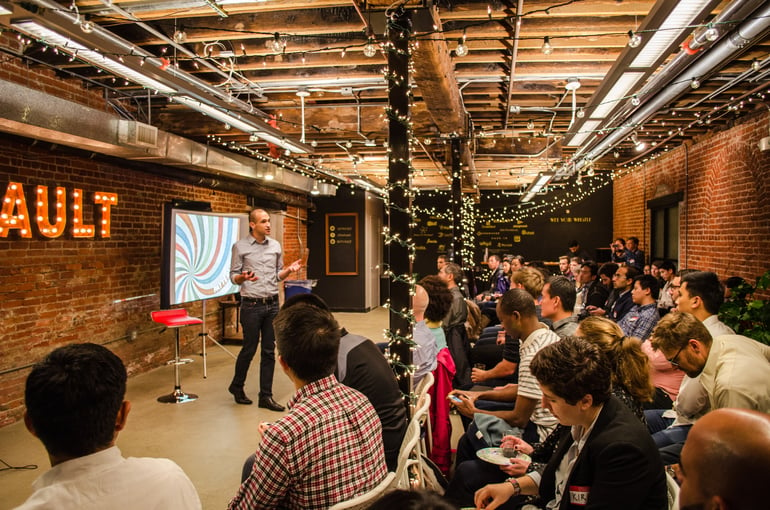 The Vault's Communal Space During a Lecture. Image courtesy of The Vault SF.
The Vault - San Francisco, CA, USA
Located in America's startup mecca, The Vault exudes a bohemian vibe with twinkly lights, exposed brick, and eclectic furnishings.Their open lounge area is comprised of red, comfy armchairs, a foosball table, and a bike rack, but has known to be transformed into a jazz club or rollerskating arena. Wooden beams that showcase the organization's commitment to historical authenticity anchor the main working space.
Brooklyn Boulders - Somerville, MA, USA
Taking the mantra 'healthy mind, healthy body' to new heights, Brooklyn Boulders in Somerville is part climbing gym, part workspace. The 40,000-square-foot facility not only provides an opportunity to relax and recharge while handling a difficult day, but also equalizes interactions between venture capitalists, artists, and programmers. It only takes a subscription to the climbing facility to work at an adjacent desk for free.
The Unique Space - Los angeles, CA, USA
The Unique Space fast becomes a home away from home for busy freelancers and startup employees. Located in an historical building in Downtown L.A, the apartment-like office space is cosy, comfy, and relaxing. White, wooden beams, exposed brick, and art walls endow the space with a new-age, eclectic vibe further enhanced with vintage, handpicked elements. From the sofa to the fluffy pillows to the fully equipped kitchen, you may actually try to move in.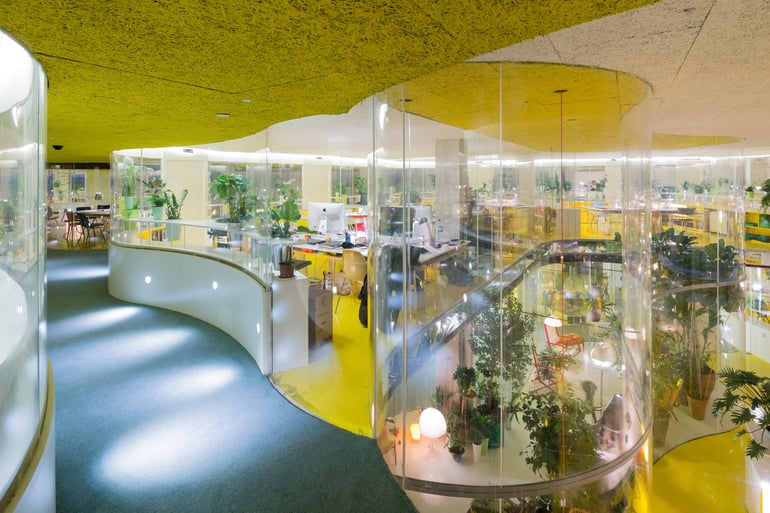 Second Home - London, UK
The Spanish design firm SelgasCano transformed a former carpet factory into a one-of-a-kind hub on the trendy Brick Lane street in London. Coined Second Home, this futuristic space is defined by lemony, spiraling plexi walls that denote rooms and corners. Transparent walls separate private spaces and communal spaces to create a continued and constant sense of community. In a busy city, this simple, minimalist approach helps generate productivity by shielding workers from outdoor bustle.
Studioverket - Stockholm, Sweden
Capturing our contemporary zeitgeist, Studioverket's interiors are both moody and lively. From their vertical garden to their illuminated lightning wall, this Swedish coworking space exudes a dark, electronic vibe with a natural, inviting demeanor. Open to select creatives, entrepreneurs, and consultants, Studioverket believes a dynamic environment encourages collaboration and thought.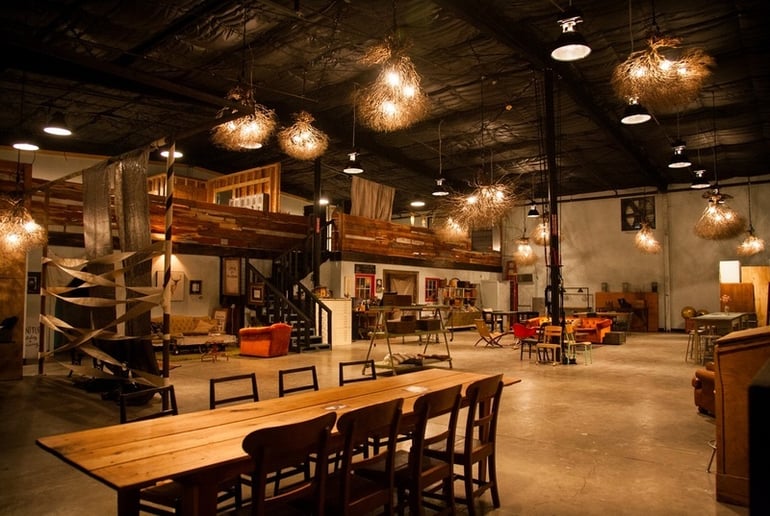 Vuka's recycled and repurposed interiors. Image courtesy of Vuka.
Vuka - West Monroe, Austin, TX, USA
Handcrafted Vuka is a natural and organic gem. As 90% of their warehouse is created from recycled elements, this large space repurposes the past into a productive future. From the hanging tree-branch lights to atypical furniture, the whole place is an invitation to share, connect, and inspire with the world and with other freelancers/entrepreneurs.
Salt - Yekaterinburg, Russia
At the Russian space Salt in Yekaterinburg, coworking decor meets neoclassical design to create an elegant and classy environment. A subdued color palette of chocolate and beige tones meshes with dark wood, rich concrete, and creamy leather chairs. Remodeled by Esthet Design Lab to resemble an inviting loft, communal areas are characterized by large floor pillows and oriental rugs that provide an open space for intimate breaks.
Hubud - Bali, Indonesia
One of the most uncommon and serene hubs, Hubud, is located in the tropical paradise of Bali facing large rice fields. The space is surrounded by bamboo fencing making the inside feel like the outside and, as an entirely sustainable environment, they offer only the bare minimum in terms of furniture. The dynamic, relaxing environment invites coworkers to gather as a community not only to work but also to share and connect.
-Tamara Akcay
Want more Art x Indiewalls?