As digital media and visual imagery continue to oversaturate society, many contemporary artists have started to reconnect with their roots by working with natural materials. From stone to wood to wax each of the following artists has made a powerful impact on the international art stage. Existing somewhere between form and function, the organic sustainability of their work solidifies the enduring penchant towards naturalism in art and design.
Cover Image: Oliveira, Baitogogo, Palais de Tokyo, 2015. Image by Andre Morin.
Henrique Oliveira (Wood)
Brazilian artist Henrique Oliveira plays with massive tree trunks. Using abandoned pieces of wood recycled from the Brazilian urban landscape, he twists raw materials into site-specific installations. Oliveira creates organic forms that swirl around rigid poles or creep up walls effortlessly projecting the illusion that nature and construction are intertwined.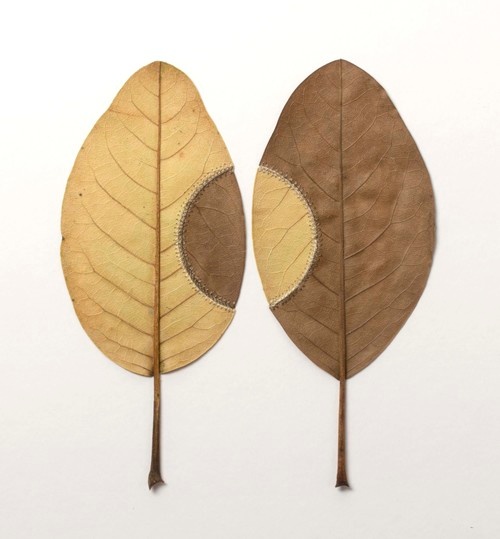 Bauer, Transplant No. 7. Image courtesy of Susanna Bauer.
Susanna Bauer (Leaves)
Susanna Bauer carefully chooses her materials on outdoor strolls in neighboring forests. She accentuates the vulnerability of her leafy subjects, by delicately cutting, sewing, and crocheting the dry leaves. Providing enough tenderness for the leaves not to crack and enough tension for the thread to stay put proves challenging, but culminates in intricately delicate works that exist somewhere between sculpture and painting.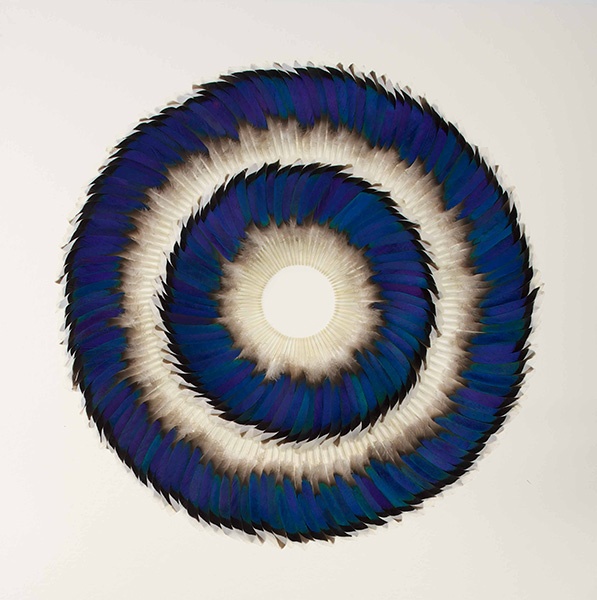 McGuire, Swell, 2014. Image Courtesy of Kate MccGwire. Photo: JP Bland.
Kate MccGuire (Feathers)
Growing up near rivers and lakes in Eastern England informed Kate MccGuire's fascination with nature and passion for collecting feathers. She gathers the feathers individually, asking acquaintances to keep them on the side for her and once received, she takes time to clean and polish them one by one. The unexpected creatures she designs dissolve the limit between nature and artifice leaving a new interpretation of beauty.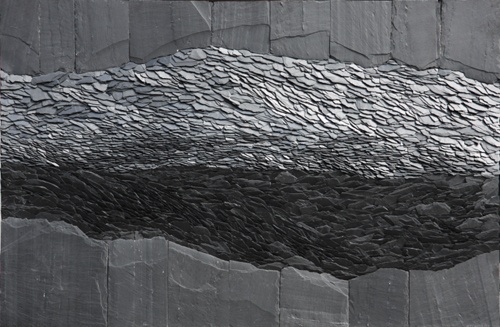 Guyomard, Faille. Image Courtesy of Sylvie Guyomard.
Sylvie Guyomard (Slate)
Sylvie Guyomard is devoted to nature, particularly to volcanic eruptions, geology, and fossils - anything that causes the earth to shake and move. Slate, as a core attribute of the earths geologic makeup, reigns as her material of choice. The carefully chosen material is strategically layered to evoke other phenomenons such as lighting and reflection. These visually captivating pieces entice the viewer's eyes to wander and question perception.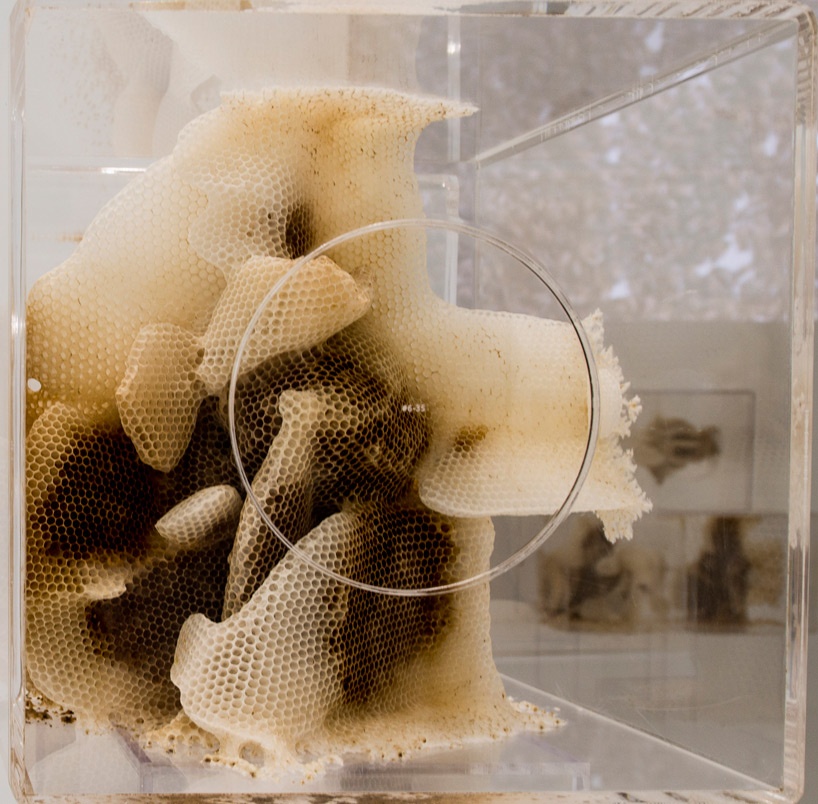 Ren Ri at Pearl Lam Galleries in Hong Kong. Image Courtesy of Design Boom.
Ren Ri (Bee wax)
With the help of a queen bee and a box, Ren Ri is able to create unique beeswax sculptures. He harnesses the power of nature in its purest form by strategically placing a queen bee and changing the position of the box every seven days, which references the seven days of creation. Resulting in an organically created geometric, three-dimensional sculpture, the result illuminates an underlying interest in understanding how humanity intervenes with mother nature.
Rometti & Costales, Roca Azul Jacinto Marino Errant, 2013. Photo Courtesy Galerie Jousse Entreprise.
Julia Rometti and Victor Costales (Volcanic rocks)
Julia Rometti and Victor Costales collect a unique range of travel souvenirs. They discover and catalog divers materials found in jungles, deserts, and highways. They bring back volcanic rocks from South America using them to create installations where raw rock pieces are randomly standing on perfectly shaped cement rectangles. This conceptual scene stands as a metaphor for the consequences South American politics have on the country's landscape.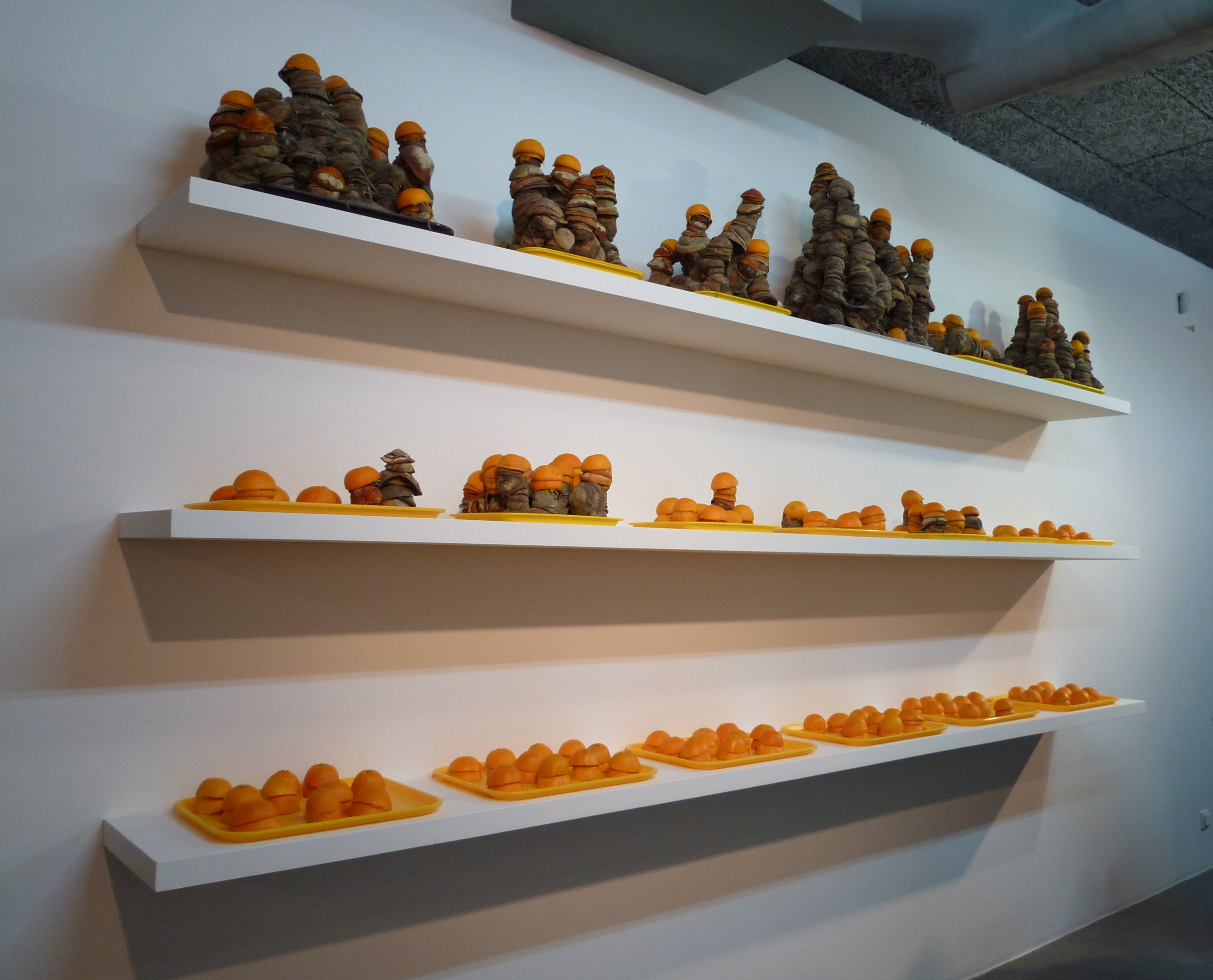 Blazy, Le Grand Restaurant, 2012. Image Courtesy of Galerie Art Concept.
Michel Blazy (Fruits)
Michel Blazy harnesses the power of nature by working with a range of flora and fruits. While these natural foods may be his medium, decay and manipulation are his process. Whether arranging live matter across shelves or growing roots from clothing, Blazy's work exists in a state of perpetual change. The constantly changing work skews visitor perception as some alterations are organic and some manmade.