Linda Storm and Pablo Perea are one artist.
She's American. He's Cuban. After 20 years of solo careers behind them "Fate introduced our Muses," Storm told us.
Based in Santa Fe, New Mexico, the pair paints together on one canvas, creating parables around humans, nature and the universal cycle of life. Their studio holds more than 200 co-created paintings, 100 were in a solo exhibition in New York City.
We sat down with Linda Storm to talk about how they collaborate and their plans for the future.
How did you two meet?
In 2010, Pablo moved to my neighborhood—a rural town outside Santa Fe. We became friends and shared our art. Our styles were different, but we we used the same archetypal symbols in our paintings. I opened a gallery soon after, and I showed Pablo's art alongside my own, my daughter's, and that of seven other artists.
You'd had solo careers for so long. What prompted you to paint together?
Pablo and I first painted together during my grief over the loss of my beloved dog. I visited Pablo while he was painting and he handed me his brush, wet with paint from a portrait of a female he had started. I painted tears in her eyes. In time we finished the painting and titled it Fate Up Against Her Will.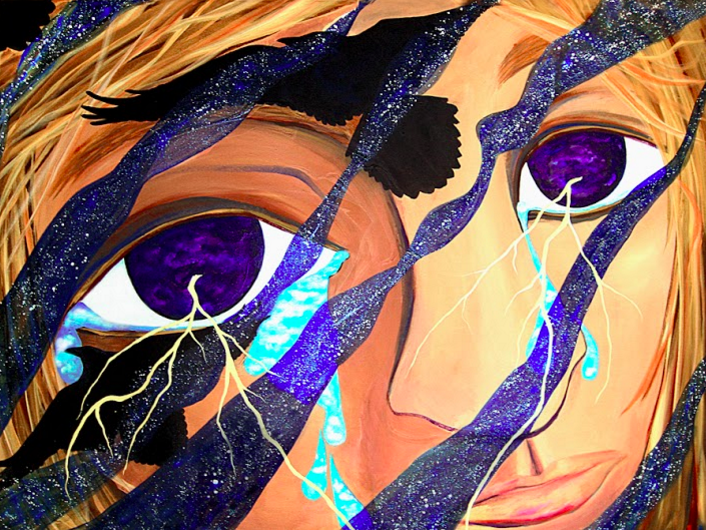 I displayed it at my Canyon Road gallery where it became a celebrity. People came specifically to see the piece because someone had told them about it. It quickly found its new home in a private collection. Turns out, grief opened the door for Pablo and I to work together as one artist.
Logistically, how does painting together actually work?
We always begin with an idea, then sketch together. Sometimes we paint on the same canvas at the same time and sometimes we sit next to each other and trade the painting back and forth. It depends on the size of the work.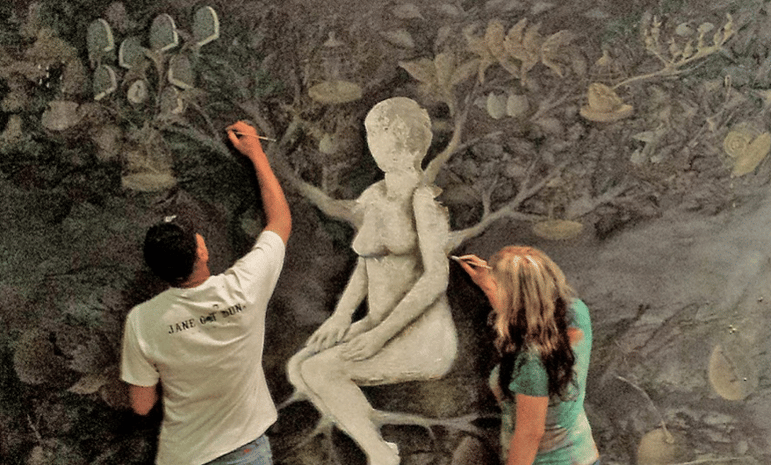 Even though we speak different languages we understand each other. Art is our language. Our self discipline, trust and integrity allow us to simultaneously renounce and assert our egos as we paint on each other's work. We love to surprise each other. We don't know of any other artists who have co-created as many paintings as we have. Together we are four hands, two cultures, one artist.
Tell us about your studio.

In 2014 I sold my gallery so Pablo and I could lease a 1200 square-foot studio. It now houses hundreds of our co-created paintings—parables about our human relationship with nature and the universal cycles of life.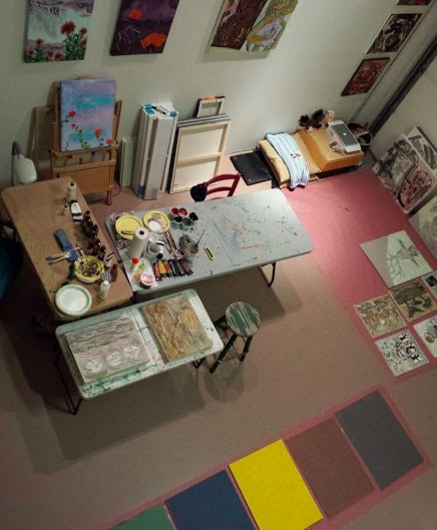 We use surreal symbolism found in the imagery of all cultures. We work on canvas and paper, large and small. Our art is rich with texture, and layered with paint and meaning.
Can people come visit?
Our studio is open to the public during special events and by appointment. Gallerists, collectors and artists from around the world visit us there. Our studio events include live music, Cuban and American food made by Pablo and me (we love to cook), and of course art. You can sign up to be one of our guests on our website.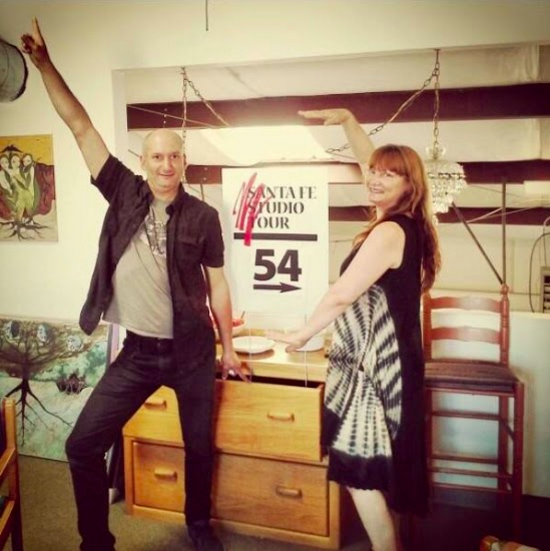 When did you start making art?
Pablo was a physician in Cuba before he began his career as a self-taught artist. His friends were writers, dancers, and painters who inspired him to try painting. Together they formed the community of artists who later became internationally recognized as The 90's Generation. He eventually quit medicine to focus on his art and soon he was invited to exhibit in the United States and Europe.
What about you?
I was always drawing as a child. I had my first art show as a teen and it sold out. Later, I designed clothing and used them as canvases for my paintings. I offered these designs at street fairs and local stores. Soon I was shipping dozens of garments to stores around the country. I had my designs manufactured locally and hired more artists to paint on them. I became the CEO of my own apparel manufacturing company.
When my children were young I stopped painting and closed my business to volunteer at their school. We later moved to magical Santa Fe where I was inspired to take art classes. I painted during my spare time, and participated in studio tours and tent shows. People began to collect my art.
Who influences your work?
Both Pablo and I are influenced by Salvador Dali. My other big influences are Dr. Seuss, Maxfield Parish, and Georgia O'keefe. Pablo's are Cervando Cabrera, Wilifredo Lam, and Jorge Ignacio Nazabal.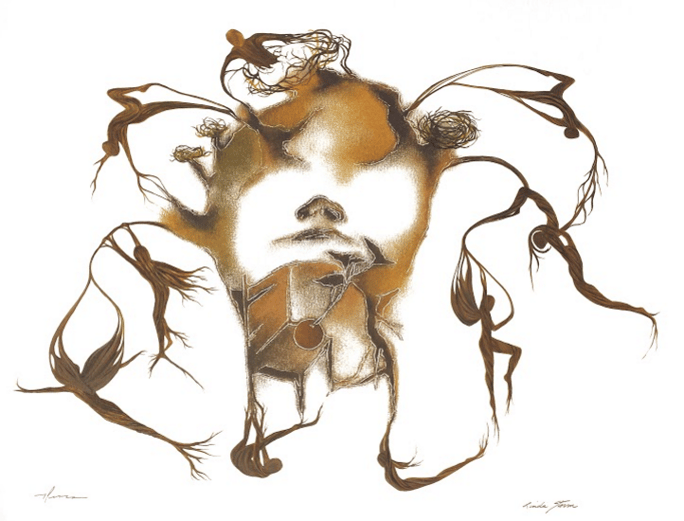 We both paint to understand ourselves; to become better humans. It's an intense experience to share. So for inspiration we sometimes read poetry to each other and listen to music. Pablo and I are married to artists who are our most beloved supporters. Pablo also has two young children who have their own easels and art supplies in our studio.
What's something everyone talks about but makes no sense to you?
The world of art is full of experts who proclaim which art is worthy and which is not. Some are paid to bloviate. There's even a Museum of Bad Art!
All art is a personal story. If it touches just one person, no other person—no matter their title or how much they get paid—who can take that away. Art is a language that speaks to our souls. It was our first language.
What's your process for collaboration? With other artists, with interior designers, with curators?
Everyone who works with us discovers we are professional collaborators. We treat everyone with respect: each other, our collectors, curators, and the employees who shop our art around. We also understand the importance of stepping back and trusting. We've held meetings in our studio, during a meal, while hiking, and even online. We're open to working with each person as the individual they are and do whatever is necessary to make win-win and yay-yay situations.
What has the response to your work been like?
In July 2015 we exhibited 100 of our co-created paintings at a solo exhibition in NYC. The gallery owner wrote:
"Linda Storm and Pablo Perea's collaborative work is the best I have ever shown in the 27 years I owned my gallery, and some of the most amazing artwork I have ever seen. It is so skillfully executed and filled with such intricate complex details that it automatically draws the viewer into an inner sanctuary."
~ Chana Benjamin, July 15, 2015
Gallerist, Curator, Art Appraiser, Educator, Photographer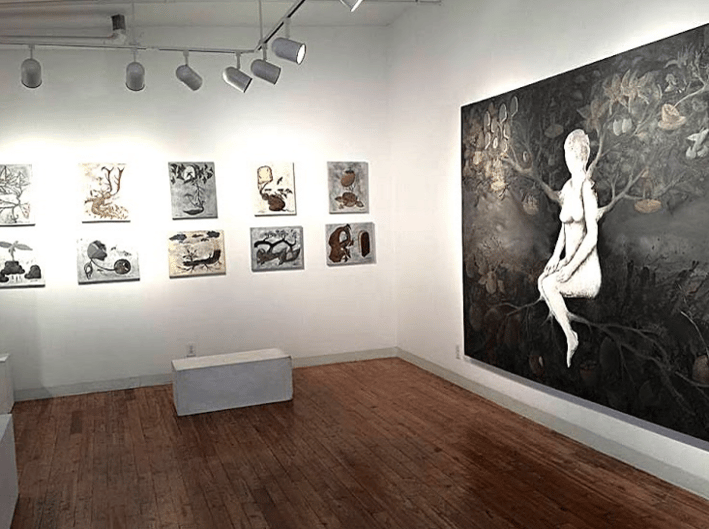 We have had our share of rejections. I keep a list of them, which I may publish at another time. For now, our focus is on all of the positive affirmations we receive. That and the loving support from our families, our friends, and our collectors.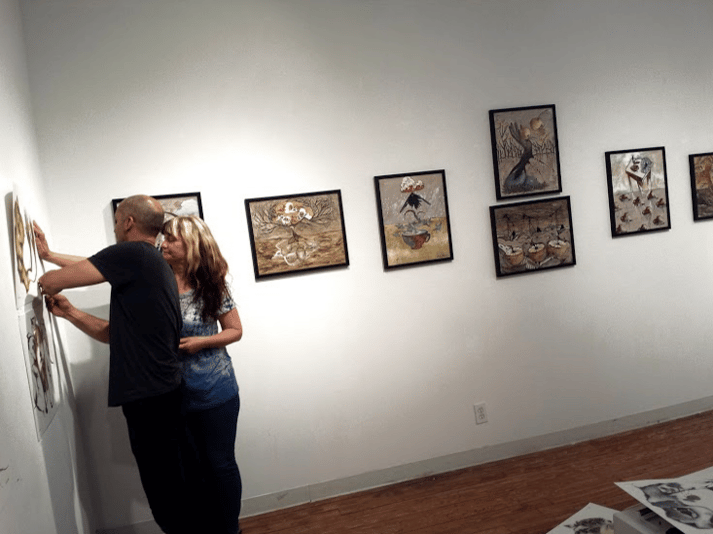 What are some of your goals for the future?
We look forward to hosting more visits at our beautiful studio so we can demonstrate our process. It's impossible to keep all of our art in a digital database and experience the texture and layers. To truly experience our art you should see it in person.
We also wish for our art to be in more people's homes and in public places worldwide. We want our art to be loved, to inspire, fill people with wonder. We nurture our art and we want it to nurture others. And we'd love more solo exhibitions. The response to our 100-painting exhibit in NYC was enough encouragement to last a lifetime.
What rules do you love to break?
Any and every rule that attempts to box us in. Creativity can never be contained. We break rules whenever necessary to express ourselves through our art. We are explorers of technique and spirit.
I mean, we paint on each other's canvases! Most other artists are horrified by that idea.
When people try to give us their rules we just smile and nod, and keep creating in our own unique way.