Jenya Vyguzov is a young artist from Moscow, Russia. He takes photos, makes collages, designs iPhone accessories, clothes and creates street art. His gorgeous, mixed-media collages combine photography, nature and fashion into one compelling visual statements.
Many of Vyguzov's collages have been featured on the pages of designer look books, like this work for Nikolay Krasnikov during the 2012 Mercedes Benz Fashion Week.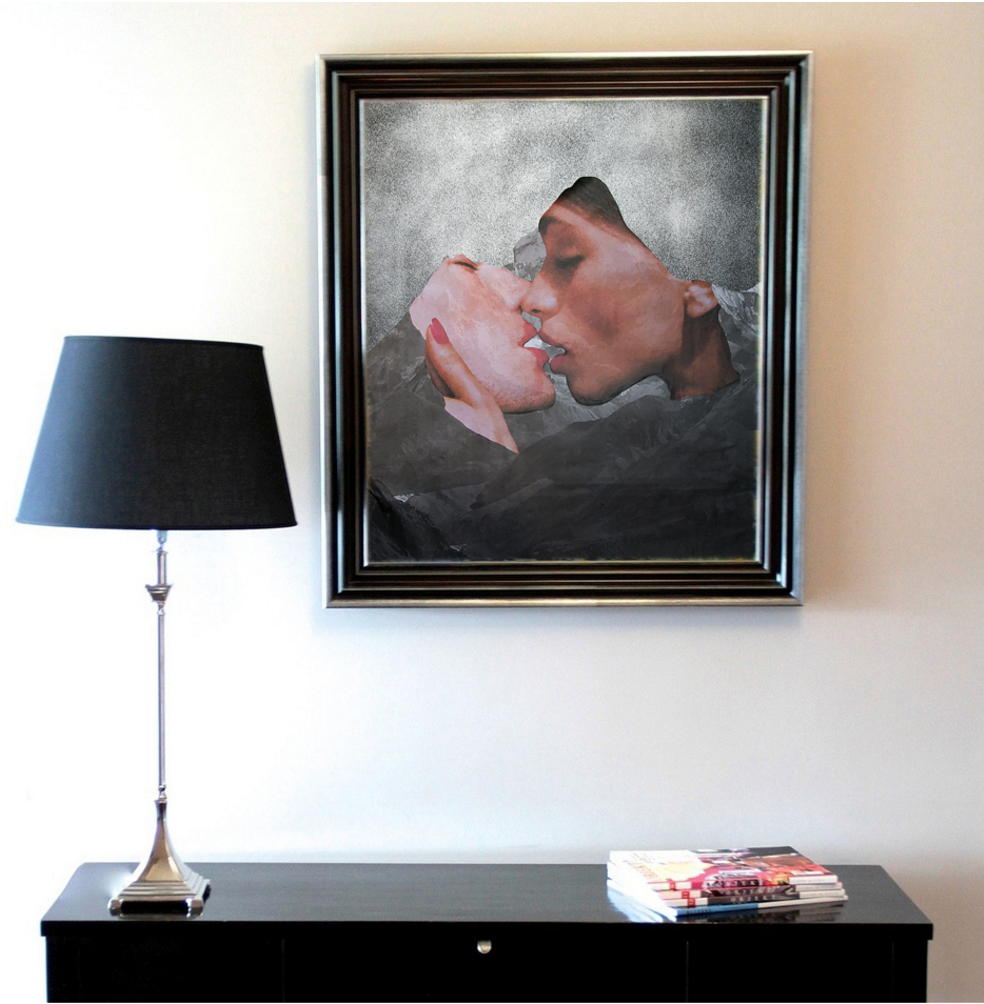 Despite his fledgling career, Vyguzov's work has already been published in SNC Magazine, Interview Russia, Collezioni, DRESS CODE magazine, TOSS magazine and DASH. You can find his work on the walls of top tier hotels and restaurants throughout the country.
We sat down with Jenya to talk about his projects, inspiration, and obsessions.
When did you start making your collages?
I started sketching five years ago, after entering the fashion world. I'd cut up magazines and photography and rearrange them with my sketches to form something new. On their own, the original photos seemed boring. But I loved the chaotic form they'd take when combined, while still somehow functioning as a whole.
And how have these collages evolved since then?
Today I take the photographs myself and make collages using my own work. Depending on my mood, I'll take photos for a specific project. Otherwise I use elements and imagery I already have lying around.
[gallery columns="2" size="medium" ids="1443,1441"]
What materials do you use during this process?
I make three types of work—fully handmade, mixed-media and digital media. I use materials like paper, spray paint, ink, gouache, glue, photographs and textiles. The collages themselves are created on paper, foam board and sometimes even tile. Occasionally I'll print them on canvas.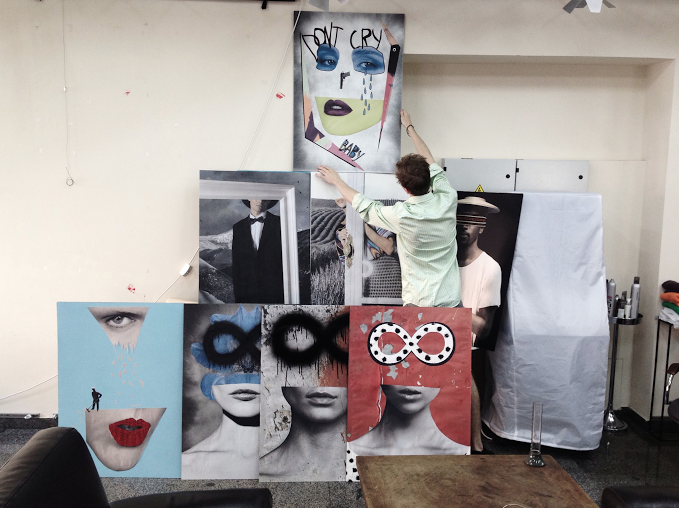 What's your favorite project to create right now?
I love making portraits where you can't see subject's eyes. Eyes are usually the first feature a viewer connects with. By closing the eyes or removing them entirely, the work turns into a mystery. An innuendo. I also like surrealism. What better way to experience something that can't be done or seen in the physical world? You'll find a lot of surrealism in my work.
Where do you get your inspiration for these pieces?
I find inspiration everywhere, like the textures of urban environments or the beauty of nature. Light, shade, the female body… these inspirations are everywhere and they inspire me every day.
To capture it all I need to be incredibly observant. I need to see and feel the different, and often conflicting, pieces of the world. My emotional reaction to it all is usually what I express through my work.
Art is great inspiration in and of itself. It remains well after we're gone, but still inspires someone else for something else.
What are you obsessing about right now?

Over the past two years I've become very interested in street art. But to just go out there with paint and glue was brand new for me.
I originally started with simple stickers, but have since moved into printing A4 pictures and increasing their size. My biggest work right now is 1.5 x 2 meters on the wall.
I believe street art must not deface the streets, but decorate them.
Can you elaborate on that final point?
I go to the streets when working through social themes. For example, one work features a policeman wearing a suit made of dollars to speak to police corruption...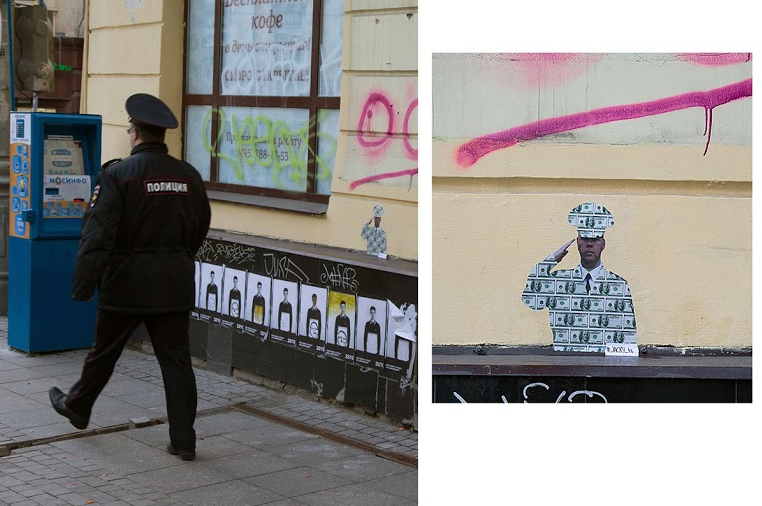 Or maybe I'll work on a symbol for the 21st century with this image of a monkey taking a selfie on his iPhone...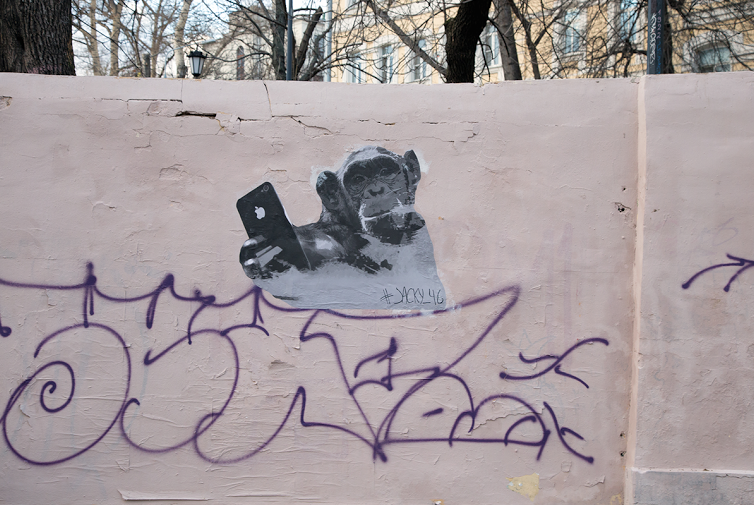 Or these children reading porno-magazines, pointing to the fact that many things not for children are available for public consumption.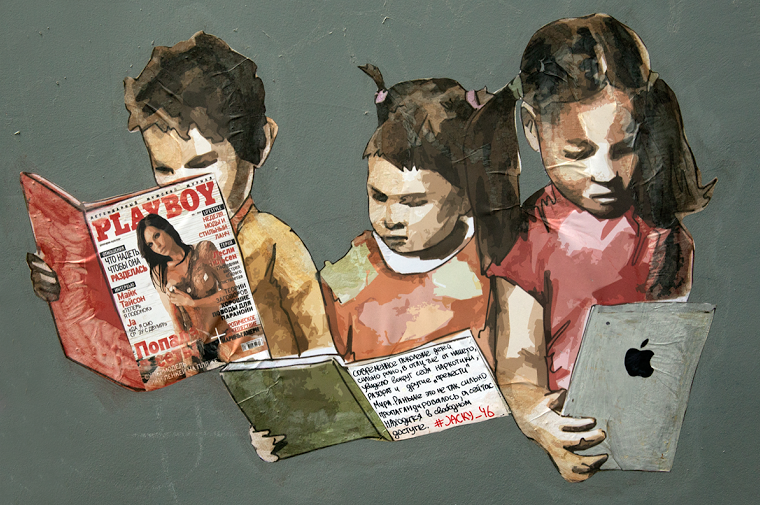 What advice would give a new artist?
Just follow your heart, be impressive and do what you want, no matter that people say.
Follow Jenya on Instagram or explore his Indiewalls Profile.