Laura Morrison is a New-York based artist, originally from London. She makes large wax relief-panel paintings by melting and pouring wax onto wooden boards and painting on them with high pigment inks.

Morrison's panels are large-scale with steel frames around the edge. They are either mounted on a wall like a painting or at 90 degrees so you can walk around the back, like the inside of a partition wall.
"I just installed one on my kitchen wall," she said. "It looks funny, I mean nice, because by accident it's the same exact size as the wall, like a mural. I really like that it has the kitchen behind it!"
Morrison also makes sculpture, writes, creates performance and uses online platforms like Tumblr to configure simple statements into complex networks.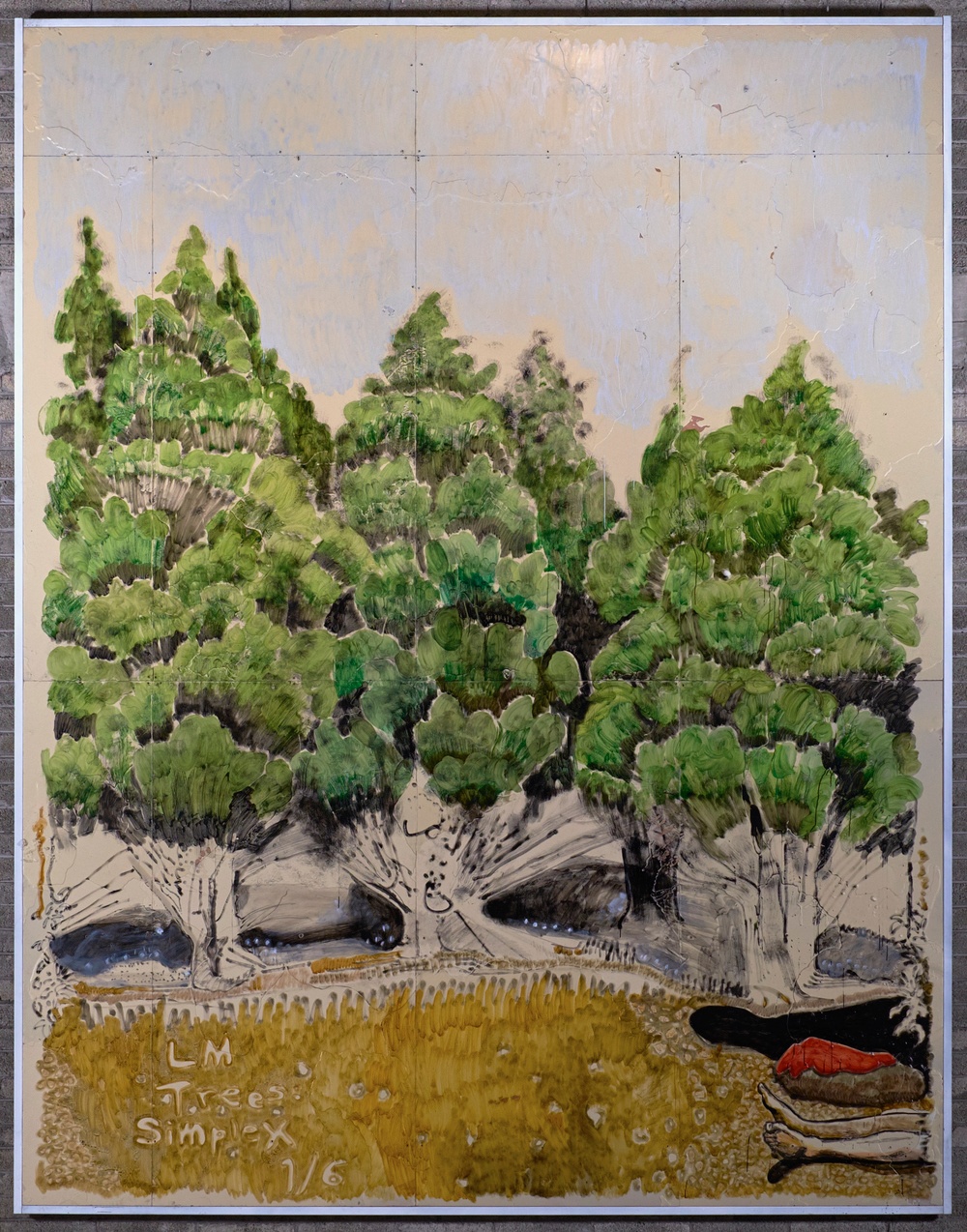 TREES: SIMPLEX 1/6, Wax, plasticine and ink on board, steel frame, 20 x 15 ft, 2015. Photo credit: Tommy Weir
What inspires your work?
I do this work mostly for myself, my own well-being or pleasure—they're not always the same thing. When something happens quickly I have an echo or a bad feeling. I realized that I could use my practice as a place to slow things down and be like... "Ohhh, that's really bad, hang on, that DID just happen." It's sort of forensic, emotionally.
So in that way I make networks of objects, images and texts that draw on real-life people and their actions. The subject matter comes from my personal and professional life. I'm especially interested where subtle relations exist between vulnerability and aggression. Embarrassment and intensity, and care and tenderness are part of how I work.
How would you describe your art?
Overall, I'm interested in what it would take to mobilize ethics into an art object. I feel like i'm somewhere between an Internet troll, Robin Hood, a courtroom artist and maybe a church fresco painter. My work attempts to disrupt the ease with which language, power dynamics, and social choreographies gloss over brief, barely perceptible instances of misogyny or entitlement, particularly with regard to ungoverned spaces.
What questions does your work ask of its viewer?
I'm asking questions about social codes of vulnerability, aggression and accountability and working through the relation between gender, art-making and experience. I draw from feminist critiques of art-as-an-institution to problematize my work's relation to its gallery context. Scale is important to me in that sense.
Can you give us an example of a piece that helped slow things down?
"A Beautiful Girl Lets Down Her Hair on a bus," spanned eight months and addressed a male artist I don't know well. He had taken a photo of the back of a woman's head on a London bus and commented on social media that, "This kind of hair activity should be ILLEGAL."
He became my muse (which is a complicated thing to say, but is the closest to how I can describe it—it's violent, especially because of the extended nature of the work). I made an effort to address this dynamic in different ways: with writing, pictures, publishing over time and directly.
"Sir You Will Doubtless Be Astonished" was a work I stuck with for about a year. A man emailed me out of the blue asking for my autograph. He sent me samples of artists' autograph cards already in his collection and I made a big work by blowing up one of the postcards. Doing that makes it possible to stay thinking about the whole thing, which has a lot of nuance and awkwardness.
The panel on my kitchen wall is a postcard-sized sample autograph-card blown up to ten by eight feet, made in wax and then painted with inks.
I made the first version for a show called Bottom Natures in London curated by artist Matthew McQuillan. That one travelled to HOME in Manchester for Safe, a show curated by Sarah Perks and Louise O'Hare, both in 2015.
The one in my kitchen is a second version of the same work I made for a show at The Drawing Center in New York last Summer (pictured below).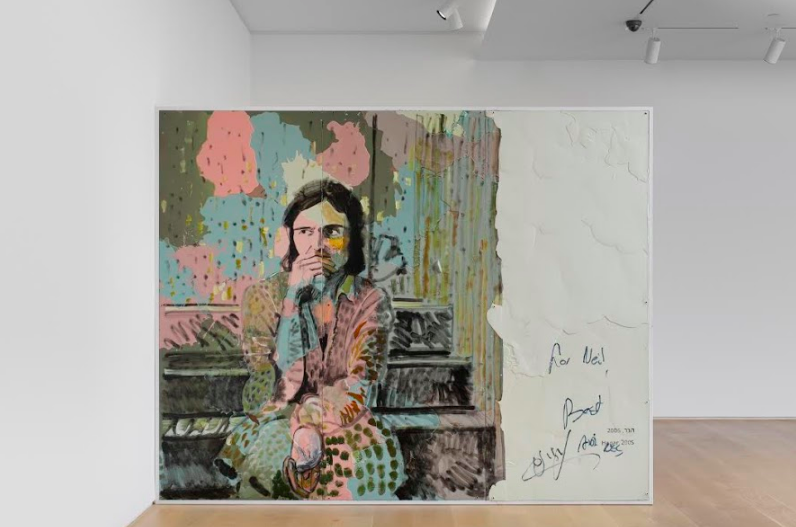 Sir You Will Doubtless Be Astonished - Wax, plasticine and ink on board, steel frame, 10 x 8 ft, 2015, The Drawing Center, NY. Photo Credit: Jose Andres Ramirez Jonas
Where do you work?
I work at home. I get distracted even at home but I'm better off there.
Even though I make big physical things, I always say I don't have a studio practice. But that's only partly true. I only make the relief panels if I have a show and then I make the work for a particular encounter in a particular space.
I make small pencil sketches and a few logistical drawings at home and scale up directly from there. I sometimes use exhibiting spaces as my studio I suppose, or a show becomes a reason to temporarily find a studio space.
When was a time you did work out of a studio?
Last year I briefly rented a studio in London to make a big panel. Then I worked for seven weeks in a huge former VHS magnetic tape factory in Sligo in the West of Ireland for a show curated by Vaari Claffey.
I painted massive fantasy head shots of local trees. They were a bit like a set of cards, like tarot, or just straight up portraits. I was really in love by the end.
I was so happy making this huge work there. I was almost completely by myself. I had my own scaffold tower and I would work nights so I could be in the factory alone. I really needed to concentrate because it was demanding physically and emotionally making that work.
I rented a studio again for a few weeks in Brooklyn to make another work and at the end of last year I spent a month living and working in Res, a gallery in London, as part of my ongoing work with artist Beatrice Loft Schulz.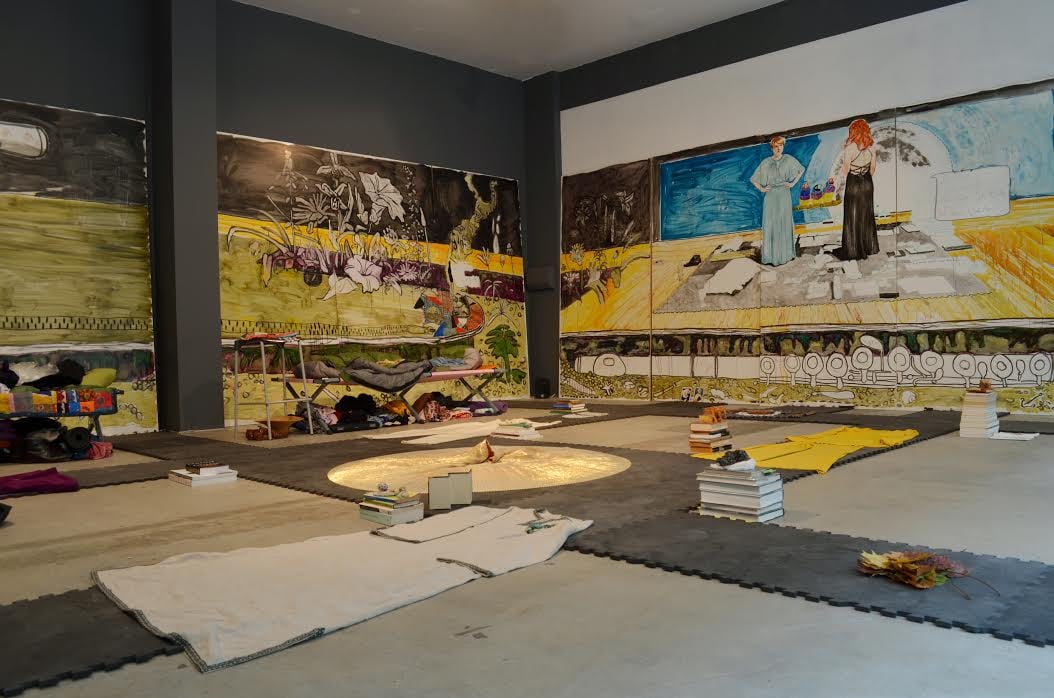 Painting for Beatrice Loft Schulz, Bain Marie, ink on dry erase board. Photo Credit: Carlos Monleon Gendall.
Any upcoming projects?
I have two studio residencies coming up, one in Connecticut in July and one in New York at Pioneer Works that starts in November. I'm happy because they are for short periods, like a couple of months. I'm not committed to one space, but it will be different in a good way. In June I'm in London for an event in the ICA theatre organized by Letitia Calin. It's related to the Betty Woodman show that has just finished. I'm working on a performance for that. I'll be in Helsinki in August.
What does the art world seem to love, but doesn't make sense to you?
The studio visit. This is when a curator, collector or gallerist visits your studio to see your work and talk to you privately. It's usually with a view to be included in a future show or help sell your work.
Because I don't have a studio practice, or I say I don't, it doesn't make sense for me. I recently asked a curator if they wanted to do a studio visit, just to see how it would feel. It was all wrong, like I'd asked a man to marry me.
Someone told me recently that they know an artist who has a really swanky studio with different whiskies to offer his visitors. Apparently most of his money goes into funding that.
What's your pipe dream project?
I just want to make big scale work.
There's an X-Files episode I'll never forget: Mulder's driving along a straight desert road with a convict in the back seat. His heart is linked to the speed of the car. When the car slows, the convict feels pain. So Mulder has to speed up for him to recover, mainly so he can get information out of him, but I think he also feels sorry for him because he's about to die. The shots keep cutting to the gas meter, which is slowly running out of gas.
That's how I feel about working on large-scale projects.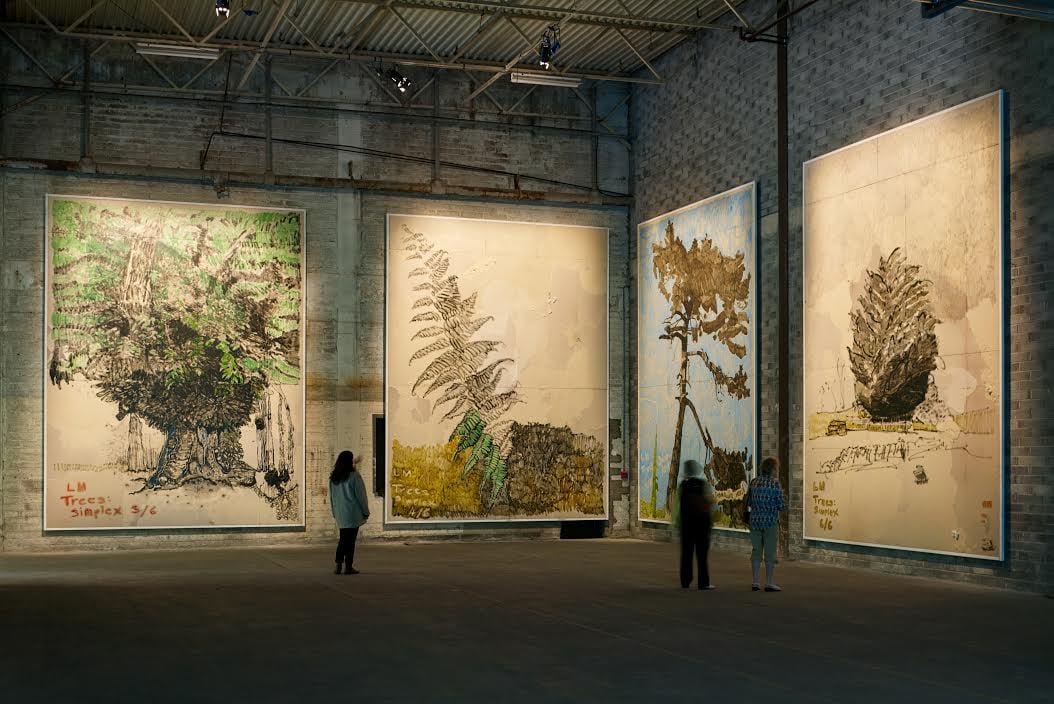 Trees - Simplex 1-6, 2015. Photo Credit: Denis Mortell.
What advice would you give to a new artist?
Always ask to be paid for your work. Even from the very beginning, ask to be paid for your time. If you don't ask, you probably won't get.
Even if you think you're young or only have a BA or don't have a BA, payment for exposure isn't enough.
Do you think young artists don't have the right leverage?
The art world feeds on youth, so you're actually a Prime Cut. Even if you don't feel like that all the time. It can be embarrassing and disheartening, especially when the response you get is to shame you for asking. But the more you ask to be paid, the less you'll be bothered by that.
Why do you think it's so important for artists to always get paid for their work?
Because it's a market, even though it is really unregulated. The people who expect you to work for free are being paid for their time, either in hard cash or by the cache of organizing an event and being the curatorial name on the door.
Even if your curators aren't earning "real money," they are getting hooked up with institutions who will eventually pay them a salary. Your free involvement will help them get there.
It is not the same for artists. You will almost always be expected to work for free, even when you've gained a reputation and long after people value what you contribute.
Are there any times artists should work for free?
Try not to confuse the times you work for free (because you truly believe in a project and literally nobody is being paid, but something really good is happening) with the times you think you should be paid (most times). It's complicated and awkward. You have to make your judgements...
Expect bemused, pitying faces when you ask for money. Expect hand-wringing apologies and passings of the buck for low budgets meaning you can't be paid for your involvement. Expect this to sometimes come from friends. Don't be ashamed... they should be ashamed.
Learn more about Laura Morrison...
Upcoming/Current Exhibitions:
ICA London - We do not speak but confine ourselves briefly to the surface (a dramaturgy of interiority)
Social media links, profiles, or websites:
Recently Published Words:
Cornerhouse Publications: Transactions of Desire - Vol 2
...ment Journal: Issue 6 - Displacement
Headshot credit: Tommy Weir