I recently caught up with Indiewalls artist Heather Goodwind who currently lives and works in Portland, Oregon. Goodwind studied sculpture at Portland State before co-founding and running Gallery 214 for a few years. She has lived in Argentina, China, and Australia as well as New York, California, and Florida.
In addition to picking her brain on Oregon's natural beauty, we discussed her extensive works on paper collection and intriguing travelled past. Learn how her work has evolved over time and what inspires her practice below.
K: Many people travel, but not everyone can say they have lived in so many unique places.
H: There is something wonderful about moving and meeting people from other cultures both nationally and internationally. This expansive worldview made me realize that reality is site specific, but emotions and feelings are universal.
K: I find that digging into an artist's process and past illuminates overlooked themes or unknown creative avenues. Your history with sculpture made me look at your drawing and painting in a different light.
H: Sculpture was a big part of my early practice and greatly influences my drawing technique. When I approach a piece of paper, I envision an object on the two-dimensional surface. As paint and graphite layer to create the form, my drawings seem to become flat sculptures. Objects float on the paper, a painting with three-dimensional undertones.

Bull(2014) and The Un-free Mind (2015) illustrate how Goodwinds three-dimensional and two-dimensional works relate.
K: My first reaction is that your drawings feels like they are, or could be, completed rapidly, but this notion of layering and form immediately refutes the notion of quick, subconscious movement.
H: I usually start with a casual, impulsive gesture, which I then contemplate for awhile. As the lines start to suggest something to me, I obsessively put thought into every mark. This process creates works that feel spontaneous, but are anchored with a sense of control and tightness.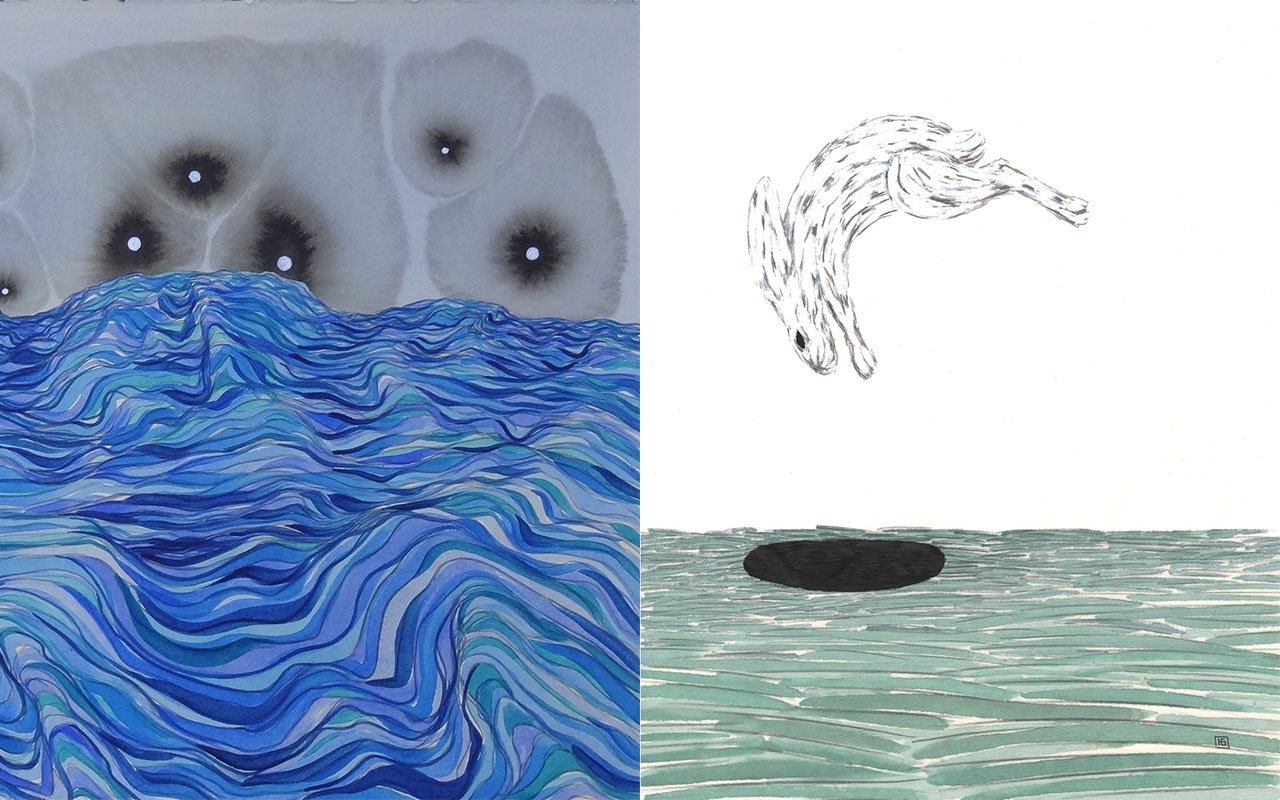 Waves and White Rabbit (2012)
K: When creating and contemplating where does your mind wander? What undercurrents inform the controlled and obsessive side of your practice?
H: I'm moved by the idea of invisible things, especially emotional interactions between people. Tensions in a room, unspoken thoughts, hidden feelings… these things are invisible, but they can be so powerful.
K: Visualizing the invisible sounds like a daunting task, but when I see rows of your work at once, I realize how the spatial relationships between objects and forms allude to these overlooked undercurrents.
H: I approach my practice chronologically by organizing paintings and drawings in Books and Series, but I don't consider myself working under a theme. There is a set of rules that exists with this method, which allows me to push my practice and my skills.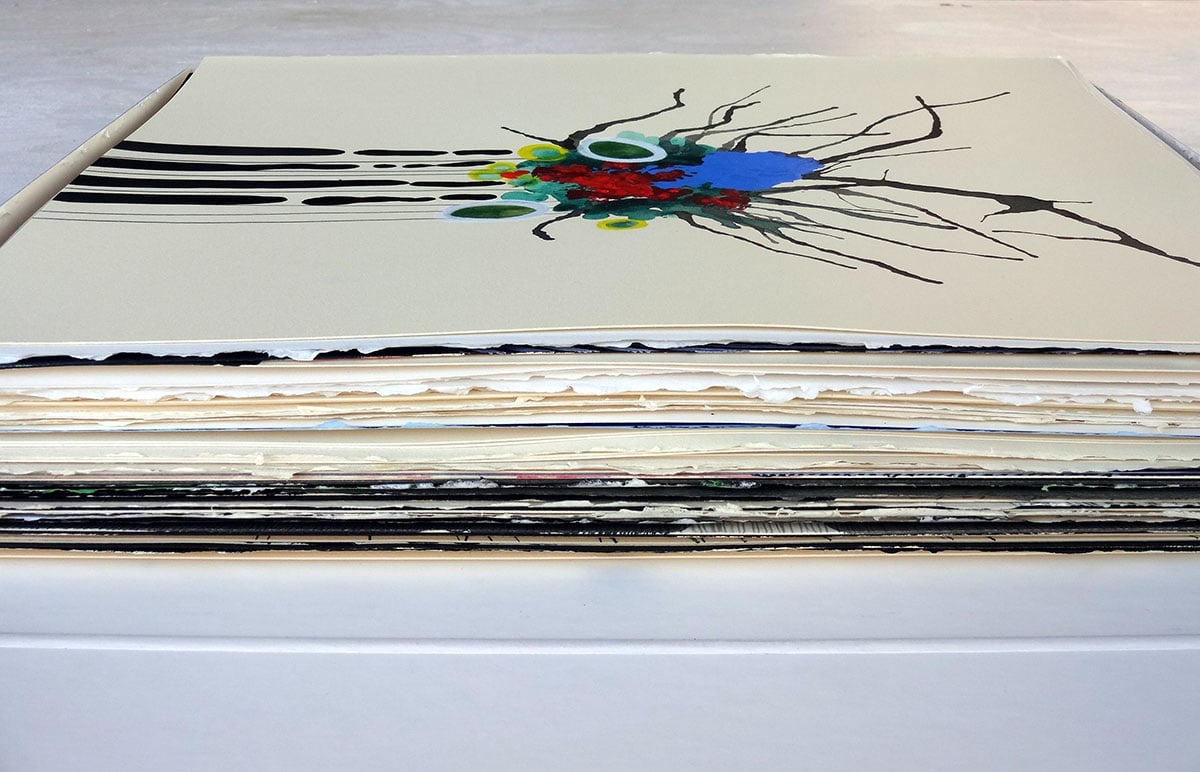 Delicate layers of Goodwind's drawings illustrate her commitment to saving and showing all her work. Photo courtesy of Goodwind.
K: I greatly enjoyed exploring your past and present collections because you allow people to see how your work progresses and changes over time.
H: You'll find that I put all my work out there, I don't curate my site in a subtractive way. Sharing all my work with the world has become a part of my practice that I very much enjoy.
Discover more of Goodwind's work over on the site. She has a few exciting projects coming up with Indiewalls and we look forward to sharing them with you.