An interesting trend is emerging, and the commercial sector should take notice: We are all becoming art snobs.
Fine art splashes front pages, fills news feeds, infiltrates pop music, and commands cinematic attention. As a consequence, our curatorial expectation is elevated. We have begun to notice the artwork around us not only in art galleries and museums, but also in public spaces. Offices, restaurants, hotels, hospitals, and the many other commercial spaces that make up cities are becoming places where owners want and need to make a creative statement.
Companies and Investors Are Starting to Notice
Indeed, fine art has increasingly become an integral part of the design and experience of these commercial public spaces. Massive real estate developers like Aby Rosen and Steven Wynn have spent millions of dollars on artwork displayed throughout their properties. Tech companies such as Airbnb and Outbrain have filled their offices with brand building artwork.
Tech investors such as AOL Ventures and Union Square Ventures are amassing interesting, curated artwork as well. (Side note: In the case of USV, I personally visited their office, and took exceptional note of the installation of Maarten Baas's Sweeping Clock video.)
Even hotels, often known historically for putting (pejoratively named) 'hotel art' in their rooms and lobbies, have been increasingly purchasing curated fine art by real, independent artists. The trend in hospitality has been well documented by Travel+Leisure, the NY Times and CNN.
So Who's Job is Getting Harder?
This increased attention on public spaces has heightened the pressure on interior designers, who are often the ones responsible for finding and selecting artwork (along with furniture, carpets, fixtures, and finishes) that is purchased for these properties. Unfortunately though, artwork for commercial properties is hard to find. Especially the type of art that is currently the most popular - well-curated, locally sourced artwork from independent, emerging artists. There are galleries and private curators to hire, but they can be expensive and yield limited options. There are the poster sites (who shall rename nameless), which are less expensive, not particularly exciting, and rarely source from local independent artists.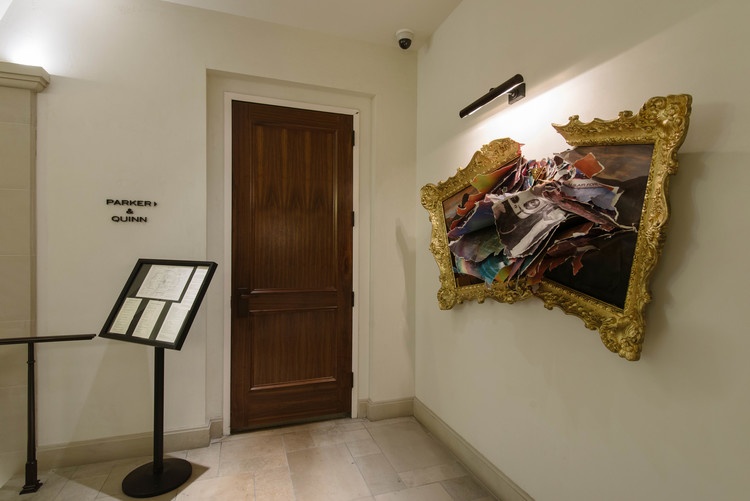 Hey Internet: I'm Disappointed!
Online art forums and communities have been building for years, and you would think it would be the go-to place for designers looking for talented independent artists. As it is, we use the internet to find and buy everything from our daily lunch to our houses. However, if you've ever searched for art online, you know it's completely different. Even with the entire art world seemingly uploaded online, the internet remains an inefficient place for designers to source art. Designers often have a very particular vision for artwork that fits their project, and simply googling "10 foot tall sculpture made of stacked glass and wood backlit to create geometric shadows" yields zero helpful results. Searching for something as nuanced as fine art using traditional online browsing is simply not a valuable use of time.
Where we see the industry going (#humblebrag)
As online communities grow, and sourcing from the 'crowd' becomes more common and powerful, our approach to commercial art curating needs to be duly changed, or even reversed: Instead of designers looking for artists, artists should be looking for designers. Instead of browsing through pre-existing options, a designer in need of artwork should be able to post their project and vision. If there was a centralized website where artists could view this post, then artists from around the city could then pitch their artwork to the designer. This is the better way to find unique, dynamic, and local artwork. We believe that adopting this approach has the potential to change the art procurement process, from painful to pleasant and productive. That's why we're excited about last week's launch of Indiewalls Next - a platform that does exactly that.
Introducing Indiewalls Next

Use our guide to quickly explain your artistic vision. Based on your project brief, artists will begin pitching works that match your specifications. Designers can save the art that they like and hide the art they don't. Indiewalls' artists work in a range of mediums, from prints to installation art. When you've found the artwork that you love, you can add your final choices to your spec sheet. We'll take care of the logistics, from production to shipping to installation.
Want more Art x Indiewalls?