Last May, EDG Interior Architecture & Design approached Indiewalls with an ambitious design concept for Westin Arlington's restaurant, The Commentary: let's install hundreds of framed prints wrapping the walls, ceilings, and corners of the restaurant, while custom wire wall sculptures and a glowing neon sign set the mood. The eatery is meant to be an all-day social hub for DC-commuters, locals, and hotel guests alike with interaction and connection at the core of its identity.
With that in mind, we set out to curate a collection of 100+ unique works that explore the role that food and drink play in communication and social gathering. Contemporary and archival artworks are installed along the ceiling in the shape of a cartoon speech bubble, cascading along the walls and flanking corners. Should there ever be a dull moment, a visitor could simply look around onto any surface, see the artwork, and spark new commentary.
Curious to know how we handled curation and production for this challenging install? Check out our review below.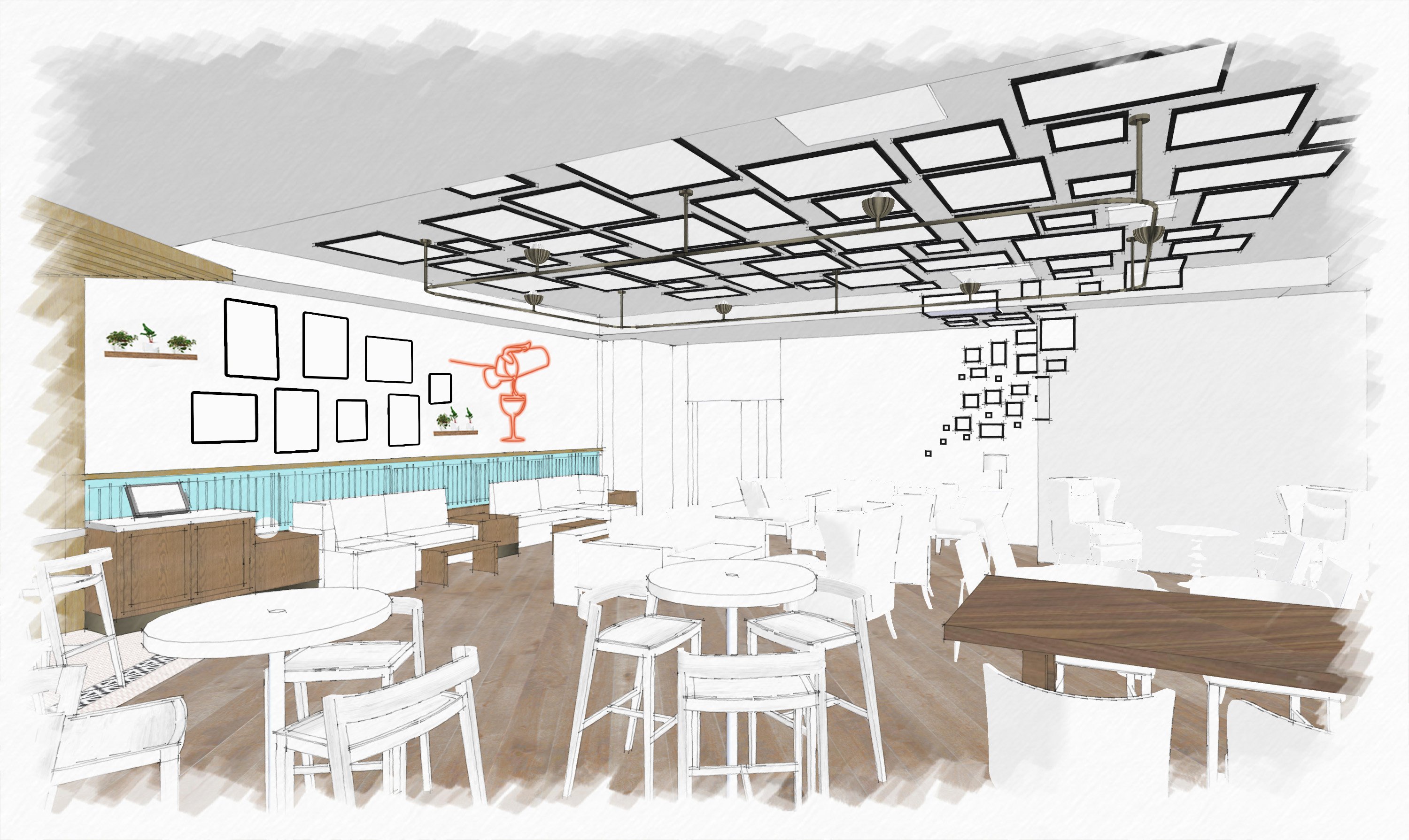 A design rendering of The Commentary's lounge from July 2019, featuring two large salon-style walls. This was an early image provided to our team pre-curation. Provided by EDG Interior Architecture + Design.


Collaborative Curation & Problem Solving
Turning inspiration into reality is the M.O. of any good curator, but collaboration was the real key to this project's success. We worked closely with EDG throughout the process, and collaboratively shared design duties. While our team jumped into curation, EDG simultaneously determined artwork dimensions for the three salons-walls. After artworks were selected by the clients, we prepared several potential layout options for final approval.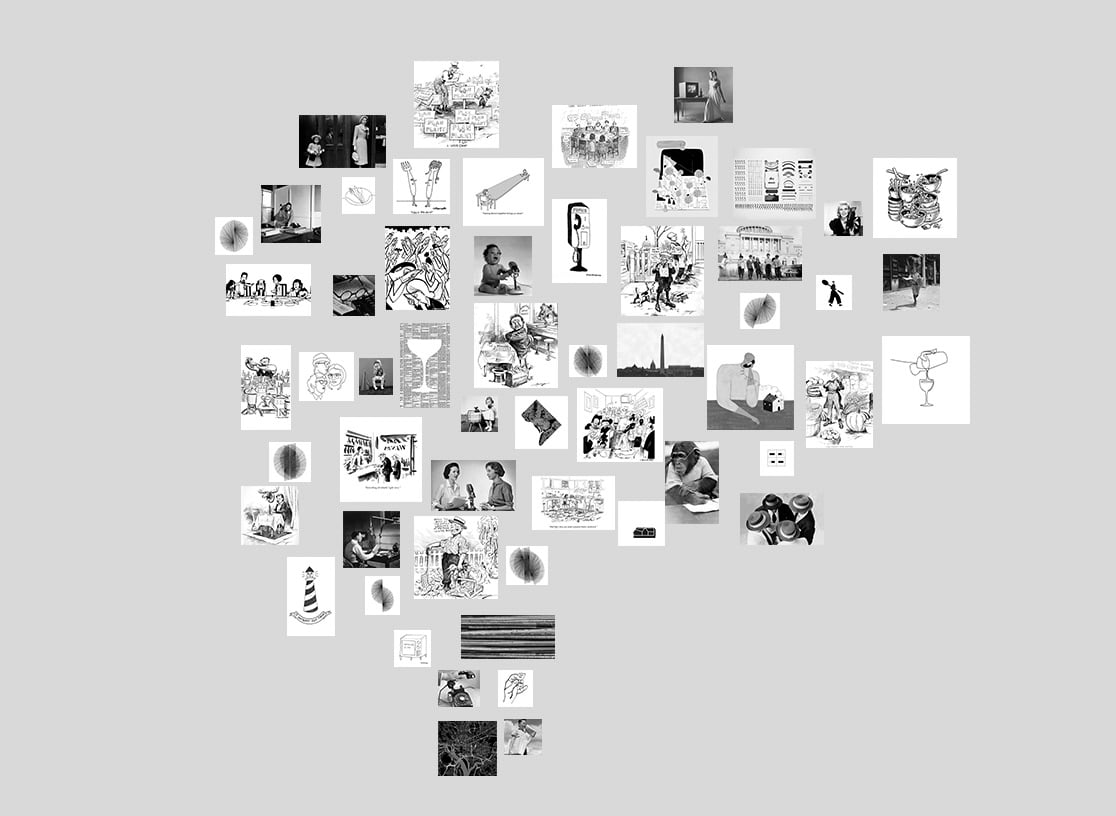 Sample scaled artwork layout shared by Indiewalls to design and clients during artwork selection and approval process.


Before moving into production there were several design choices and on-site hiccups we needed to address. Most importantly, we received news from the GC that there would no longer be wood-backing to the drywall ceiling, which meant that only lightweight works could be installed. The concept had to stay, but our production method would have to be reevaluated. How could our team more than halve the weight of standard framed prints, and what would be the best means for seamlessly wrapping framed prints around corners?!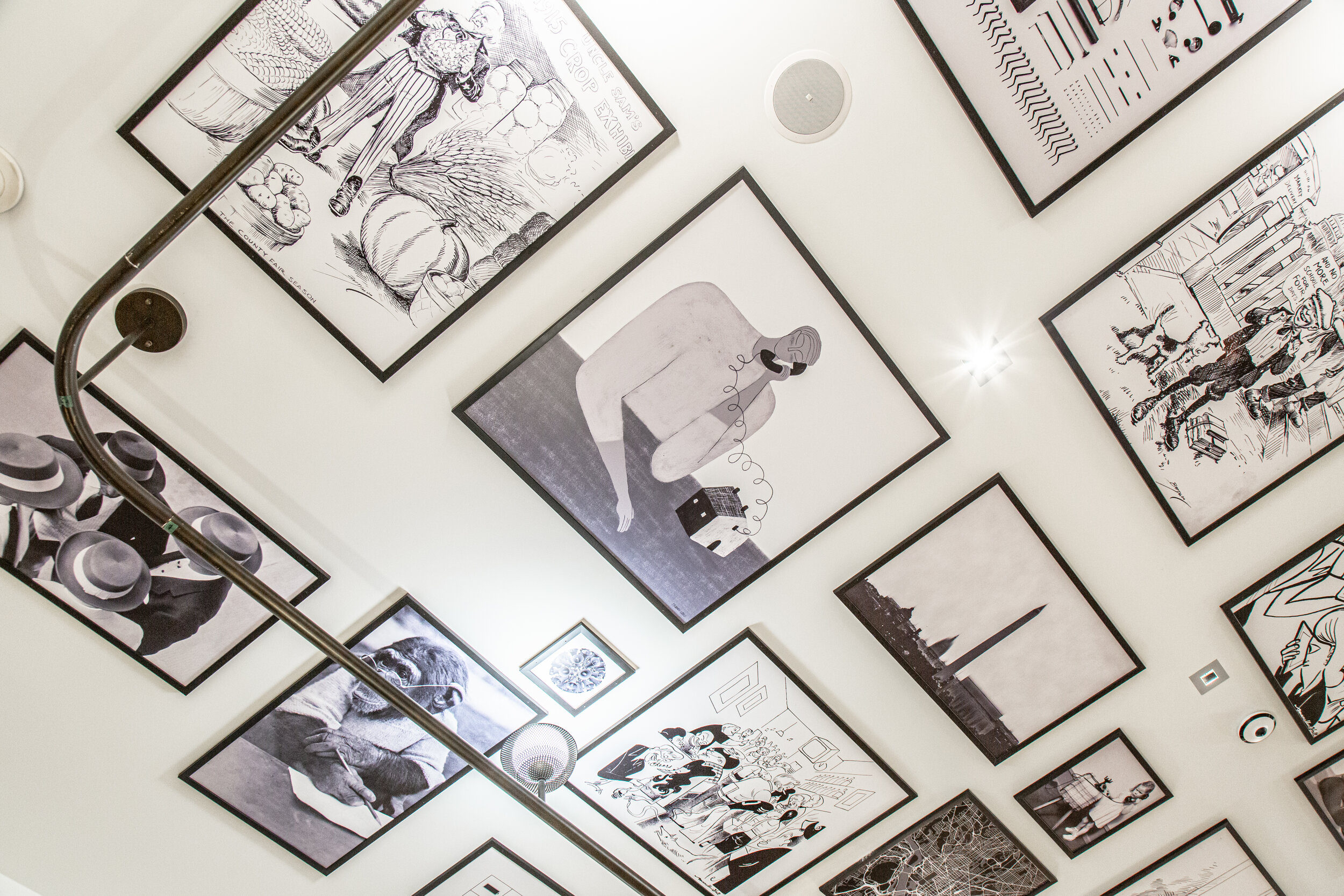 Detail view of prints by Fernando Cobelo, Marcellus Hall, & Kata Juczi installed on ceiling.


Solution #1: Sintra & Putty
After consulting our production team, we decided the most cost effective and durable substrate to hang assuredly on the drywall ceiling would be sintra. By printing directly on sintra, a matte PVC material that is lightweight, rigid, and offers excellent print quality, we were able to frame the works with ¾" moulding but eliminate the need for glass. For the added security, the works were screwing directly through the moulding into the drywall, and we applied putty to finish the frames and conceal the hardware.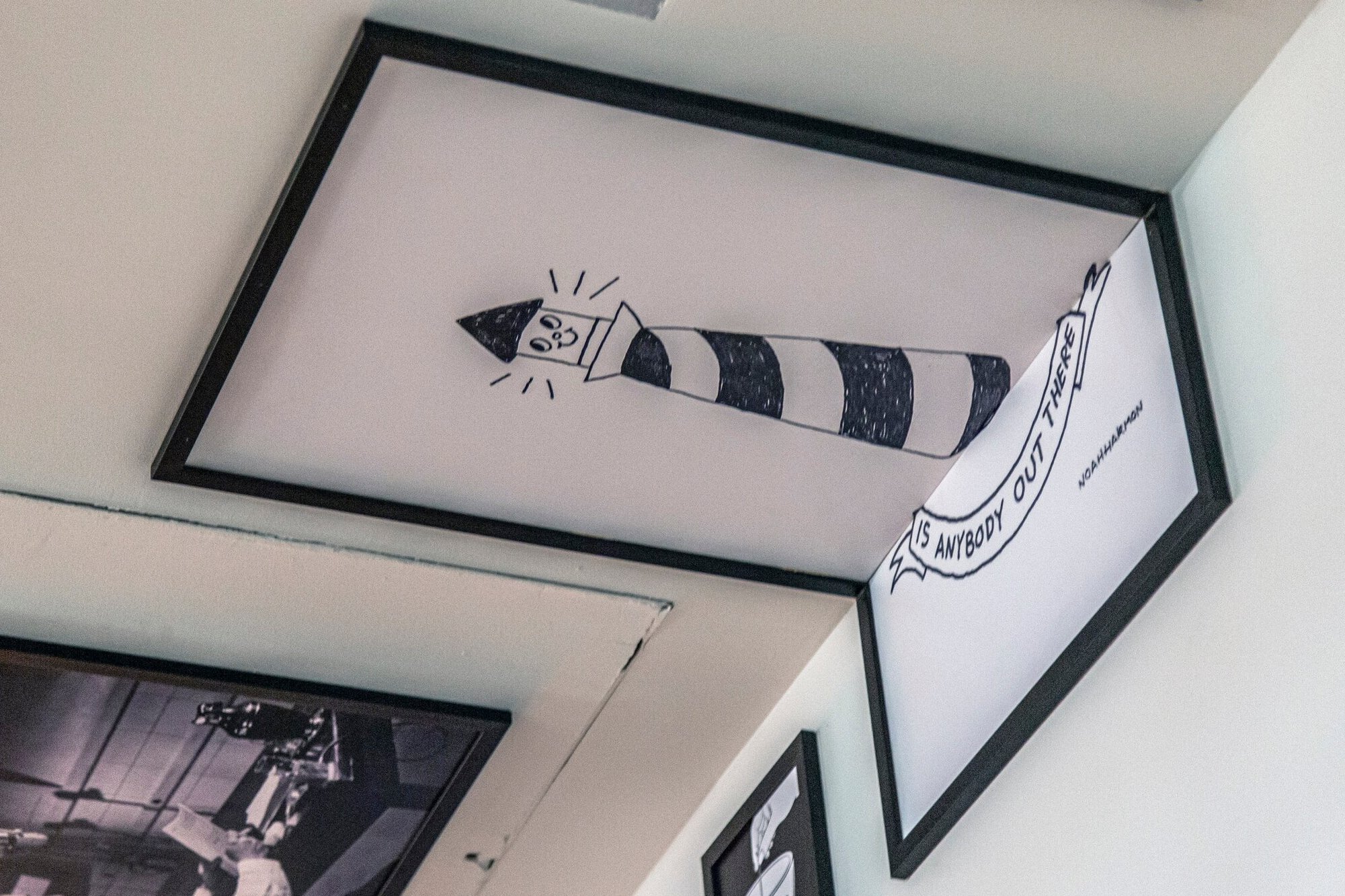 Detail view of Noah Harmon's work wrapping the corner from wall to ceiling.


Solution #2: Vinyl Corners
While sintra was the perfect substrate to hang along the wall-to-ceiling installation, it presented some difficulties for the three works that would bend along the wall corners. If bent at a ninety degree angle, sintra will snap, and no one wants a broken artwork. Instead, we sought to find a pliable, paper-like material to seamlessly wrap the corner. After conducting some tests, we found the answer in vinyl. At each corner, two sintra panels were installed along each edge, and then a single vinyl print was mounted overtop, providing a smooth, square artwork edge.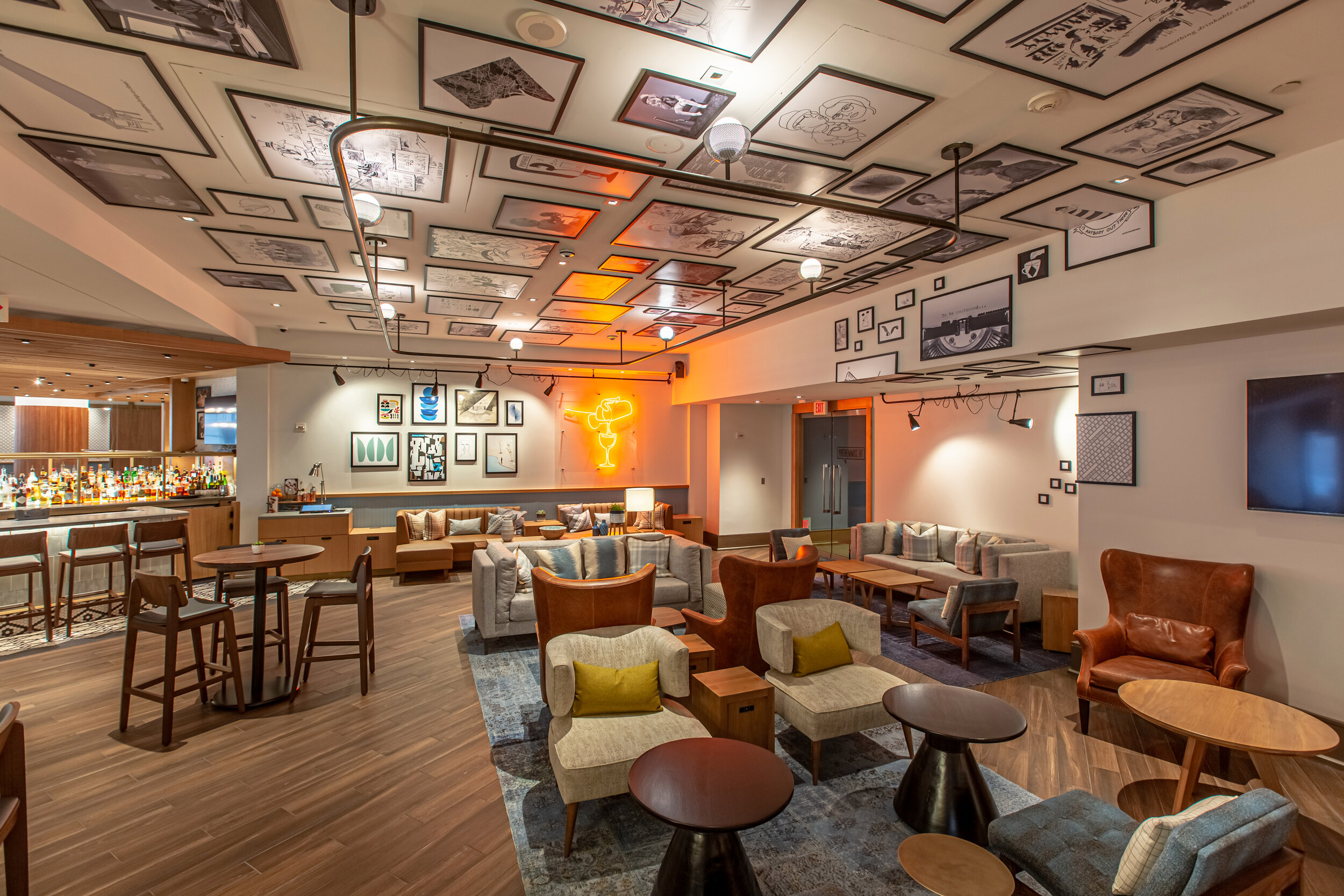 After two months of curating and decision making, one month of production, and two weeks of installation, 100 individual artwork prints, several custom sculptures, and one unique neon prove that 100 little things make one big impact.
For more images of The Commentary, hop over to our Project Gallery!
---

Cover Image: Installation view of cascading black & white prints in the shape of a quotation bubble.