It's hard to miss the recent resurgence of 1990s nostalgia. From TV reboots like Fuller House to fashion trends like chokers and fanny packs, the '90s are everywhere, and the art and design worlds are certainly not exempt from this cultural moment. At Indiewalls, our inner (and outer) '90s kids have loved seeing the revival of geometric accents, powerful pattern clashing, and notes of saturated color everywhere.
These '90s trends are inspiring us as we prepare for the Boutique Design New York trade show and conference next month. Our booth design this year is making all our '90s dreams come true. Be sure to stop by and see it for yourself. In the meantime, here are two of our favorite ways the 1990s are guiding design today.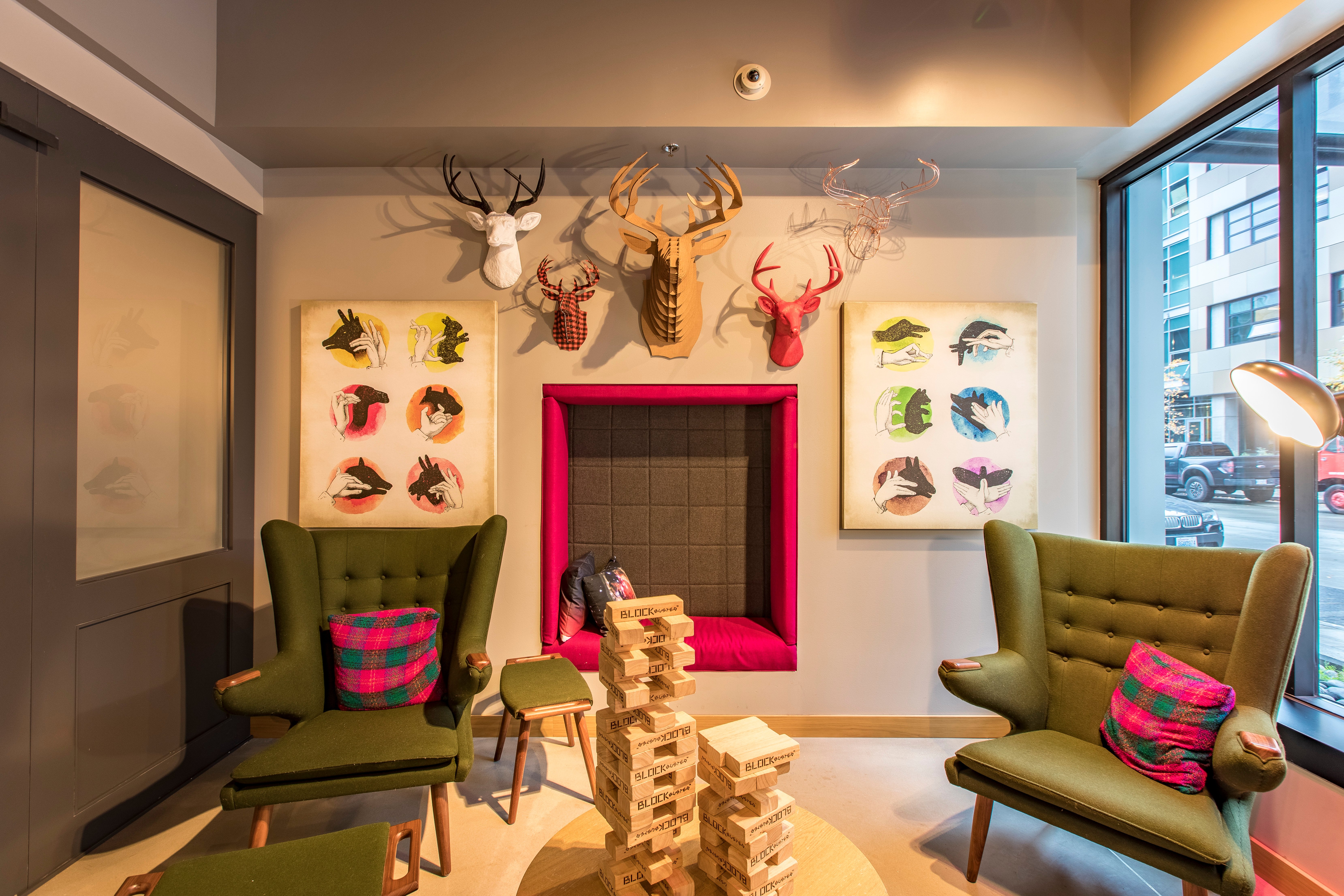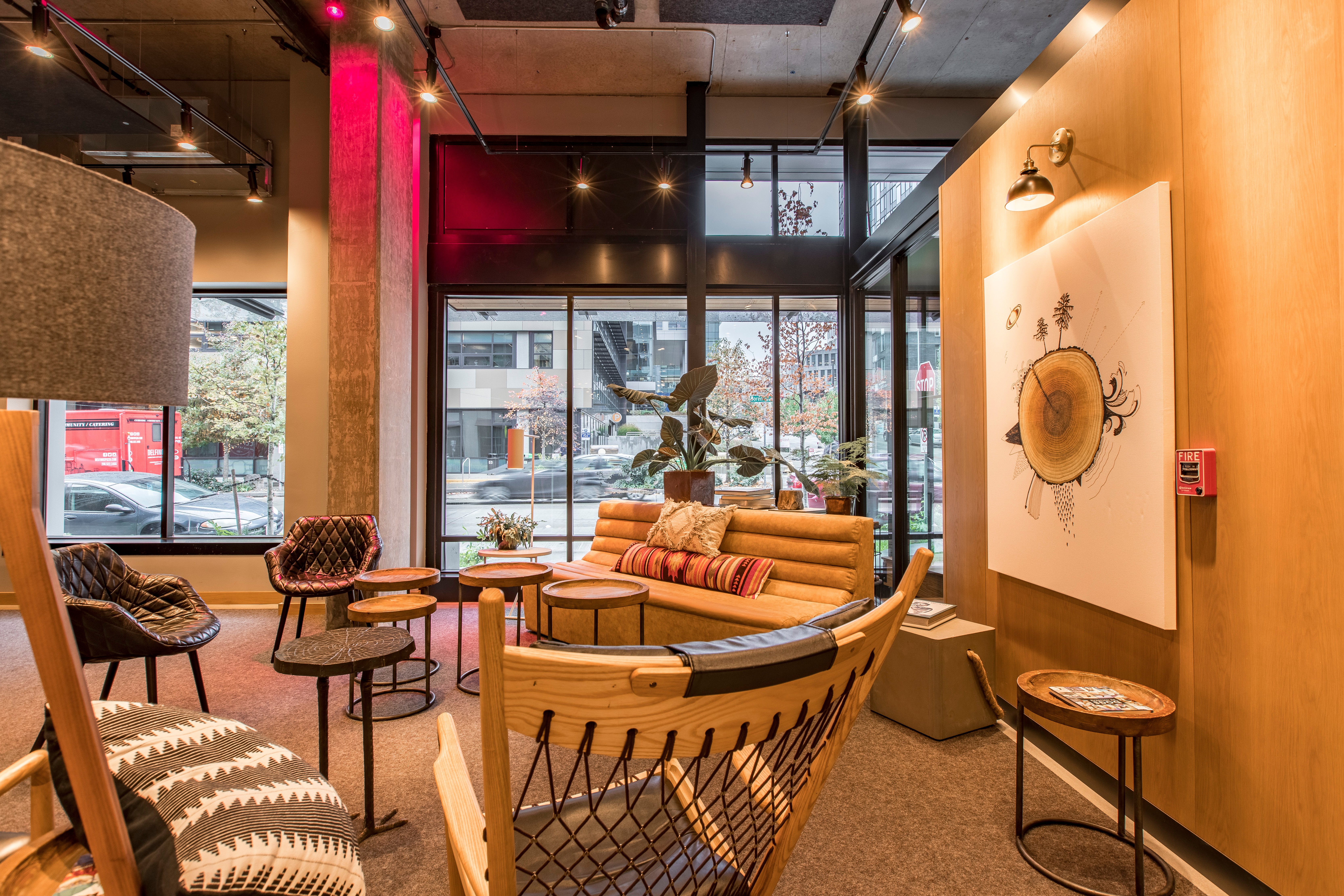 Moxy, Seattle. Design Team: Ankrom Moison Architects
Neon, Neon Everywhere
Neon colors are ubiquitous in the fashion and beauty worlds right now, and more and more of these highlighter hues are starting to appear in design as well. We love how pops of neon can make a space feel vibrant and a little frenetic—in a great way.
For Moxy Seattle, Indiewalls worked with Ankrom Moison Architects to create a welcoming lobby, full of cozy hunter green and blonde wood (another '90s throwback!) with whimsical notes of neon pink on throw pillows and in built-in seating areas. Art by Jenny Anderson added an additional neon burst to enliven the walls. It's easy to think that neon might overwhelm a space, but quite the contrary is true here. We love how the neon accents coexist beautifully with darker, richer hues and light wood to create satisfying contrast and inviting layers in the space.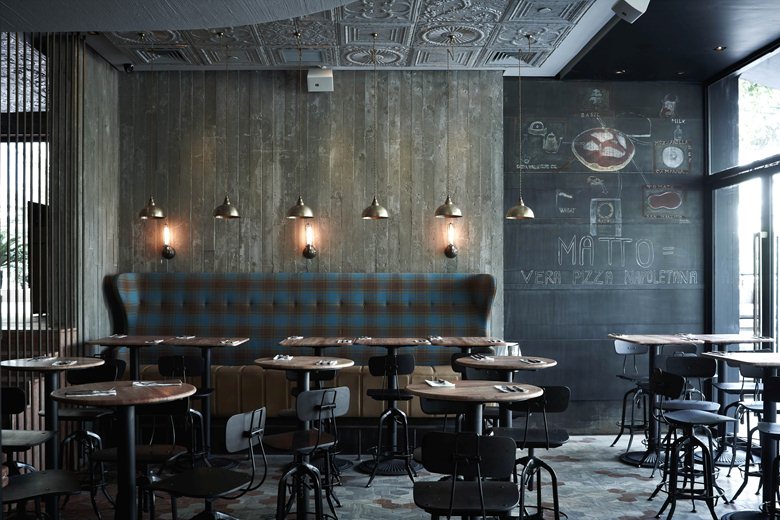 Credit: Matto/Archilovers.com
Go Grunge
If the thought of worn-out flannels and Doc Martens doesn't scream great design to you, think again. Born in Pacific Northwest in the 1980s and 1990s, the grunge aesthetic is much more expansive than disaffected teens and electric guitars. An entire school of typography was born out of this movement — one that defied design norms, and emphasized an ever-changing, often chaotic, always expressive way of communicating. Indiewalls is currently collaborating with a hotel in Seattle on a grunge-inspired remodel. We're excited to work with our artist community to help channel the low-fi vibes and rebellious spirit of the grunge movement.