As a BFA student at SCAD, Will Penny was a painter. Today, two degrees later, he has returned to his alma mater as an instructor and multidisciplinary artist focusing on the ways digital techniques can enhance creative processes. I spoke with Will about a special piece he's fabricating for Indiewalls, his creative practice, and how he seeks to "dissolve the traditional boundaries of art and design."
---
Thanks so much for talking with me today. We're thrilled to be featuring your work at BDNY this year. Tell me a bit about the piece you're working on for the Indiewalls booth.
The piece is from a series of geometric works that I've been working on for the past seven years. The series started off as an experiment in pushing around the picture plane in paintings. I was thinking of ways I could use sculptural, illusionistic qualities and use color to attempt to simulate light.
Fascinating! Your pieces definitely succeed at creating illusions and making the viewer question whether they're looking at a sculpture or painting or something else entirely. What is the process like for creating these pieces?
I start off on the computer, sketching with 3D-modeling software. I draw a large group of 3D patterns, and then whichever ones look interesting to me, I'll bring them to life. I use different digital fabrication methods, but for this one, the pieces will be cut out of an aluminum composite material on a CNC router. Once the pieces are assembled, I move into painting, usually with industrial spray guns.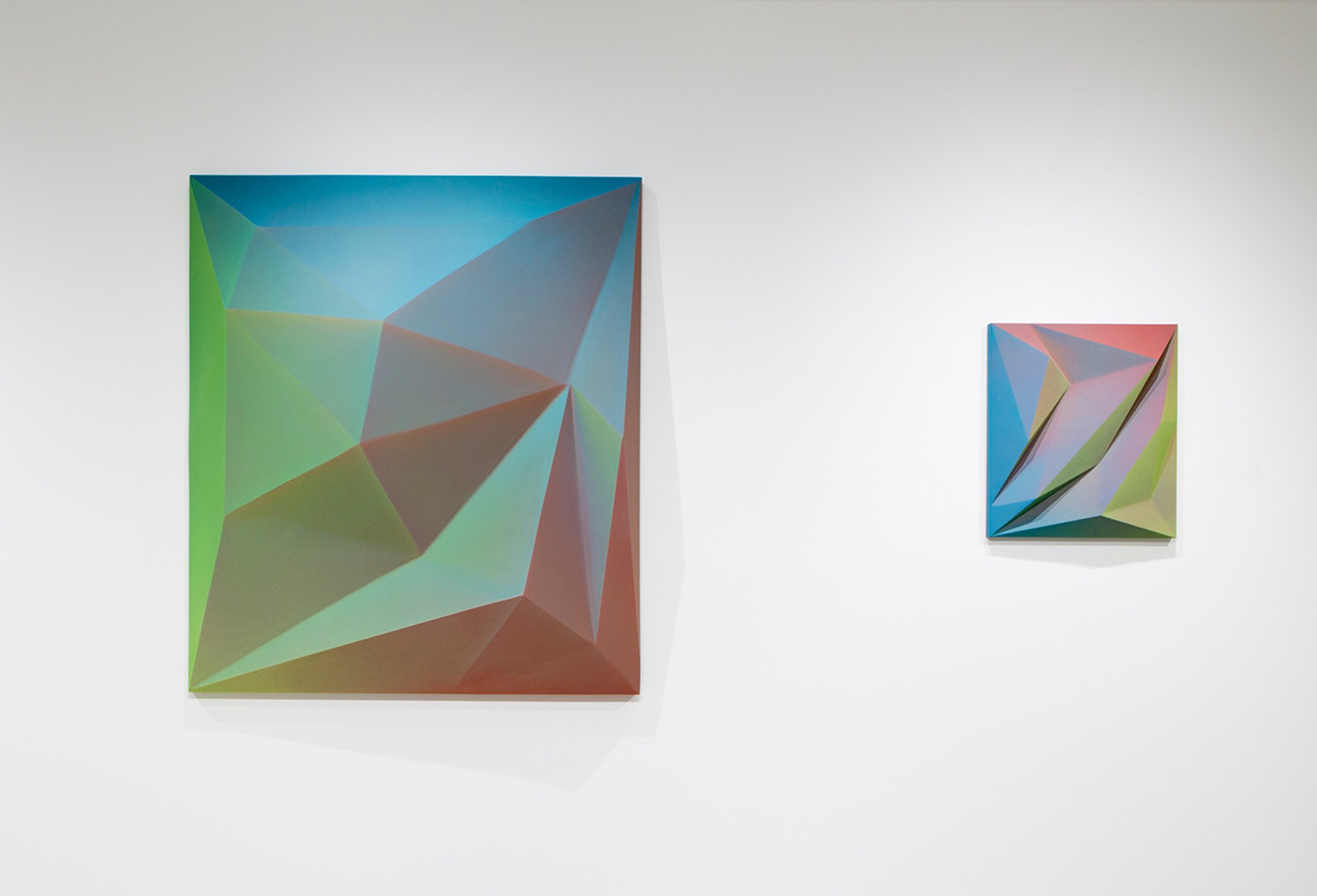 I love how you use color. Your palettes are incredibly eye-catching and almost look lit from within. What is your process for deciding on a palette?
When I go into the painting process, I try not to have too much direction in advance. Once I have the fabricated form, I like to respond to it. I usually have a limited palette of three to six colors, but then, the geometry of the piece interacting with light causes optical mixing and shadowing.
Wow. I could have sworn there were more than three to six colors in your pieces! The palette is so rich. It's so interesting how light, shadow, and our own optical anatomy changes the experience of the colors.
As an artist, I'm mindful of context, and the most important thing to me is the viewer's experience. I'm always thinking of somebody interacting with my work, and considering what they'll get out of it. These ideas, to me, are related to the functional nature of design.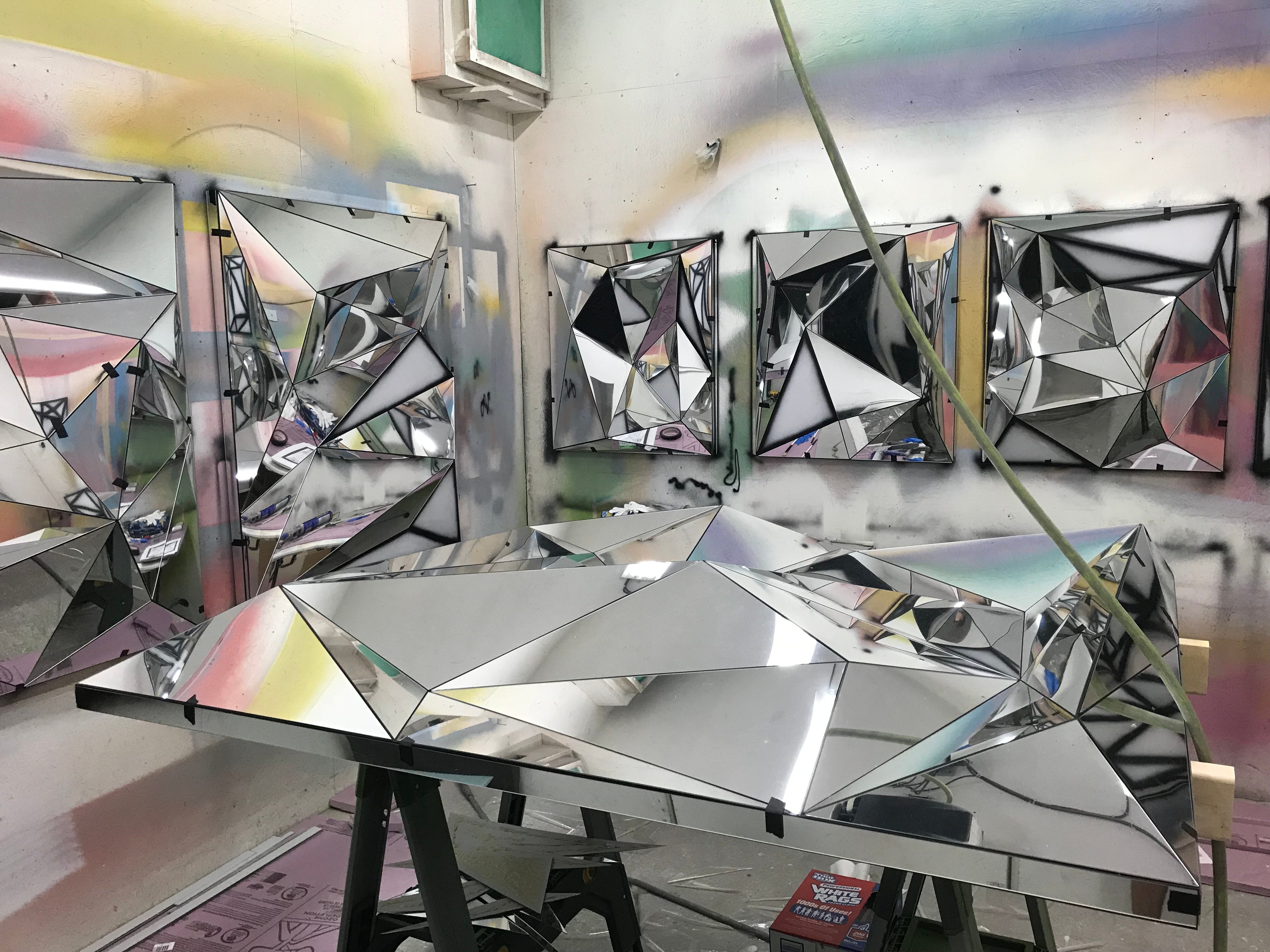 Your bio says that your work aims to "dissolve the traditional boundaries of art and design." Can you talk more about that? How do you conceive of these boundaries, and what interests you about making work in that liminal space between art and design?
A big part of my artistic practice has been picking up various techniques and not worrying about whether it fits into the definition of art or design. This freedom is something I never expected when I was oil painting with an easel. I was stuck on being a painter for a long time. I would get stuck on how to paint exactly right and how to pick the right thing to paint. As soon as I started learning 3D software and sculptural processes, the doors swung open for me personally and creatively.
In my studio, if we need to use a new sculptural application that no one has used before, no one is going to say, "We can't do that." We just figure out what we need to learn—even if this pulls from a design or architectural skillset —and make it happen. I think of myself as a lifelong learner.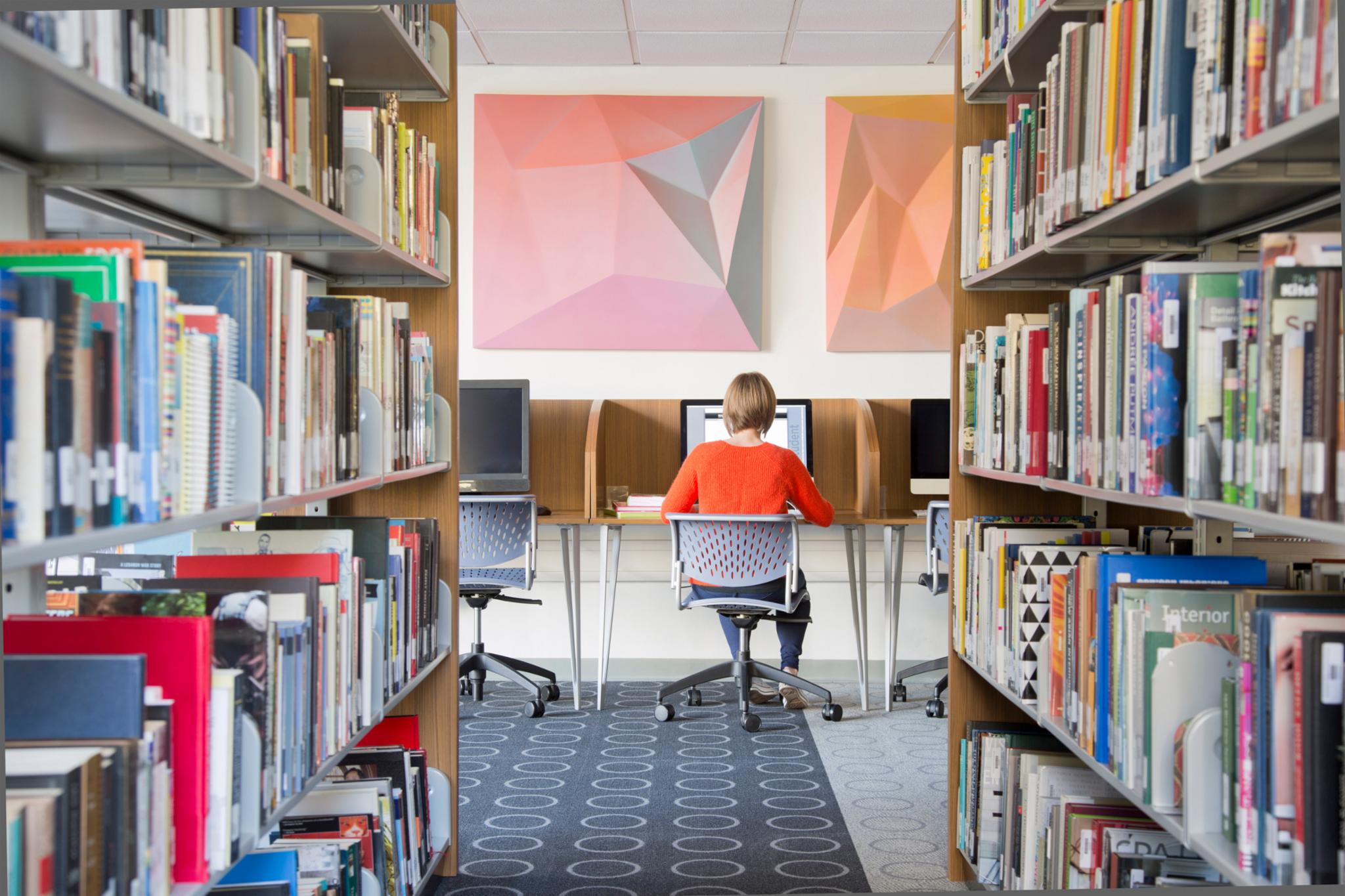 As you know, Indiewalls is an art consultancy, and therefore, one of our main goals is to facilitate good experiences for designers who want to work with artists, and vice versa. What kind of advice would you give to designers, artists and even consultants like us who want to create better connections between the art and design worlds?
In education, we talk a lot about how to find a common language with our students. I think it's the same dynamic here. Any good professional relationship is built around developing a common language. In my experience, any difficulty that arises when working with a client is often the result of us not hearing each other. It's so important to slow down—even when everyone is busy and on deadline—and open up a dialogue where each person can express what they hope and expect out of the collaboration.