Summer flew by, but luckily, there's a lot to look forward to this fall. We love any excuse to connect with the art, design, and hospitality industries IRL. Here are a few of the trade shows, conferences, and art fairs we can't wait to attend in the coming months.
From September 24-27, we're headed to Las Vegas for Wyndham's Annual Global Conference. Brian Mulroney, former Prime Minister of Canada, and Padma Lakshmi, host and Executive Producer of Top Chef, are just a few of the luminaries who will be sharing insights on the hospitality industry. This year, we're proud to attend as the official art partner for Hawthorn Suites, a Wyndham brand with over a hundred locations in the United States and Canada. We can't wait to connect with the Wyndham community and celebrate the beginning of this exciting partnership.


The Affordable Art Fair is one of our favorite outlets for scouting new artists who sell in the range of $100-$10,000. This fall, the Affordable Art Fairs will take place in seven consecutive international locations. We'll be attending our hometown fair in NYC from September 26-29. We always leave the AAF inspired and can't wait to see what it is in store this year.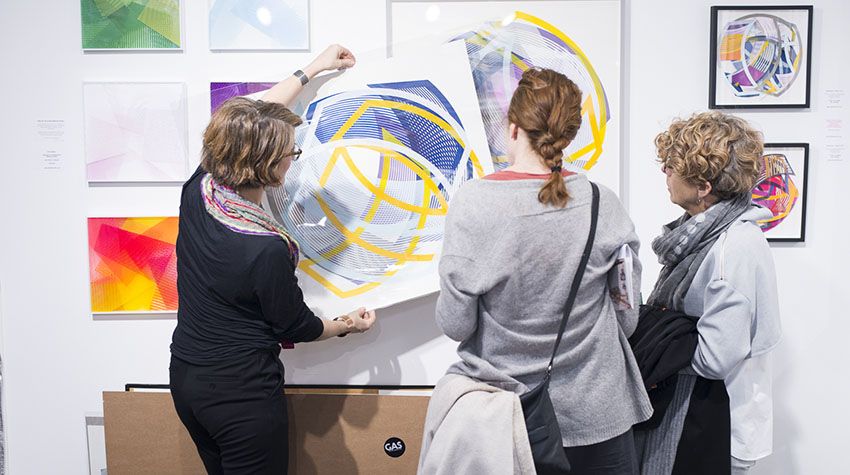 Source: affordableartfair.com
Every year, we look forward to The Other Art Fair. This innovative event allows attendees to purchase work from a diverse roster of emerging artists. The Other Art Fair is a great opportunity to connect directly with artists and find a one-of-a-kind piece for your home or personal collection. This fall, the Other Art Fair will head to Los Angeles, Dallas, London, Sydney, and Brooklyn. We'll be at the Brooklyn fair, which will be held Nov 7-10.


On Nov 10 & 11, you'll find Team Indiewalls at BDNY, one of our industry's largest trade shows. With over 8,000 designers, architects, purchasers, and owner/developers in attendance, there are countless opportunities for discovery, education and conversation.
We're already cooking up a one-of-a-kind art installation at the Indiewalls booth. If you'll be there, come find us at Booth #3260!
Indiewalls at BDNY 2018; Our creative director, Lauren Schleider collaborated with local artist Richard Clarkson
to create a sound-responsive celestial installation.