On September 12, we're headed to Minneapolis for the NEWH Regional Tradeshow. Minneapolis is one of our favorite cities for art and design, and we're proud to have completed a number of projects there. In this post, we'll introduce some of our favorite Minneapolis-based Indiewalls projects and show how they use local-inspired art to tell a diverse range of stories about the city.


For Le Meridien Minneapolis, Indiewalls partnered with Remington Hotels to create headboard artwork that speaks to Minneapolis's unique ecology — that is to say, its home in the "Land of 10,000 Lakes" — while also reflecting the hotel's modern aesthetic. Starting with an open source topographical map of the Chain of Lakes just outside of downtown Minneapolis, Indiewalls worked with digital artist Evan Rosen to create custom wall vinyls in the hotel's signature color palette. We love this project as an example of how to use contemporary and abstract motifs to celebrate a property's natural environment.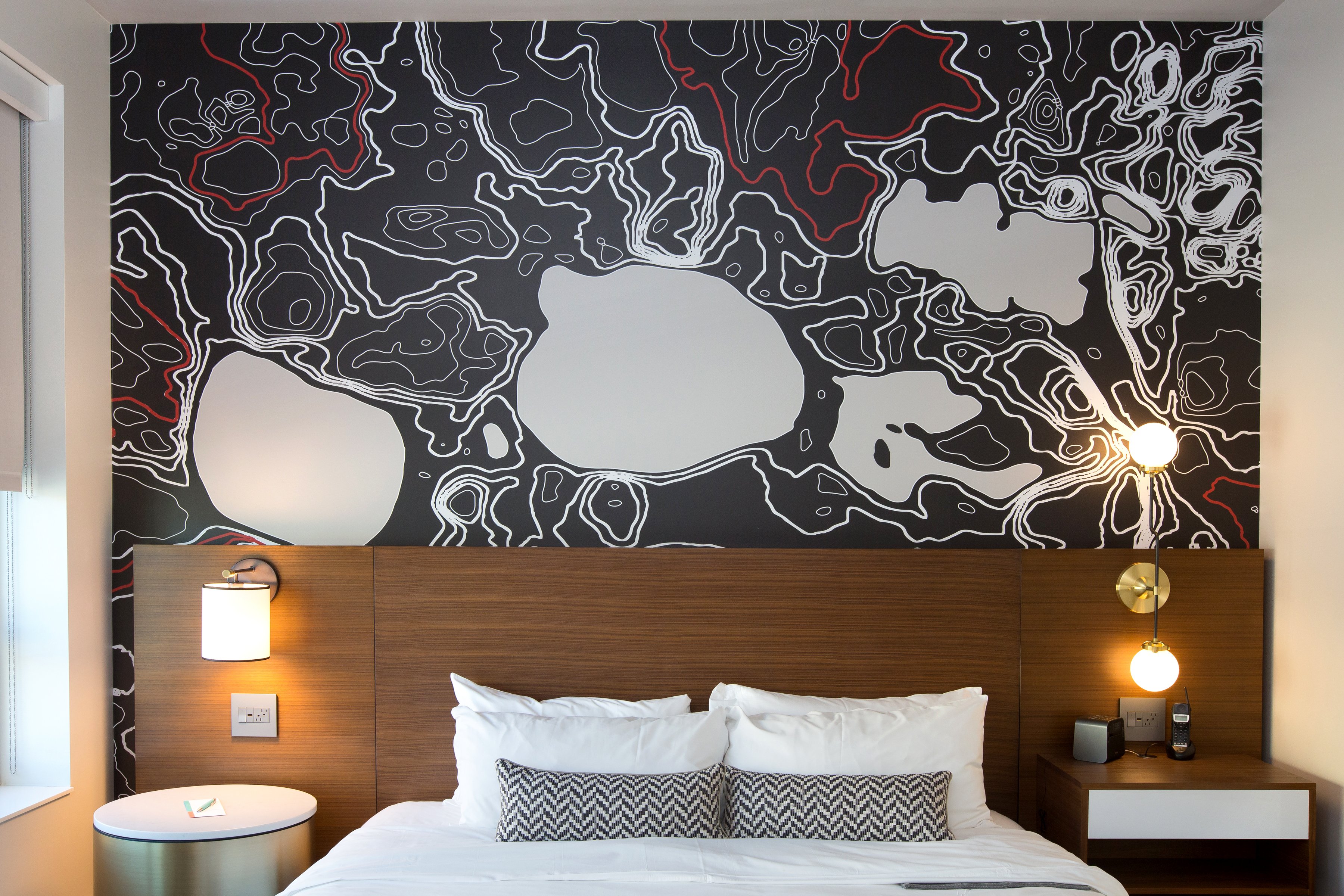 Evan Rosen's custom wall vinyls for Le Meridien Minneapolis.
A renovation at the Loews Minneapolis took a decidedly different approach to telling the story of Minneapolis. Rather that focusing on the city's ecology, Minneapolis's industrial past was the chief design inspiration for this project. Indiewalls collaborated with Chicago-based Simeone Deary Design Group to source and commission works from local artists inspired by Minneapolis's iconic factories and cityscapes. The scope included a hand-painted mural of Minneapolis's skyline by Liliana Payne behind the front desk, as well as urban landscape photography by Kendell Victoria, Mat Ollig, and Jes Lee in the meeting rooms. These works give the Loews a true sense of place, welcoming guests by sharing an artistic encyclopedia of urban, industrial Minneapolis.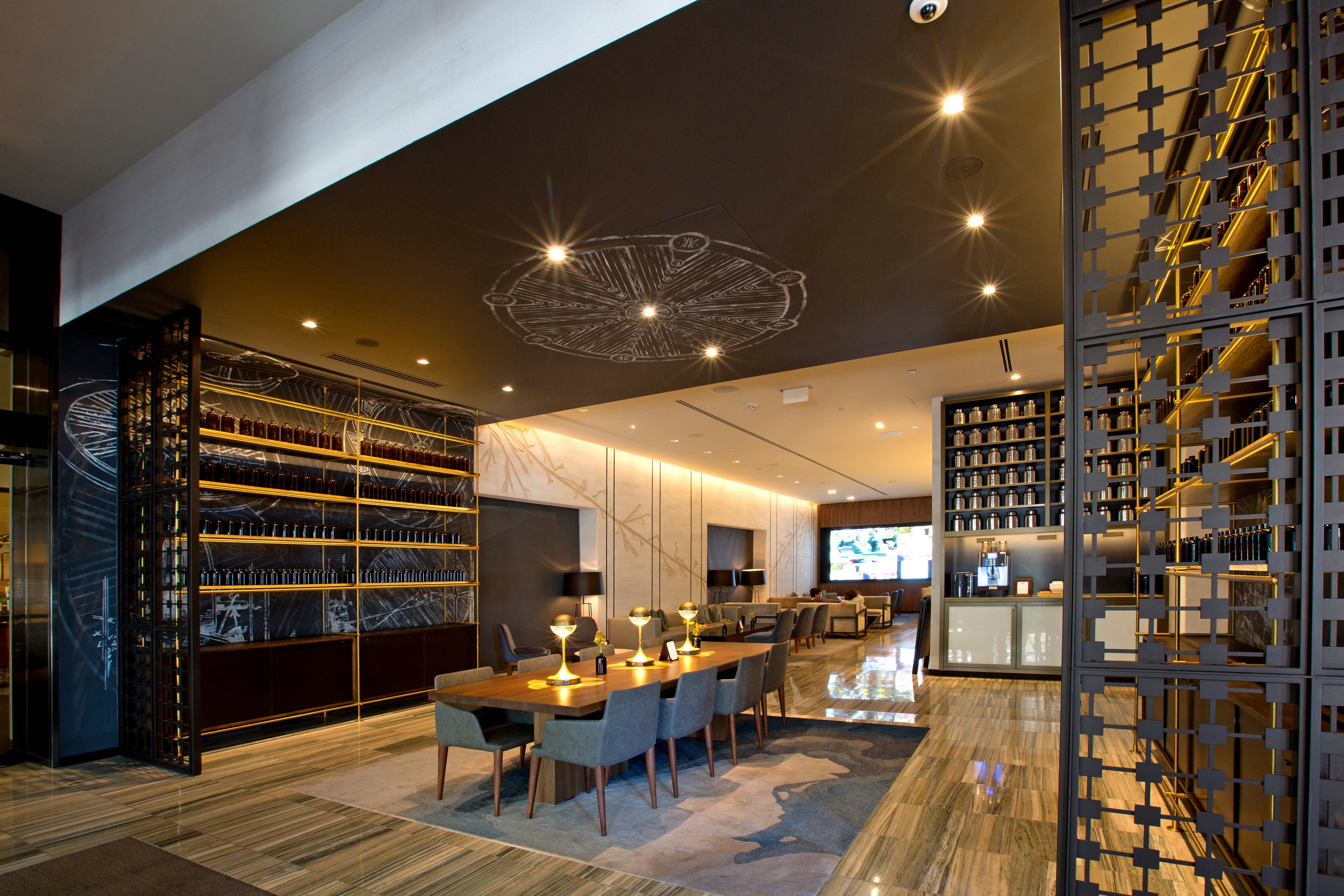 Lobby, Loews Minneapolis
Radisson Blu Minneapolis
The Radisson Blu sits squarely in the densest part of downtown Minneapolis amidst the city's iconic Skyway, a continuous 8-mile stretch of enclosed, elevated walkways. Indiewalls chose art that would mirror this bustling urban landscape and tell yet another story about Minnneapolis—this time, one about its present as a diverse modern metropolis. Kaleidoscopic photography was chosen to echo the modern geometric shapes of the Minneapolis skyline, while colorful abstract prints speak to the city's vibrancy. This project, like the others above, show how location-specific art need not all look the same, but rather, it can—and should—capture the variety and complexity of cities themselves.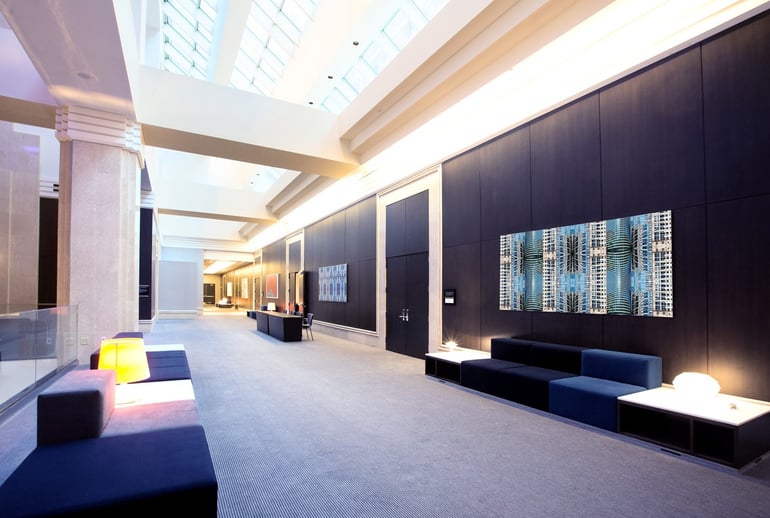 Radisson Blu Minneapolis