With playful shapes that seem to "dance" together in contrasting tones and sizes – the canvas prints of Indiewalls artist Susana Paz have brightened the walls of hotels around the country, collaborating with brands like Tru by Hilton and Kimpton Hotels. In recent months, Susana discovered a new skill – designing inviting and friendly safety signage for our newest project, Indiesigns. We had the chance to talk to Susana and hear about her creative process during quarantine, the ways she believes the art world can better support female artists, and of course, creating safety signs as businesses begin to reopen.
---
Hi Susana! It's truly an honor to talk to you. You're currently based in Portugal, as the country is still slowly reopening and mostly in lockdown, how are you staying creative?
I'm in a unique situation. I've been working remotely for a while now, therefore, the lockdown did not affect my work process. For the most part, I've been focused on my projects and on updating my website. During the day, I unplug: No TV, no social media, no worrisome news. I don't want my work and creative process to be darkened by the troubling times we're living in.
We've recently launched Indiesigns, safety signage custom-designed by independent artists like yourself. I'm a big fan of your signs - they're welcoming and friendly, with a touch of humor that brights me comfort during this very stressful situation. What inspired your Indiesigns work?
How do we uplift a downbeat friend? We cheer her up! This is the time to create work that counterbalances the situation we're living in. We're all scared – conditioned to follow new rules and routines. Creative signage can serve as a great reminder, but it does not need to be boring.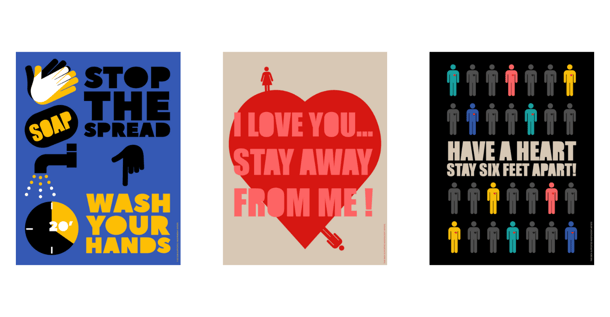 A few of Susana's Indiesigns designs
There are many artists, designers, and creatives all across the world that want to make a contribution and help others who are struggling due to the effects of COVID-19, such as health issues, unemployment, or lack of food. What advice can you give them?
Images have great power. To create visual work that communicates positivity and hope is a great way to help. In this respect, Indiewalls and your artists have done a wonderful job. The #GiveASign murals in hospitals, creating COVID signage that is more appealing – these are all fantastic examples of what we can do.
Your illustrations bring a fun colorful twist to any room! As many of us are now working from home and staying inside for long periods of time, we're trying to make small upgrades, such as purchasing artwork, to brighten up our living spaces. Do you have any design tips?
My home, like most homes, is mostly white. But in every room, there's a wall either painted in a unique color or with wallpaper. This makes my home feel a lot cozier. I also recommend creating a "gallery wall" with a mix of affordable art from different artists and styles.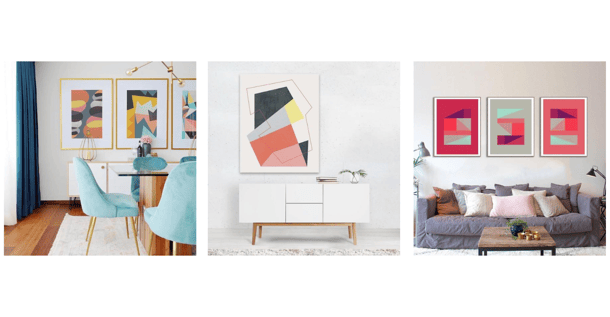 A few of Susana's prints
This has been a very volatile time for the art world, from the Black Lives Matter movement, the financial loss for artists and museum staff members, to the acknowledgment of the lack of women and minorities being properly recognized in artistic institutions. Can you tell me about your experience as a female artist and designer? How can the art world make better changes to help women and underrepresented communities?
Gender, race, and income discrimination are not exclusive to the art world. These are intersectional problems and the pandemic has only made that clearer.
My reality as a woman artist is conditioned by where I live. Even though we have some of these problems in Portugal, they come at a smaller scale and impact. A while back, I quit my long-standing job as a teacher to focus on my illustration work; a risk I decided to take. It was from that moment on, as I worked hard on my practice, that I understood that being an artist does not need to be riddled in scarcity.
Nowadays, we don't just have galleries and agents. The internet brought us together. The fact that I get to create from the comfort of my home in Portugal through Indiewalls is a great example of this. There's a lot of great platforms to sell art online and social media is a great means to be seen. So, we can choose different paths. The art world does not need to be merely contemplative and elitist. Art is a product and should be within reach of every person.
What is your "post-COVID-19" travel and museum wishlist?
My destination of choice would be Japan. A museum? The Louvre in Abu Dhabi; born out of an agreement between the governments of France and the UAE, and designed by the French architect Jean Nouvel, this museum is stunning.
---
You can discover more artist-designed signage at Indiesigns. Shop our new school signage packages, which features inclusive and welcoming designs for students and staff members.