As the country begins to reopen, many of us have emerged from this time period with new ways of doing things – from ordering to-go cocktails to becoming online shopping wizards. Across the world, artists and cultural institutions have also been experimenting with creative ways to keep up with this new normal, such as the Museum Boijmans Van Beuningen launching a drive-thru art museum to the Magazzino Italian Art requiring visitors to wear social-distancing devices that buzz if they come too close together.
If wearable social distancing technology and drive-thrus aren't your things, we recommend exploring your city's outdoor artwork to find inspiration and scratch that artistic itch. There are countless public sculptures, murals, and architectural works across the nation that are easily deemed museum-worthy. Below is our list of our favorite public artworks that you need to check out this month that are perfect options for a car trip or long walk:
1. 'Transcendence' by Keith Jellum, Portland, Oregon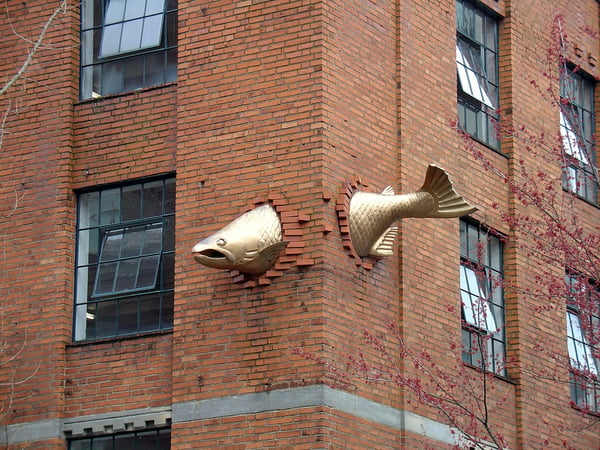 Max Pixel/Public Domain (Creative Commons)
Crafted by Oregonian artist, Keith Kellum, Transcendence is an outdoor sculpture fittingly located above the Southpark Seafood in Downtown Portland. The 11-foot bronze sculpture depicts a fish "swimming" through the exterior of the building, seemingly crashing through the bricks. It's funky and whimsical presence is a great symbol of Portland's well-recognized artistic and progressive community.


2. 'Brickhouse' by Simone Leigh, New York, New York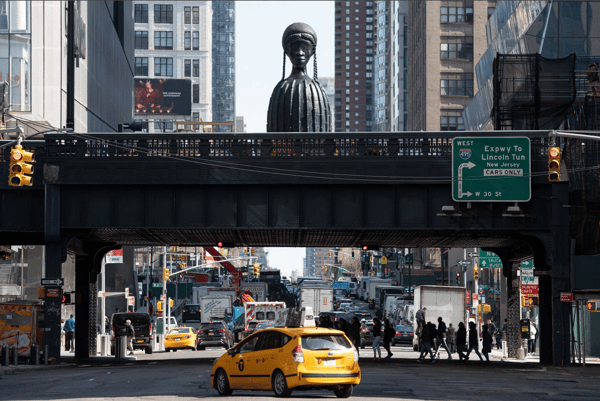 Image by The High Line
Brickhouse has been The High Line's most talked-about public installation this past year. This 16-foot bronze bust of an African-American woman is part of Simone Leigh's Anatomy of Architecture sculptural series, where she draws inspiration from both Roman/Egyptian sculpture and historical African-American pottery to create anthropomorphic sculptures fusing together women and household objects. The High Line just recently announced its reopening, so if you're in the NYC area, make sure to bring a mask and check this piece out.


3. 'Seven Magic Mountains' by Ugo Rondinone, Las Vegas, Nevada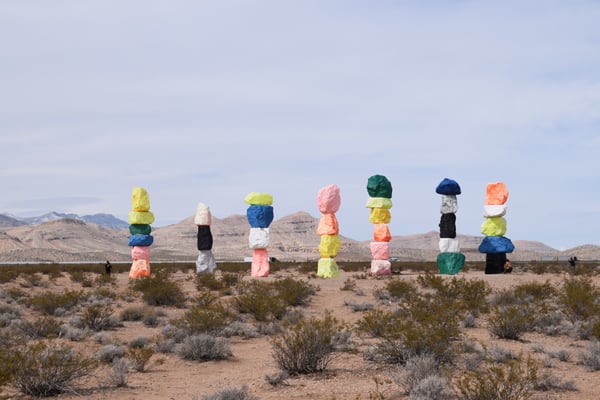 Image by Lyle Hastie (Unsplash)
Situated in the Ivanpah Valley and only ten miles south from the city of Las Vegas, Seven Magic Mountain is a jaw-dropping desert installation by Swiss artist Ugo Rondinone, showcasing seven towers of rainbow-hued boulders standing more than 30 feet high. According to the artist, "the location is physically and symbolically mid-way between the natural and the artificial: the natural is expressed by the mountain ranges, desert, and Jean Dry Lake backdrop, and the artificial is expressed by the highway and the constant flow of traffic between Los Angeles and Las Vegas." Make sure to go early to avoid the crowds in order to take an Instagram pic!


4. 'Rumors of War' by Kehinde Wiley, Richmond, Virginia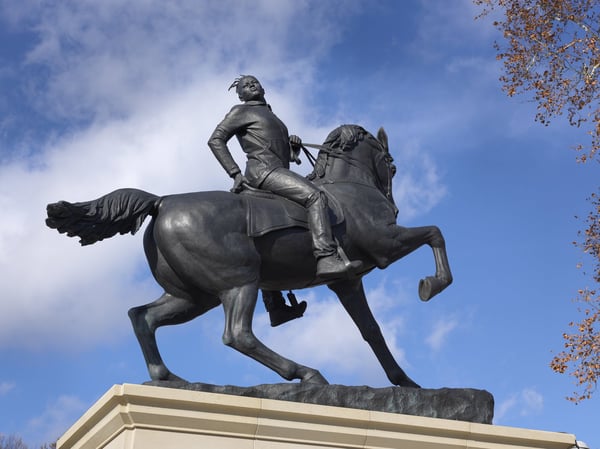 Image by Travis Fullerton (Virginia Museum of Fine Arts)
Kehinde Wiley, possibly one of America's most well-known and prolific living African-American artists, crafted Rumors of War as a response to the Confederate statues that flank Monument Avenue in the city of Richmond – a sort of, "if you can't take them down, put new versions up" retort by the artist. Wiley's sculpture showcases a young African-American man dressed in modern streetwear in a similar pose to the famous statue of Confederate Army General James Ewell Brown, depicted riding on horseback. The statue was first revealed in Times Square and its permanent home is now installed outside the Virginia Museum of Fine Arts.


5. 'Universal Chapel' by Okuda San Miguel, Fort Smith, Arkansas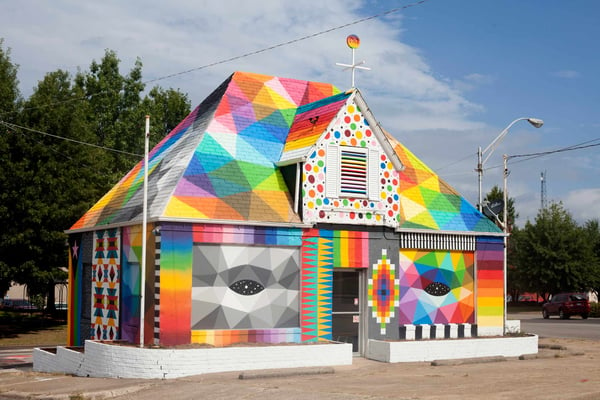 Image by Okuda San Miguel
Commissioned by the women-led art platform, JUSTKIDS, Madrid-based artist, Okuda San Miguel, repainted the formerly-abandoned family home to feature an array of psychedelic colors and patterns, drawing inspiration from Native American cultures who live near the downtown Fort Smith area. Cool fact: the house is now a cultural center for local children.


6. 'Slide Mantra' by Isamu Noguchi, Miami, Florida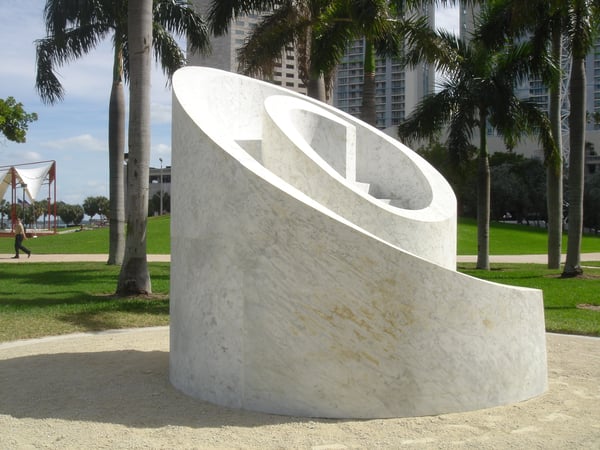 Photo by Evergreene Architectural Arts
Bayfront Park is one of downtown Miami's most well-known green spaces and was designed by the Japanese-American modernist artist, Isamu Noguchi. Within the park is the colossal 29-ton marble statue, Slide Mantra, which was created by Noguchi to represent the United States in the 1986 Venice Biennale.


7. 'Flower Girl' by Madeline Wiener, Denver, Colorado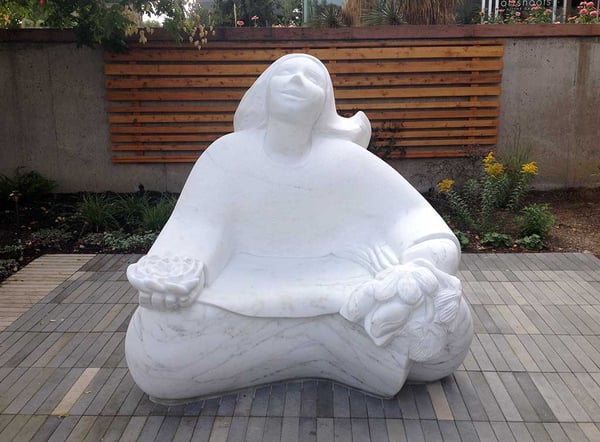 Photo by Madeline Wiener
As the Denver Botanic Gardens are slowly reopening to the public this summer, enjoy peacefully communing with nature in the Sensory Garden, home to abstract sculptor Madeline Wiener's Flower Girl. Carved from solid Colorado Yule marble, she represents joy and happiness found from exploring the outdoors.


8. 'Open Room Austin' by Roberto Behar and Rosario Marquardt, Austin, Texas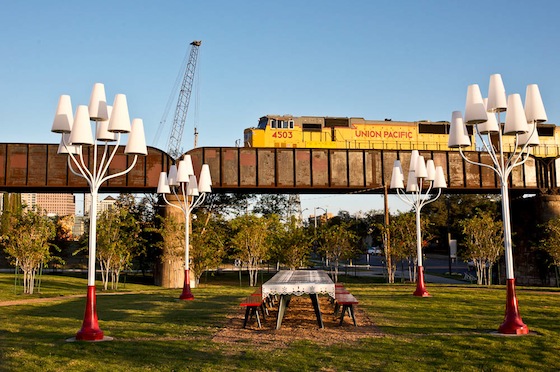 Image by R&R Studios
This metal installation features a long table with a "lace" tablecloth, adjoining seating, and four hanging lights - giving a homey, domestic air to the public park. Open Room Austin was designed to be a more social form of public art, where visitors can come together and form close connections while sitting together. Feel free to catch up with friends and loved ones there – and remember to stay six-feet apart!


9. 'Urban Light' by Chris Burden, Los Angeles, California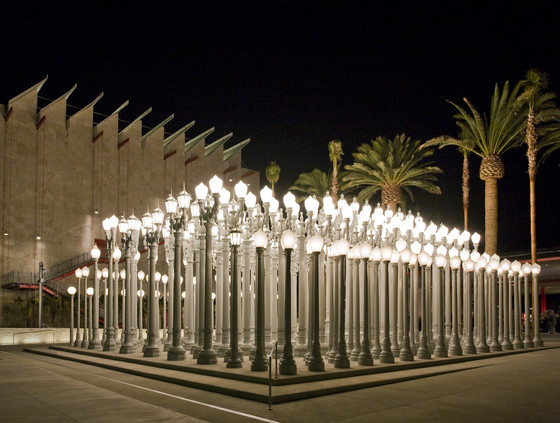 Photo by The Chris Burden Estate
Crafted by the American artist Chris Burden, Urban Light features over 200 original Southern Californian steetlamps dating from the 1920/30s that the artist collected over several years. This piece has become a famous landmark in Los Angeles, paying homage to the ever-evolving history and design of the city. It has been featured in several movies and tv shows, from Ivan Reitman's No Strings Attached to Garry Mashall's Valentine's Day.


10. "You've Always Been Essential" by Steffi Lynn, New York, New York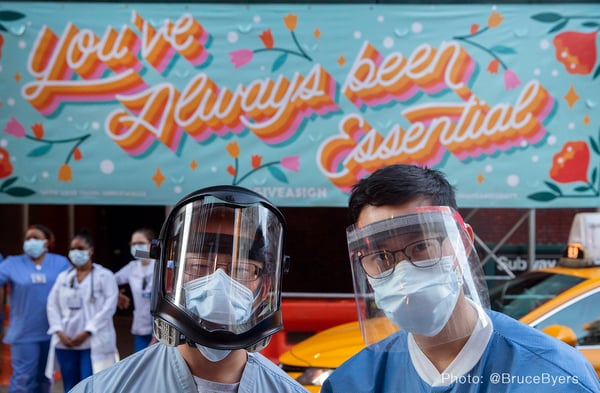 If you're near Lenox Hill Hospital on 77th street, make sure to check out Indiewalls artist Steffi Lynn's brightly-illustrated sign, as part of our non-profit Give A Sign campaign; in response to Covid-19, we've been collaborating with artists to design and install encouraging public artwork banners outside of NYC hospitals to help spread joy and positivity to our incredible and hardworking healthcare workers. For each banner, we also donate 300 prints to the hospital employees to bring the message home.
---
While the world changes, we are doing our best to go with the flow - or raging storm - and to make a difference in little, everyday experiences. Interested in learning more about our public art installations? Check out Give A Sign here.