Chloe Hedden is a cross media artist who straddles the worlds of fine art painting, geometric sculpture, and illustration. While her portfolio is diverse, each piece addresses organic themes, capturing the shadows and refractions of light in crystals, minerals, and flowers. We worked with Chloe recently on a dynamite custom sculpture for AC Frisco but wanted to learn more about her process. I had a chance to talk to Chloe and learn about the evolution of her practice amidst social distancing and what she's been working on recently.
---
Thanks for taking the time to chat with me! Let's jump right in and talk about your roots. I know you've bounced around a bit, but ultimately settled in Utah, your home state. Utah-like imagery and shapes pop-up in your sculptures, paintings, and illustrated work, especially the children's book The Illuminated Desert. How has location affected your practice?
Utah is the place where my soul feels most at home. The amazing Utah landscape is such a big part of who I am. Growing up in a place with wilderness all around is such a blessing and has shaped my sense of what life should be. Plus my parents live here, and I want to be close to them as they get older.
Has social distancing and working at home shifted that experience?
I've worked at home for years. The upper story of my house is my art studio so I luckily haven't experienced a huge upset to my daily routine. What has shifted is my internal landscape. I'm grieving for the world and also hopeful that this time will inspire us, as a species, to make many overdue changes. I hope that this is a chance to rebuild our world in a better way.
I've been thinking about the art that I make and what is relevant. I have a children's book that I've been working on for 15 years, and I want to find time to finish it now. It's about a little girl's magical connection to the natural world, and it feels important for me to get it out there.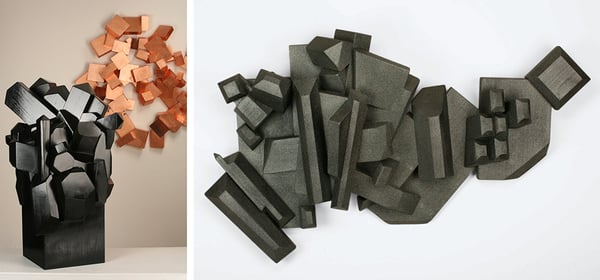 Multiple works from Hedden's geometric sculptures series.
Left: her freestanding sculpture Black Quartz, which Indiewalls commissioned for AC Frisco, stands in front her a relief work, Copper and Boire Pyrites
Right: Gray Chromatic Crystals made from paint and glitter on solid wood, spanning 48"W x 35"H x 11"D
That sounds like such an impactful read for a kid, especially right now. Has creating work for children impacted your practice at large? You work in a lot of different mediums, seemingly separate from children's illustrations.
Absolutely. As a children's book illustrator, I have to think like my audience. One of my mottos is 'never grow up.' Keeping a freshness of perspective and open innocence is important as an artist. I don't take life for granted, I'm more present in the moment.
That is definitely important, especially right now. Let's dive into your painting practice. Can you speak to your style, and how you choose subject matter?
My painting style found me. My subjects are simply things that I love: light, form, composition, flowers, crystals, and an ineffable something mysterious that comes through when I combine all of these things.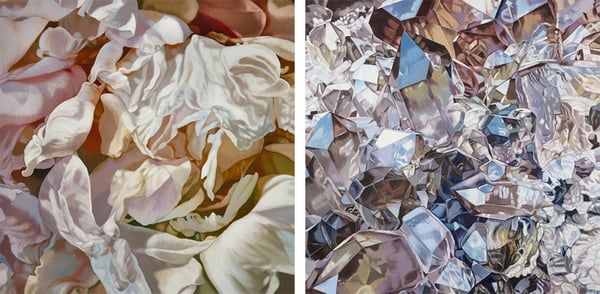 Hedden's signature painting subjects are the many layers and lit faces of flowers and crystals.
Left: Cherdi Kala, "36" x 36", oil on museum wrap canvas
Right: Brazilian Smoky Citrine Cluster, 48" x 48", oil on canvas.
I have to ask – you never use more than six colors in a painting. Do you consider it a creative restriction or a challenge?
The six colors can change depending on the subject, but I find this restriction helps the end result be more cohesive and the colors more vibrant. I never mix more than three colors to create a new color or the result feels muddy to me. The restriction creates a cohesive mood and style throughout the pieces, even if they're all colored differently.
A lot of trial and error must have gone into finding that balance. What inspired you to make the transition from 2D works to sculptural work?
I've dreamt for years about making sculpture, and I have so many ideas that I have yet to try. It took about two years of practice before I had enough courage to escape the comfort of 2D and try a free standing piece. It was just a matter of taking the leap and having the courage to show the result to the world. Once I had something that I liked, I created a series to explore the idea more fully.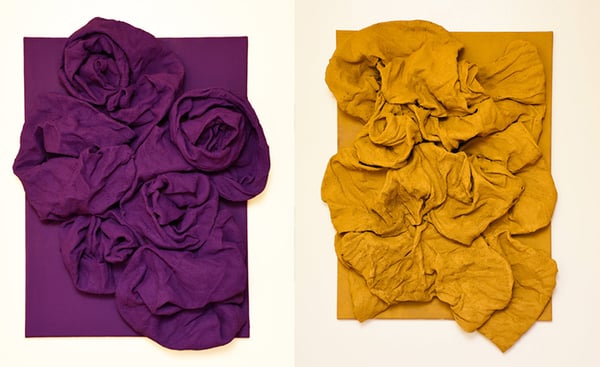 Two works from Hedden's Folds series.
Left: Violet Folds, burlap on linen and vinyl paint, 22" x 28" x 6"
Right: Yellow Ochre Folds, burlap on linen and vinyl paint, 22" x 28" x 6"
What opportunities do you find working dimensionally gives you versus canvas painting?
Abstract wall sculptures give me the opportunity to work with bright, modern colors and metallics that I love but may not have otherwise used. I love expanding my understanding and experience with materials. For example, I've been working with a fabricator to create large-scale plans for my sculptures to be made in steel for public art installations. They will be finished with a metallic or jewel tone powder coat.
It sounds like working in 3D is less limiting than 2D can be. Can you tell us about any other pieces you're working on right now?
I'm working on a new series of large rose paintings where the petal forms are very soft, but also very sculptural. I have a very sexy peach and lavender one that reminds me of the colors of the sandstone desert here in the evening. I'm also working on a series of dahlias floating in a fountain that I found in Italy, as well as a series of wall sculptures using black felt covered in rose gold leaf.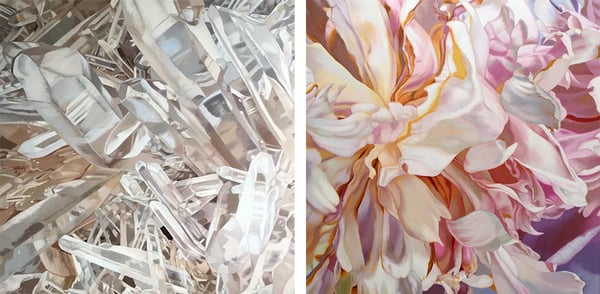 Left: Quartz 3, 60" x 60", oil on canvas
Right: Becky's Peony, 48" x 48", oil on canvas
Wow, sounds like you're keeping very busy. The pandemic introduced a world that a lot of us thought wasn't possible, so we're going to up the ante. If you could create any piece of art where gravity and the laws of physics weren't an obstacle, what would you make?
No gravity? I would definitely make a floating installation. As a sculptor, I'm always looking for ways to defy gravity and make things appear free from its influence. Seemingly impossible dynamism is something I strive for in my compositions. I'd also like to work with ephemeral and time-based materials like soap bubbles, ice, and flowers.
I'd like to see a floating soap bubble sculpture. Okay, to close us out, what's the one piece of advice you wish an artist had given you when you first started out?
I got a lot of great advice at an early age, but a few years ago, an older artist told me that the most important thing is to never give up. He said plenty of very talented artists he knew had thrown in the towel, and that while we may not all get discovered by Gagosian at age 23, if we make great art and stay after it, eventually success will come. The important thing is to be consistent and committed no matter what.
Great advice for up and coming artists! Thank you for chatting about the changing landscape and for sharing your approach to staying creative.