Megan Mosholder is an Atlanta-based conceptual artist who operates in the real-world setting of the social-political landscape through site-responsive, sculptural installations. She is a graduate of the Savannah College of Art and Design and has received numerous awards from institutions such as the Foundation for Contemporary Arts and the Hambidge Center for Creative Arts and Sciences.
More recently, Megan has been working in the corporate sector installing commissioned, permanent artworks, including a temporal, light-sensitive piece for Google's new office in Pittsburgh.
Megan will be in Oklahoma for the Tulsa Artist Fellowship starting January 2017
Tell us a bit more about your work …
Through the creation of three-dimensional drawings often enhanced by light, I emphasize obscured elements within recognizable objects and correlate the symbolic with lived experience.
My work begins with the search for potential install locations but also in the studio, where I build two-dimensional artworks that inform my sculptural practice. Each composition is comprised of lines expanding and contracting in situ to encourage the appreciation of specific spaces for what they are while also examining their hidden meanings. The completed piece is a multi-sensory experience intended to engulf the visual senses and reawaken the simple intrigue of looking.
When did you first start making art?
As soon as I could hold a pencil. As early as five I was complaining that people did not take me seriously as an artist.
Who (or what) influences your work?
James Turrell, Teresita Fernandez, Jay DeFeo, Katharina Grosse, Eva Hesse, Gerhardt, Richter, Robert Smithson, Maria Artemis, Tara Donovan.
Dawn, twilight, power lines, bridges, space, reflections, water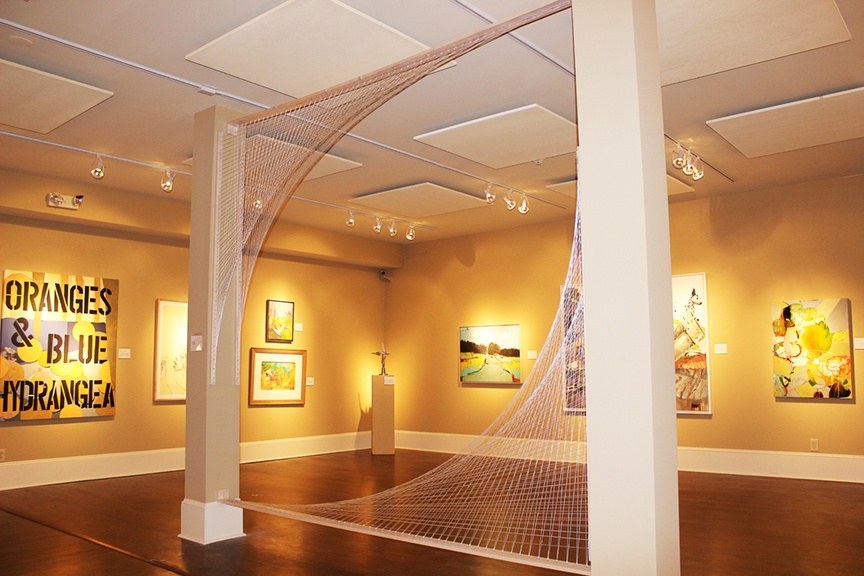 Double Arch
Walk us through your studio practice/creative process.
My installation process begins with a proposal, one in which I attempt to visualize how to build an artwork in a space that will not only create a beautiful piece but also highlight and emphasize certain elements of the space.
A site-visit is always key and although I've begun to work with architectural models, I never truly know what's possible until I'm in the actual space. My favorite part of the process is when the last string/rope is tied and I can stand back and visually absorb the work.
How has your work changed over time?
I have added more details to the work, such as hand painting the string with invisible UV.
Where do you work?
That depends on the piece. I travel the country and the world for my work, which is part of what makes it great.
What excites or scares you about the art world today?
I think artists are becoming too concerned with money, making them too willing to compromise the integrity of their work in exchange for fame and financial gain. I believe this has watered down most of work that's being produced today.
What is currently your pipe dream project?
To build a series of permanent, illuminated, parabolic arches under the overpasses of route 75 in Atlanta, GA to create an iconic and memorable visual image.
What's your process for collaboration?
Other artists, designers and curators approach me in regards to collaboration. I really enjoy it because it stretches my creative ideas and ultimately results in a more expanded practice.
Do you have a favorite museum or gallery?
Dia Beacon.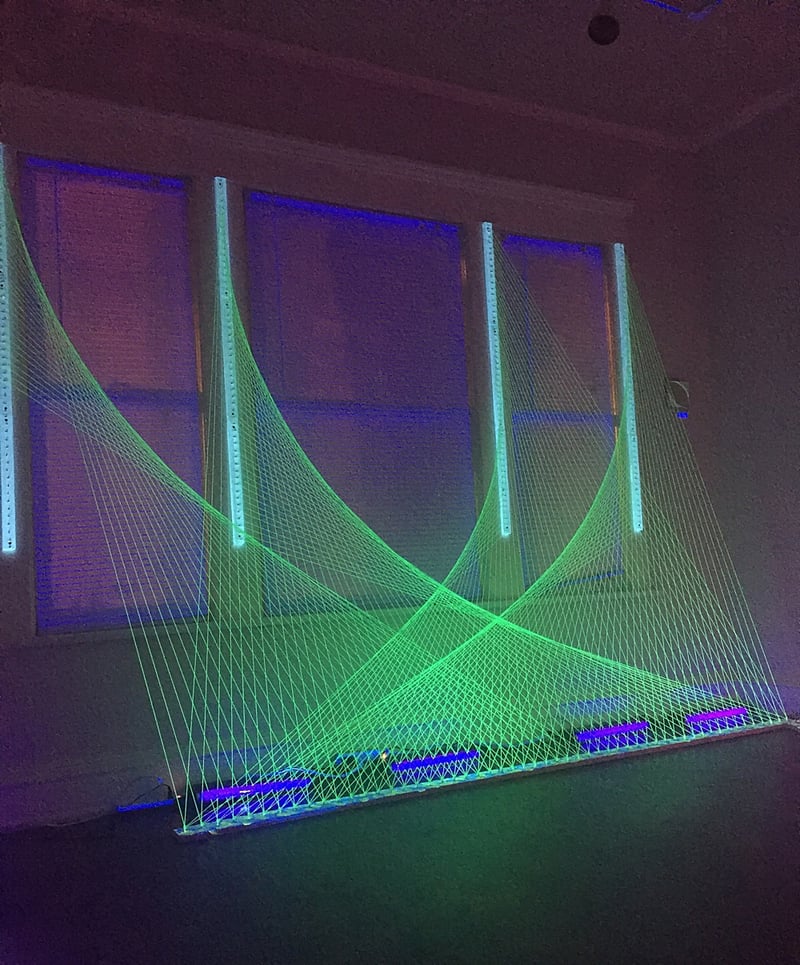 One of my neon works lit up at night.
Are there any trends you're excited to experiment with?
I try to avoid all trends.
What's your proudest achievement to date?
I just completed a permanent installation for Google's new office in Pittsburgh.
Outside of your work, are there any other creative pursuits that interest you?
I plan to write an autobiography during my fellowship in Tulsa—one that outlines my life as an artist but also includes professional tips.
What are some of your future goals?
Financial stability.
What's the first thing you do in the morning?
Make coffee, check my email and social media.
What artistic rule do you love to break?
My own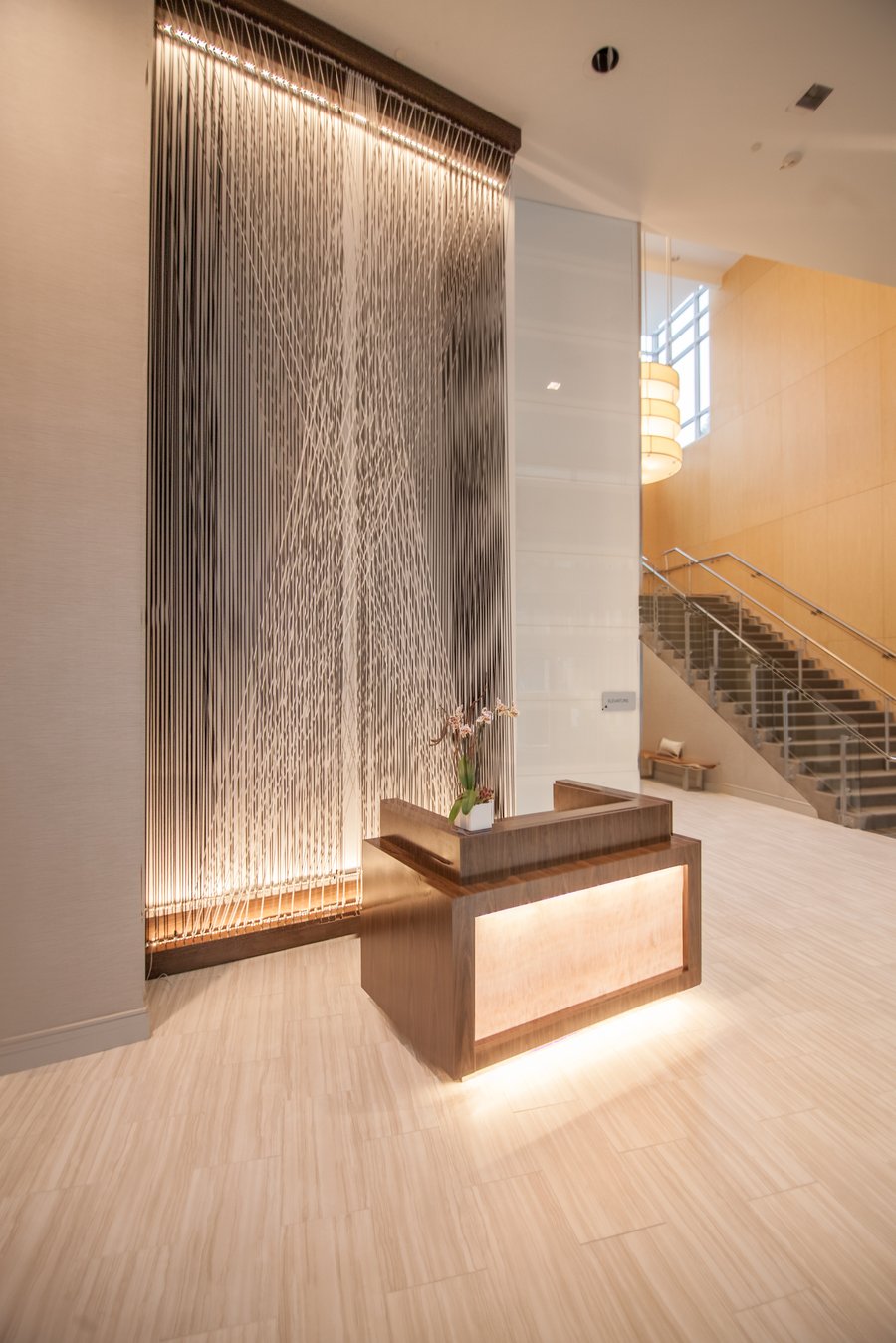 Mosholder's 16-ft rope piece at the AC National Harbor.
Name 3 books that changed your life.
The Poetics of Space, The Grapes of Wrath, Where the Red Fern Grows.
What blogs and websites do you read every day, without fail?
I'm a sucker for Facebook. It allows me to stay in touch with all my friends and family, who I rarely get to see as a result of my gypsy artist lifestyle.
What are some of your favorite tools to work with?
My heat knife is the best tool ever and is one of the greatest thing that has happened to my practice. Before that, I was melting string with lighters.
What advice would give to a new artist?
Listen to Teresita Fernandez's VCU School of the Arts Commencement Ceremony.
Read The Artist's Guide to Grant Writing by Gigi Rosenberg.
What was the best things you did for your own career as an artist?
One of the best things I did was move to Brooklyn and finish graduate school remotely. My graduate community was small and critiques were limited, so I no longer felt challenged.
When I first got to New York, I had a strong sense that no one cared about me or my work. I was just another artist. There was a huge sense of resolve in this feeling: the only person who was invested in my work was me. So I decided I might as well make it count for something.
New York is bursting with creatives, and while that should have filled me with anxiety (because the opportunities were more limited), I felt at home. I had always felt like an outsider as an artist, but I felt normal in New York.
New York also helped in that I could tap into so many incredible resources. The New York Foundation for the Arts (NYFA) has search engine, "Source", which gave me access to an unlimited amount of opportunities like grants and residencies.
With the help of NYFA, I was able to construct a post-graduate-school exit plan that included two major exhibitions and two residencies (the Wassaic Project and the Vermont Studio Center).
A list of advice:
Keep a calendar, one that will notify you of upcoming opportunities.

Collect all opportunities in a file on your desktop.

If you're still in school, start thinking about who your letter writers will be and nurture them now.

Get the best photographs of your work. Paying for a good photographer is totally worthwhile. Shoot the opening. Get shots of the (gallery) installation and show people interacting with your work.

Save everything: every application, proposal, letter, etc. Cut-and-paste is your friend and will save you time down the road.

When applying for a grant or artistic opportunity, pay close attention to what the institution says it's looking for. When you answer questions, reword their key points as a way to show the institution that you were not only paying attention but that you're the best candidate.

Keep your CV and website up to date.

Remember: in the end the most important thing is the work.
Follow Megan on Facebook, Instagram and Indiewalls! Or check out her website.