We're gearing up for a busy week of artistic exploration, engaging lectures, and endless inspiration as Armory Arts Week descends upon New York City. With 7+ fairs to choose from, each with a different attitude and audience, deciding which are worth your time can be a difficult task. To make your Armory Arts Week experience a little more seamless, we've summarized what you can expect to see at each rendition.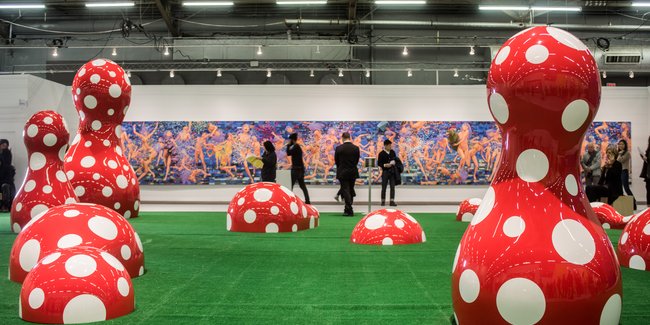 THE ARMORY SHOW
The Armory Show is where all the madness began back in 1913. Over the course of a 100 years, this fair has grown in size and notoriety. They are now the biggest and most notable fair. Known to exhibit key players on the international contemporary art scene, this show is full of museum quality works for heavy hitting collectors. Historically important modernist masters anchor Pier 92 while eye-dazzling contemporary works and noted emerging ingenues fill Pier 94.
Pier 92 & 94, Twelfth Ave at 55th St, NYC, Mar 3 - Mar 6, 12PM - 7PM. Preview the fair on Artsy.
THE ART SHOW (ADAA)
Housed in the stunning Park Avenue Armory, The Art Show is an annual event hosted by the Art Dealers Association of America (ADAA), a membership-only organization that promotes dealer-to-dealer engagement within the Fine Arts industry. This year, 72 ADAA members will exhibit at the fair, including heavyweight galleries such as Hauser & Wirth, Luhring Augustine, and Dominique Levy. Despite the celebrity roster, The Art Show is a standout during Armory Week for its scaled and thoughtfully curated layout.
Park Avenue Armory, 643 Park Ave, NYC, March 3-4, 12PM-8PM, March 5, 12PM-7PM, March 6, 12PM-5PM.
ART ON PAPER
Located at Pier 36 on Manhattan's Lower East Side, Art on Paper is an international art fair that showcases artworks made on or of paper. The fair is the brainchild of Max Fishko and Jeffrey Wainhause of Art Market Productions--a company that produces six art fairs around the country and seeks to provide unique platforms connecting collectors and dealers. Art on Paper is particularly noteworthy for its vast breadth of exhibitors despite its narrowed focus on medium.
Pier 36, 299 South Street, NYC, March 3, 6PM-10PM, March 4-5, 11AM-7PM, March 6, 12PM-6PM. Preview the fair on Artsy.
CLIO ART FAIR
By showcasing artists without gallery representation, Clio Art Fair seeks to create an artistic environment that deviates from the standard imposed by conventional art fairs. In this space, which operates separately from the contemporary art market, artists are encouraged to work with non-traditional mediums in order to generate new conversations focused more on artistic practice rather than capital.
The Highlight Loft, 508 W 26th St, NYC, March 3, 6PM-9PM, March 4, 10AM-6PM, March 5, 10AM-6PM, March 6, 12PM-6PM.
THE INDEPENDENT
Tipping its hat to the Salon des Independants, the Independent was conceived by dealer Elizabeth Dee in 2010 in an effort to promote art world iconoclasts. As the project enters its sixth year of operation, more so than ever it feels like the posh younger sibling to the Armory and less like the revolutionary antithesis it set out to be. This year the Independent will host just over 40 international galleries, including Gavin Brown's Enterprise, Paula Cooper Gallery, and Adam Lindemann's VENUS, at its updated Tribeca home located at 50 Varick Street.
Spring Studios, 50 Varick St, NYC, March 3, 6PM-8PM, March 4-5, 12PM-7PM, March 8, 12PM-6PM. Preview the fair on Artsy.
MOVING IMAGE
As a gif-centric, digitally minded culture, Moving Image's importance increases annually. Born from the notion that moving-image based artworks should be appreciated and understood in their own context, Moving Image focuses on curating a selection of innovative work from galleries around the globe. Budget enough time to fully experience this fair as video, by nature, demands time and attention. Moving Image is also free and open to the public all weekend.
Waterfront New York Tunnel, 269 Eleventh Ave, NYC, Mar 3 - 5, 11AM - 8PM, Mar 6, 11AM-4PM. Preview the fair on Artsy.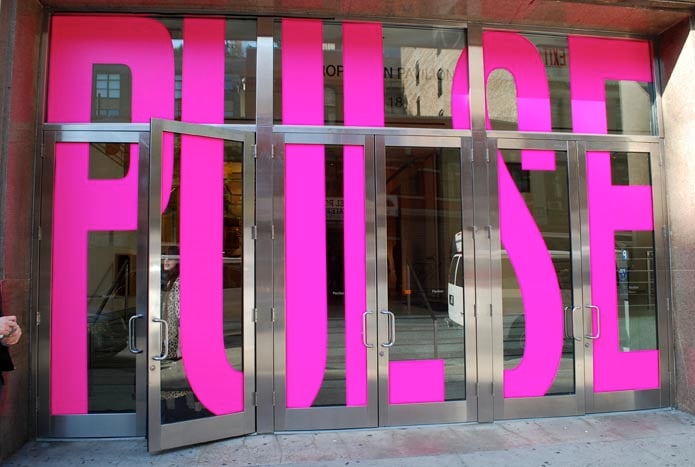 PULSE NEW YORK
Started in 2005, Pulse Contemporary Art Fair has defined itself as a platform for emerging galleries to showcase their top talent to new collectors. Their international roster includes galleries from South Africa, Italy, and England as well as local names on the New York scene. Pulse showcases high-quality, blue-chip art that manages to still feel inventive and fresh. While you will encounter household names, you'll also discover unknown emerging artists and galleries. Make sure to check out their insightful panel discussions and large-scale projects.
Metropolitan Pavilion in Chelsea, 125 W 18th St, NYC, Mar 4 - 5, 11AM-8PM, Mar 6, 11AM-5PM. Preview the fair on Artsy.
SCOPE
SCOPE returns for its 16th showcase of international emerging contemporary art at Metropolitan West Pavilion, just a few short blocks from the Armory piers. True to the fair's against-the-grain spirit, this year's venue features an open floor plan as opposed to the "booth" setup favored by more traditional fairs. This off-beat fair hosts some of the lesser known, but nevertheless exciting galleries from around the world and through its unique Breeder Program invites six new galleries to the contemporary market.
Metropolitan West Pavilion, 639 W 46th St, NYC, March 3, 6PM-10PM, March 4-6, 11AM - 8PM.
SPRING/BREAK ART SHOW
Now in it's fifth year, SPRING/BREAK Art Show is Armory Arts Week curator-driven fair where independent curators setup mini exhibits based around an umbrella theme. This year participants were asked to respond to the theme ⌘COPY⌘PASTE. Alluding to society's progressing relationship with the digital world, SPRING/BREAK promises to excite art aficionados and novices. Expect to find eye-catching, instagram worthy rooms as well as conceptually grounded artistic explorations of our digital age.
Skylight at Moynihan Station, 421 Eighth Ave, NYC. Mar 2 - 6, 12PM-8PM, Mar 7, 12PM-6PM. Preview the fair on Artsy.
VOLTA
VOLTA NY, an affiliate of The Armory Show, is an invitational fair of solo artist projects that aim to mimic the idea of intense studio visits. Known to showcase noted emerging talents and cutting-edge artists from around the world, VOLTA is a well-curated fair focused on bringing attention back to the artist. You'll see both seasoned and young collectors milling about. Don't miss their highly anticipated Salon Series produced in tandem with Artnet.
Pier 90, Twelfth Ave at 55th St, NYC, Mar 3 - 5, 12PM - 8PM, Mar 6, 12-6PM. Preview the fair on Artnet.