A few months ago, Indiewalls President, Ari Grazi, interviewed Raj Chandnani, the jet-setting Chief Development Officer at WATG in an episode of Between Two Screens. They brought up a frequent question that has arisen over Zoom calls and outdoor drinks for many of us: "Where will you go when this is all over?"
---
Some travel experiences seem virtually unimaginable, such as sweaty crowded clubs of Ibiza to bustling Vietnamese street markets. But other travel experiences might be possible next year, with many countries rolling out COVID-19 protocols for museums and cultural institutions in order for visitors to stay creatively inspired and safe. Here are our top design-focused destinations that we have in mind for future travel planning!
1. Beijing, China

Left: A traditional courtyard home
Right: The top of CCTV Headquarters
While many designers have flocked to Shanghai, China's more commercialized city, Beijing holds a special place for many creatives and architects, where tradition meets contemporary design. For a taste of ancient China, traverse through the city's hutongs, old cobblestone lanes home to traditional Chinese courtyard residences. Interested in something more modern? Check out the CCTV Headquarters building, an iconic skyscraper that drapes the Beijing skyline.
2. Lagos, Nigeria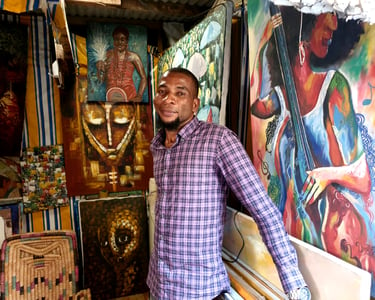 A local art dealer in Lekki Arts Market
Home to rising design, branding, and architecture firms such as DODO, ATO Architects, and Dá Design Studio, all eyes are on Nigeria's most innovative and creative city. Right outside of its commercial center, you can discover one-of-a-kind textiles, clothing, and artworks in the local markets, such as Balogun Market, the largest in the city.
3. Montmartre, Paris, France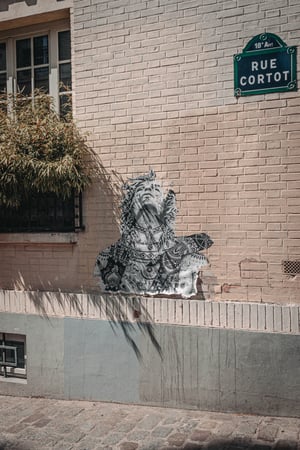 A street view of Montmartre
What's not to love about Paris's most iconic neighborhood? The romantic hillside village was home to many well-known modern and impressionist artists, including Pablo Picasso, Vincent van Gogh, Suzanne Valadon, and more. This location still has an impact in the contemporary art world, with countless murals and graffiti found above the cobblestone streets.
4. Florentin, Tel Aviv, Israel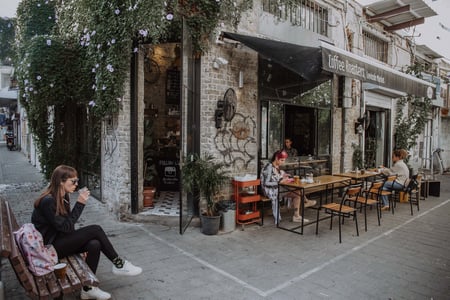 Photo by The Way to Coffee
Dubbed "The Brooklyn of Tel Aviv" this neighborhood is the hottest center for contemporary Israeli culture, nightlife, and street art. Find creative inspiration by walking through the store-lined streets, gallery hopping, and grabbing a café hafuch from a nearby coffee shop.
5. West Queen West, Toronto, Canada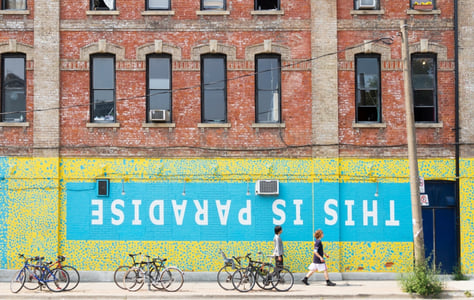 Photo by See Toronto Now
Toronto, the capital city of the Canadian province of Ontario, is already known as one of the most diverse and culturally rich cities in the world, with over 200 ethnicities represented among its inhabitants. Its trendy West Queen West neighborhood is specifically known as the city's art and culture district, with plenty of art galleries, shops, and boutique hotels to explore.
6. Mexico City, Mexico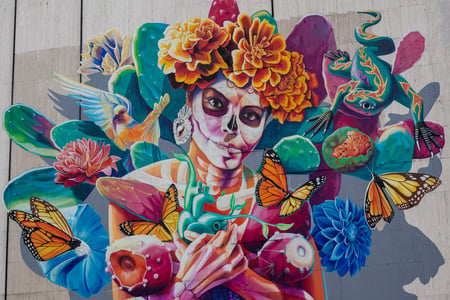 Mexico City mural
Mexico City is a must-see destination for established art and anthropological institutions. Spend the day museum-hopping at some of the most renowned art spaces in the western hemisphere, such as Museo Universitario Arte Contemporáneo, Museo De Arte Popular, and Museo del Palacio de Bellas Artes.
7. Singapore

Left: Marina Bay Sands
Right: Gardens By The Bay
This tiny city-state is recognized as one of the most modern and developed cities in the world, with brilliantly designed architectural wonders, such as the futuristic Gardens By The Bay, the soaring Marina Bay Sands (with the world's largest rooftop infinity pool!), and The National Gallery Singapore, which contains the world's largest collection of Asian and South Asian artwork.
8. Wynwood, Miami, Florida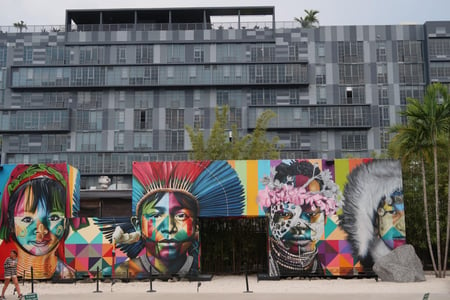 A Street view of Wynwood

The Wynwood neighborhood is one of Miami's most vibrant and well-known art districts with an array of street art to see. During the 2020 lockdown, the community banded together to organize outdoor markets, gallery events, and socially-distanced dining, bringing in a new wave of art and murals to discover.