Follow along on our new series DESIGNER PROFILES where we speak to some of the most dynamic design professionals in the industry.
Interior Designer Lauren McGowan didn't have a clear idea of her career path until she went to college, but it was obvious from her childhood that she had an innate interest in design. "I'd spend hours setting up and decorating the Barbie 'world' in my room, then totally lose interest when it came around to the part when I was supposed to play with the dolls."
McGowan has been with the Interior Design firm Looney & Associates since August 2015, her first project being a light refresh of the Food & Beverage spaces at Four Seasons in Las Colinas outside of Dallas. Shortly thereafter she worked with Indiewalls on the suites at Renaissance Hotel in Plano, TX. "That was a fun one with lots of story and personality," which included cowboy imagery and visual motifs characteristic to it's location in Texas.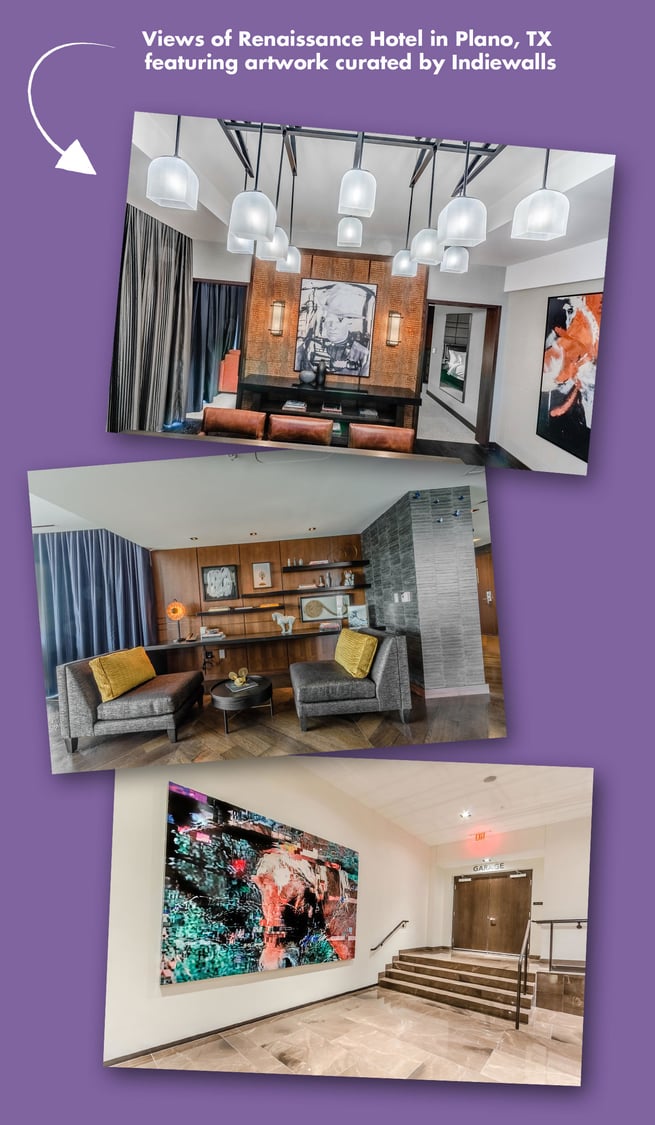 Despite the difficulty of the pandemic, McGowan and her team at Looney & Associates have had a busy year. "We recently completed and opened the Marriott Hotel in Uptown Dallas, as well as the Valley Hotel in Homewood, Alabama. The Jefferson Hotel in Huntsville, Alabama, is soon to be completed and features an awesome art package curated by the Indiewalls team." The Jefferson Hotel is a boutique property with a narrative mash-up that combines the classicism of southern architecture with mod influences of the 1960's space race, tied very directly to the epic aerospace legacy of "Rocket City" Huntsville.
Though there have been challenges presented by working from home over the past year, McGowan has noticed that her design process has also benefited in numerous ways. "Like most people, I've had my ups and downs with working from home, thriving in some moments and struggling with isolation in others. Once spaces began to open for limited service again, I was able to make more time to pop into showrooms and local art galleries to gather inspiration from materials, products, and artworks." she said, adding that her work from home workflow also includes more drawing as well as inspiration from films while coming up with ideas. "While designing an Italian restaurant and sketching ideas for that space, I also put on old classics like, 'Marriage, Italian Style' and 'Roman Holiday' to infuse Italian flare into my work, which is something I wouldn't necessarily be able to do in a structured office environment.
"While designing an Italian restaurant and sketching ideas for that space, I also put on old classics like, 'Marriage, Italian Style' and 'Roman Holiday' to infuse Italian flare into my work."
In her own home, McGowan's Design sense is ever-evolving and eclectic. "I have many treasures I've gathered over the years. Early in my design years, I designed a pair of large mirrors that I commissioned a woodworker friend of mine to fabricate. I'd seen some painted 1970's mirrors in a vintage store and got the idea to paint graphic circles onto the glass and I've always liked the cool simplicity they add to our living room. There's a piece that hangs over my daughter's bed that I made years ago from doodles on canvas that has a lightheartedness that I still like and that now makes for a fun "I Spy" subject for she and I at bedtime."
Earlier this year, McGowan commissioned a Texas-based portrait artist Jessica McClendon Vollrath to paint portraits of her family. "They live in these wildly ornate frames I'd found in an antique store. They're bold and fun and while I may tire of the frames someday, the paintings will be treasures for a lifetime."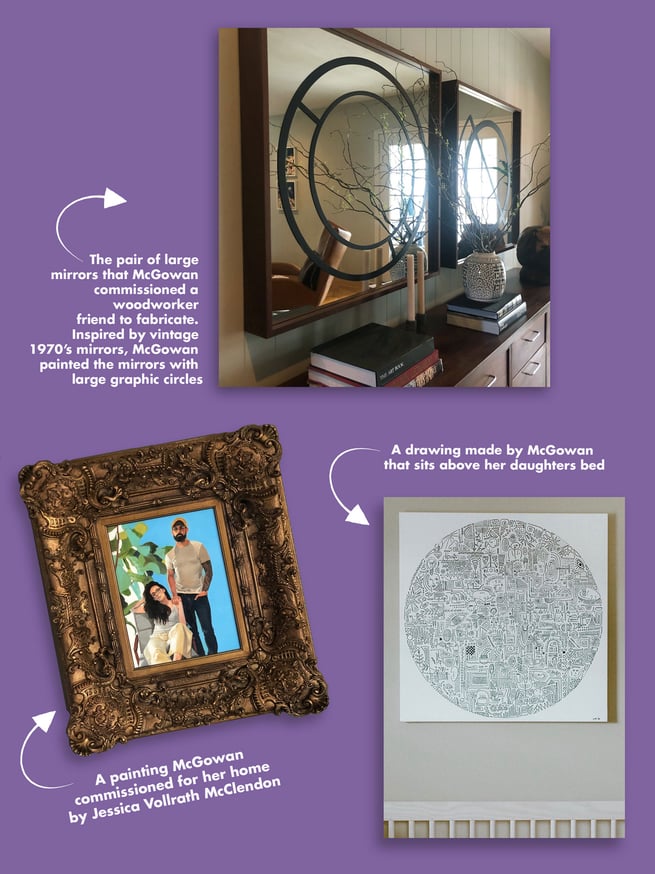 McGowan continues to create visually and aesthetically compelling projects for the Hospitality Industry at Looney & Associates, which has created more than 400 successful design projects since 1995. You can read more about Looney & Associates extensive design work here.