Last Saturday afternoon in Tribeca felt vibrant and colorful as passers-by shed their winter coats embracing the warm glow across the Hudson. Spring weather, as it turned out, was further on the horizon than Spring Studios, where leisurely arts enthusiasts funneled into the 10th Annual Independent Art Fair.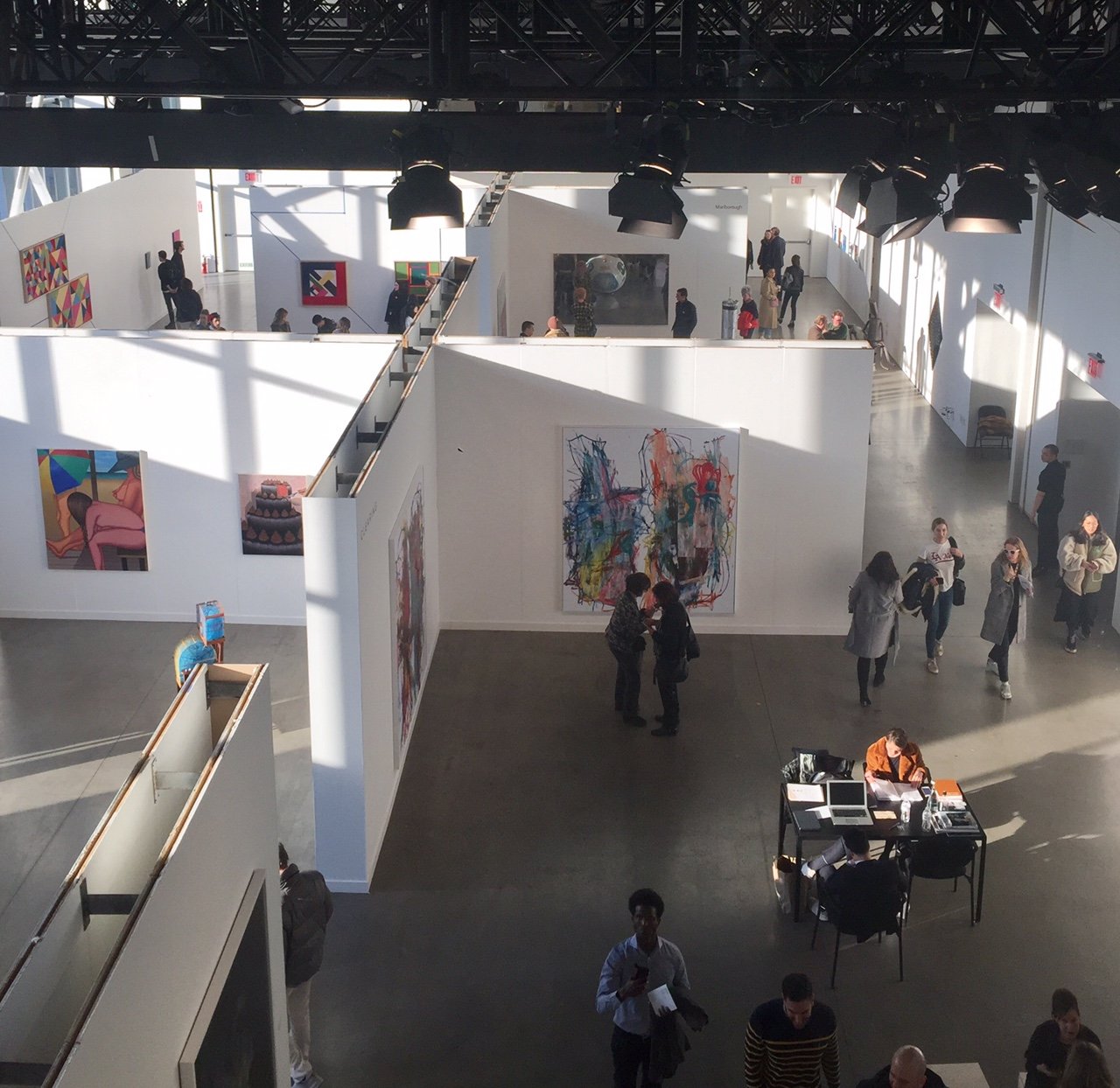 The Independent Art Fair from above. Photo credit: Meghan Chizauskie.
A well designed, boutique alternative to the convention center cubicles, Independent has carved out a pleasant niche in New York City's jam-packed Armory Week schedule. This year's edition featured 64 galleries and publishers who were strategically positioned throughout the space to generate excitement and conversation. In an environment where nearly every booth was cutting-edge, having a chance to engage with artists and exhibitors provided a fresh perspective of contemporary art trends that continue to guide my curatorial work at Indiewalls.
But, back to the fair. Upon entering the first floor, its alternative approach to the typical grid-like patterns of market-centric fairs was palpable. Fewer walls meant fewer boundaries for exhibitors. Independent was a place to make a statement and challenge the viewer, which is exactly what Parker Gallery did with their showcase of figurative textile works by Bay Area artist Frank Williams. In a sunlit, west-facing booth, the masterfully woven layers of yarn, thread, pearls, and fabric revealed entangled portraits that shimmered in the afternoon light. The densely patterned works commanded close-to-the-canvas attention for the unsung master of the 60s.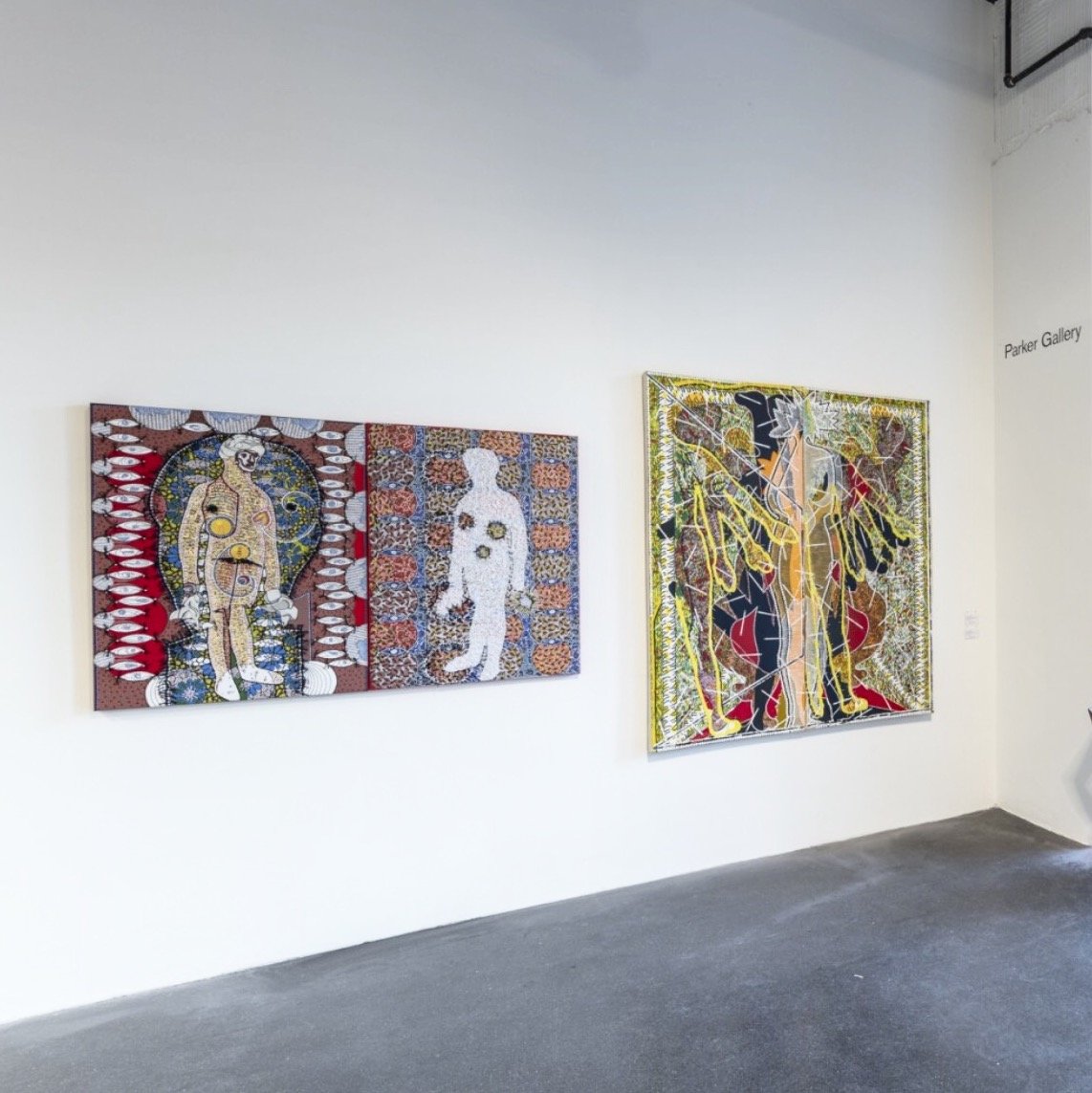 Parker Gallery booth at the Independent Art Fair. Photo credit: Meghan Chizauskie.
The exhibition continued upstairs, where blue-chip dealers co-mingled with emerging galleries and artist-led special projects. Heating things up on the fifth floor were exhibitors, Garth Greenan Gallery and moniquemeloche, with Alexis Smith's "Ring of Fire" and Jeff Sonhouse's "Entrapment" series, respectively. But the real star of the show was the not-so-well-known and formerly incarcerated artist Gil Batle. Batle spent much of his 20 years in prison refining his self-taught drawing talents which many of his fellow inmates considered magic. Murderers, drug dealers, and armed robbers, whose stories Batle recounts in his hyper-detailed and metaphorical renderings of prison life, first gave Batle the attention he now receives in the "outside world."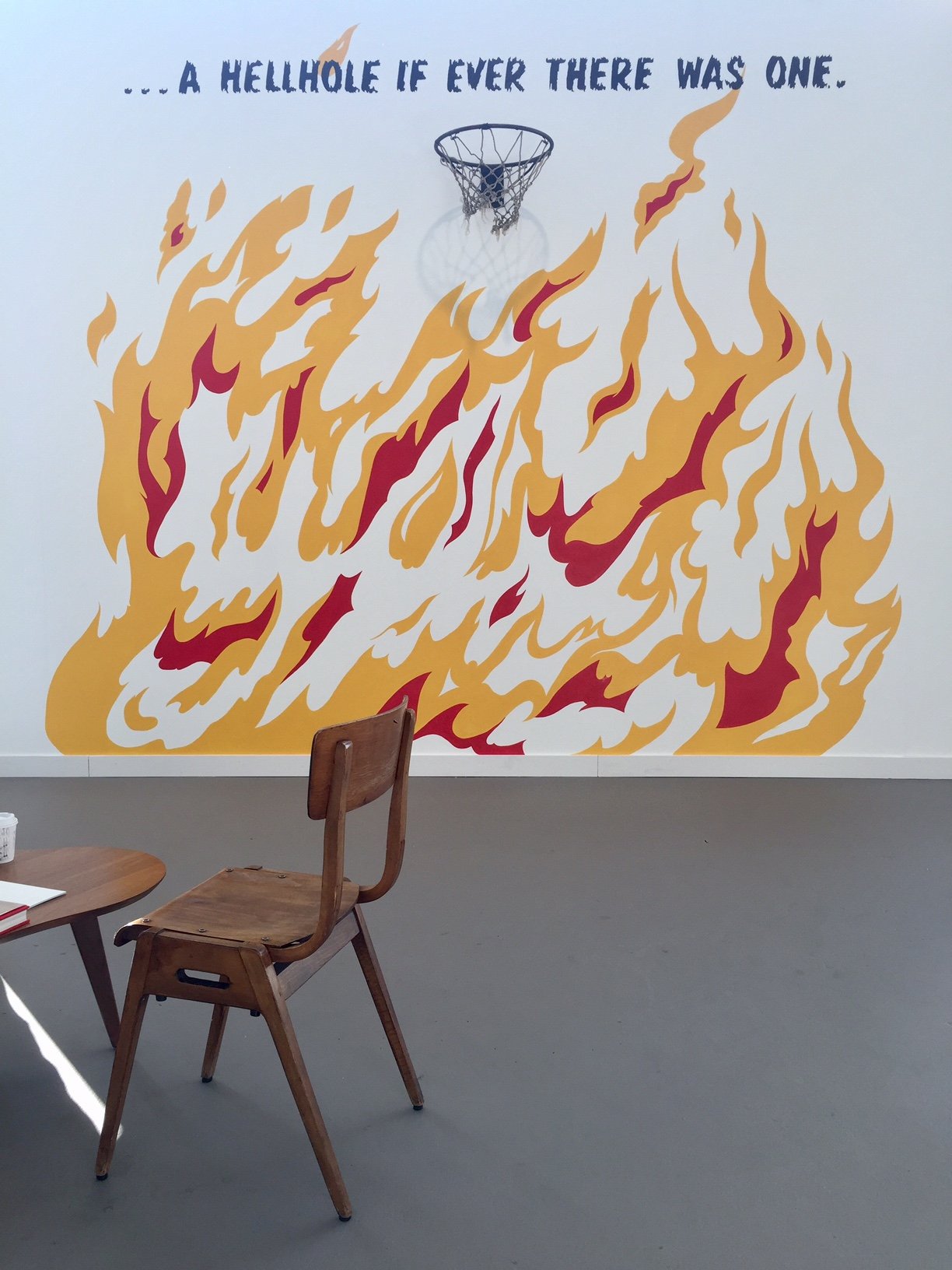 "Ring of Fire" by Alexis Smith. Photo credit: Meghan Chizauskie.
The sixth-floor was the halfway point, which coincidentally made it a great place to enjoy an intermission at the Spring Place restaurant and bar. After the short break, the viewing continued. In the skybox lounge was a debut presentation by an unrepresented, young design duo, Material Lust, and on the last floor of the fair, Richard Saltoun's showcase of Renate Bertlemann, who is representing Austria at this year's Venice Biennale, was a timely reminder of what's upcoming on the art fair circuit.
As an Indiewalls curator, the show was an apt reminder of the new directions in art that are continuously taking shape around us. And, while not everyone may have the chance to visit fairs such as these, it's a welcome challenge to take on projects that bring the pulse of the art world to them.