Nate Nettleton is a sculptor and mixed media artist who wants people to slow down and remember the simple pleasures in life. Don't let this fool you though - the complex craftsmanship of his work is no joke. I was able to catch up with Nate to learn about his creative process, unique incorporation of materials, and his favorite ice cream flavor (FYI - it's Froot Loops Cereal Milk).
---
Hey Nate! Can you start off by telling me a little about yourself. Where are you based, and what does your studio look like?
I am a sculptural artist based in Canada's capital city, Ottawa, Ontario. Right now I am splitting my time between my small home-based studio (which is basically a big mess of paint, wood, and power tools) and the "Ottawa City Woodshop," a community-oriented woodworking studio full of super talented and inspiring people.
My art practice is pretty messy, and I spend a lot of time using every type of saw and sander you can think of, so sharing a communal studio space with woodworkers seemed like a better idea than working in a traditional art studio setting. I would, without a doubt, end up ruining other artists' oil paintings with my never-ending trail of sawdust.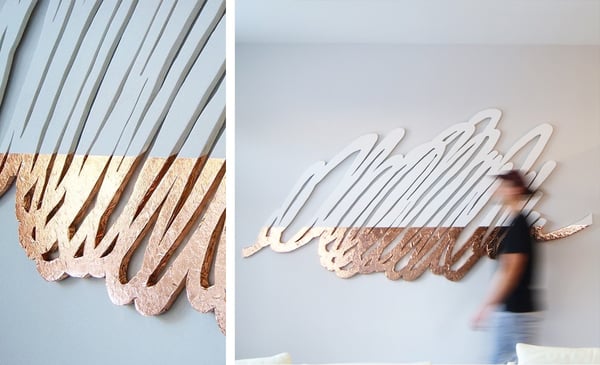 Untitled, 95"W x 46"H x 1"D, a custom commission handmade from wood, acrylic, and rose gold reactive foil
Very responsible of you. Let's get right into it and talk about your scribble pieces. I particularly love them. What influenced you to make these works?
Thank you so much! I had this idea in the back of my mind for quite some time before I actually went ahead and did anything with it.

I'm very much drawn to abstract art in general, in particular the visual aspect of a scribble. Stemming from the idea that even a small, seemingly "insignificant" mark can be extremely individualistic and full of emotion, I wanted to transform this elementary symbol into a large and noticeable artwork. The scribble sculptures shine light on the forgotten simplicities in life and act as a reminder of the significance and importance of life's sweet, little things.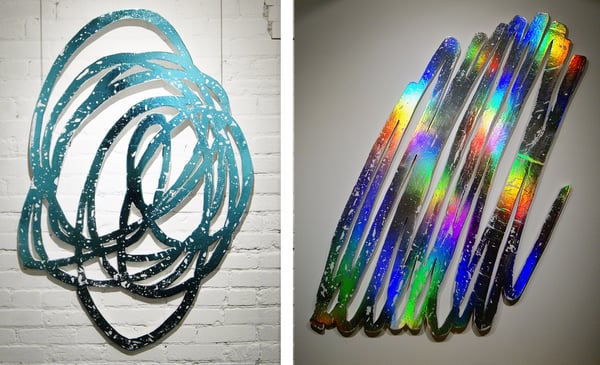 These pieces are based on quick, autonomic marker scribbles - things that would normally be overlooked or crumpled up and thrown in the trash. Left: Look, 35"W x 55"H; right: It's All Here, 46"W x 66"H. Both made from wood, acrylic, and reactive foil.
I love the connection you're making between the freedom of childhood and the maturity of adulthood and how the two riff off of each other. How do you decide the shapes for these pieces?
I'll sit at the table and draw hundreds of scribbles until one just "clicks." The second the marker leaves the paper I know if it will end up being a sculpture. Sometimes it's the first scribble I make, and other times I'll literally make hundreds that won't amount to anything.
I've done this process in coffee shops before and it's always funny to see the confusion on people's faces when they notice me scribbling all over dozens of sheets of paper. I've had a couple people ask if I'm practicing a signature.
That's amazing, and the process also mirrors some of the childlike playfulness of the work. How do you cut these pieces? Are they made by hand or a machine?
These pieces are all hand-cut by me using a jigsaw, which is quite time consuming. I've thought about utilizing a CNC machine, especially when I'm 8 hours into cutting a piece, and my hand is numb from the saw's vibrations... But ultimately, the conceptual focus of the work doesn't pair as well with high-tech computers and machinery, so I avoid machines for now.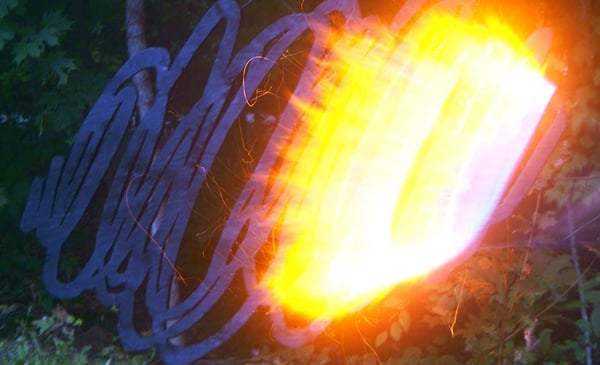 A long-exposure action shot of Nate charring the surface of one scribble sculpture with a torch.
Bravo - the artistry is even more impressive then. Some of your pieces are covered in reactive foil. What is that?
Reactive foil is a bright finishing material that I stumbled across when doing research on different metallic finishes. It's kind of like Mylar, the shiny material big party balloons are made of, and is traditionally used with a heat press on things like greeting cards and posters.
The foil finish adds a super fun, interactive component to the artworks. Individual types and colors of foil react uniquely to light. Some foils reflects their color onto nearby surfaces, while others change color as light touches the foil. It makes the pieces interesting to look at from different angles and locations.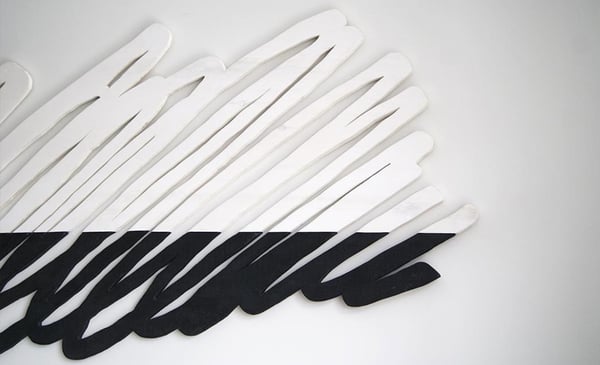 Detail shot of a recently sold piece, which was 96"W x 45"H and made with charred and white-washed, hand cut wood.
What's one thing you want prospective buyers or clients to know about your work that they may not get just from looking at it?
Of course all artwork is open to interpretation. But if a viewer connects with my work, I would ask that they consider themes of empowerment, the realms of possibility, and the importance of simplicity, and to reflect on how these topics relate to their own lives.
Thanks to Nate for the great chat!
Interested in purchasing one of Nate's wall sculptures? See his available works on Indiewalls, and follow him for regular updates.