It's here! The Holidays are in full swing which means the biggest art selling time of the year is happening right now.
Here are a few tips and tricks to keep in mind as you prepare for this art-full Holiday season.
GET ORGANIZED
Demand for art this time of year is high and sales will come easy as long as people know what you have to offer. People are gift hunting and preparing their homes for guests, which means they may also be looking for that perfect piece for that particular wall or person. Make sure that you are easily found and on their radar.
Email Blasts are a great way to keep your work fresh in the minds of potential buyers. Send these regularly and make sure each one entices the recipient to open and retain the information. Keep them simple and make sure what you are offering and how to purchase it are clearly marked. Set dates and reminders to make sure that these release at the best time of day (usually morning).
Organize Your Contacts

Clearly segmented and organized contacts will help you break your audience down and allow you to target specific people.

Understand the competition

manipulate their strategies to work for you. Selling art as an artist is different than selling art as part of a larger corporation (i.e. Art.com and Saatchi Art). However, being familiar with how these larger companies market their email blasts in the runup to the Holidays can give you some inspiration. What words are they using, what kind of offers are they presenting, and how are they speaking to the consumer?

Offers

This can be tough, especially as an artist where every penny counts. But it is the Holidays and people are looking for deals. Create ways of making your consumer feel like that is exactly what they are getting. Free shipping or gift wrapping are great ways to provide a more specialized service. If you can offer discounts, go for it. Keep those offers going and change them up, even through New Years.
Get the look. Optimize the look and feel of your website and social media channels. It is the Holidays after all, don't be afraid to make everything look a little bit more special. Your contact information needs to be easily spotted and make sure you have a clear and recognizable logo.
ALTERNATIVE PRODUCTS
*We understand that making alternative products isn't for everyone, but wanted to share a few ideas we've seen work for other artists.*
Create new ways for your customers to buy from you. Boosting your online shop with smaller products that are easier to sell will increase sales even from people who admire your aesthetic but aren't in a position to buy a large work.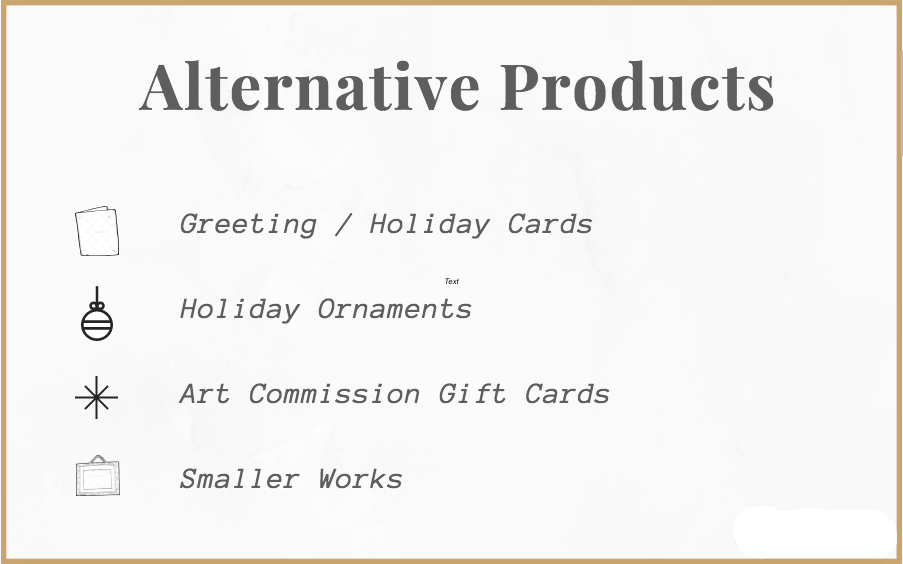 Greeting / Holiday Cards. No matter what you celebrate, December usually signals a card sending frenzy. Why not transform your artwork into card form for one-of-a-kind greetings. You could also use them to send Holiday Cards to your clients. It's a great personalized way to say thanks and remind them that you are still there. You never know, you may get another sale or future commission out of it.
Holiday Ornaments. Turn your work into 3-Dimensional objects that people can hang on their tree or in their homes. Take a look around at the endless amounts of decorations stores sell these days. Make no mistake, people are looking for something a little bit different, handmade, and high in quality; which usually means they are willing to pay good money for it. From tiny canvases to wooden sculptures the options are endless. Want to go one step further? Make a whole set of ornaments!
Art Commission Gift Cards. Art is such a personal choice and it is risky buying art for others. Give the option of a gift card (presented with one of your greeting cards perhaps?) towards a custom piece of work. Set the price and size and advertise it to your former clients and prospective buyers. Not only will it attract new clients but it also might inspire some repeat buyers.
Small Works. Make sure you have a good selection of smaller works. Small limited edition prints or originals are easy gift ideas.
HOW TO FIND BUYERS
Stay Local. As we briefly mentioned above, people love to purchase unique, one-of-a-kind, high quality gifts. Add the word "local" to that list and you have a fantastic selling point. Look to your community and approach selling your art as a small business. There are markets, fairs, and businesses that are seeking vendors or collaborators for the Holiday season. It will also get your work seen by new eyes.
Social Media. One of the best pieces of advice from one of our artists, who is very active on Instagram, was to post as early in the morning as possible. That way, you are sure to appear in people's feeds when they filter through their social media channels. Don't be afraid to up your #hashtag game during this time of year. Get creative - include hashtag mediums, descriptive art terms, as well as Holiday keywords that people will search. Lots of people are turning to social media to find #giftideas, make sure you are one of their options.
And finally...Remember, this is the one time of year where sales come easy. You don't need that fancy sales pitch. Most of the people you will come across are ready to buy and potential clients are looking to be inspired. Capitalize on these opportunities to not only get your name out there but to also make sure that the Holidays are your "art gold rush".