Get to know Indiewalls artist and Master Letterer Jay Roeder. Roeder lives in Connecticut with his wife and a house full of pugs (kinda), he is endlessly funny, and truly a remarkable artist. So remarkable in fact that he just published a book! It's called "100 Days of Lettering" and serves as a manual to teach people how to hand letter. Read on for a look at his skills and a laugh at his candid demeanor.
Jay, I'd love to hear a little about you and your journey to lettering.
Well, first off, I LOVE coffee.
That being said, I'm a Midwestern boy, raised in Minnesota until I went off to college in Connecticut. I've lived in Connecticut ever since I graduated and now that I'm thinking about it, I've lived out here for half of my life, wow. I have always been interested in drawing, all the way back through elementary school where I drew Ninja Turtles on my homework and tests for basically every class. It was a problem when the answers to test questions were: Leonardo head.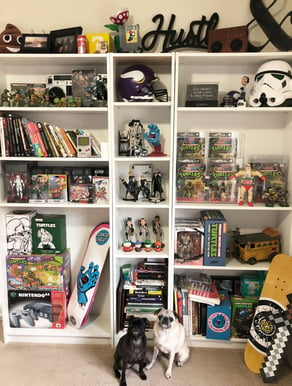 I had always known I would pursue a career in the arts and went on to major in graphic design and illustration. I started hand-lettering as an outlet to work stress, which is something I have always done. Once I started posting artwork to my site I received my first official client: American Greetings, a greeting card company. I still work with them today and will always be thankful to them for hiring me on that first job.
Also, casually important side note … Can I just also say that I am HUGE fan of pugs? My wife and I basically collect them. We're currently up to three pugs: Zoey, Juno, and Lily. Two of them sleep on my desk while I work. Sometimes when I am getting briefed by a client on a conference call they will see a squirrel outside and go absolutely ballistic. Sorry clients.
What, or who, would you say are your biggest influences?
I like to think that my artwork is often a stream of my own consciousness, a visual diary per se. If I walk up to a door that says "PULL" and I "PUSH" that door I will create artwork based off of that ridiculous experience.
I don't take anything too seriously and I think that attitude is reflected in my artwork. It's basically a collection of self deprecating humor and ramblings about how awesome tacos and cupcakes are. And pizza, pizza is definitely also on the list of awesome things, if there was a list.
Stylistically, one of the first artists I was in awe over was Jon Contino. If you haven't checked out his work, please do. Mary Kate McDevitt is another. There are so many talented letterers out there to be inspired from.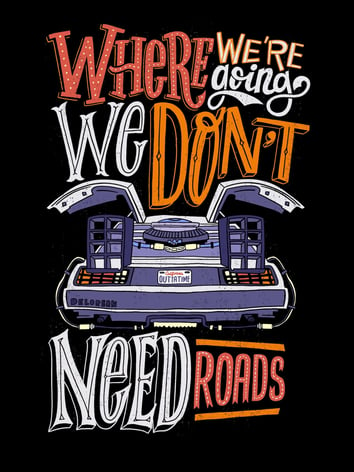 Can you walk us through your creative process?
I like to work with my clients pretty closely. I always start by researching the project and coming back to my client with detailed sketches. Once we're happy with an option I move to colorize the artwork. When the client has selected a color option I create the artwork in a highres format. Stages of approval are very important, in my opinion, and it makes everyone feel like they are a part of the process.
How has your work changed over time?
I think I've just gotten better over the years. Experience helps build style and repertoire.
Sometimes I look at my old work and it makes me squeamish. It is important to always remember that my old artwork has allowed me to get to where I am today. It's a cycle, and I'm sure I'll hate my current artwork 5 years from now. We are all constantly evolving. Damn, that sounded so profound.
Woo Hoo! You have a book coming out!? Can you tell us a little bit about it and where the idea came from?
Holy guacamole. I have a book coming out! It has been a dream of mine to release a book since I started lettering full time. I am so incredibly fortunate that the folks at BlueRedPress and Lark Crafts believed in me.
When I first started hand-lettering there wasn't much information readily available in the form of books from which to learn. My book will fill that void and teach readers how to hand-letter in 100 days. It is made up of 100 daily lessons starting with the basics and finishing up with real-world client styled projects. I had so much fun creating it and I think readers will enjoy it.
It's available at Barnes & Noble, and on Amazon right now, so scoop one up if you're interested!
What was the most unexpected challenge of the book process?
I wanted full control of my book, meaning I would handle the writing, artwork, and page layout design for the full 208 page book. That is a huge undertaking, especially when you consider that I created it in just over three months. I definitely underestimated the amount of time it would take and had to adjust my timelines when I came to that realization. It took all of my time throughout those few months, but it was the most fulfilling project I have ever completed. I enjoyed it so much that I am currently working on a follow-up to my first book.
Would you say this is one of your career highlights?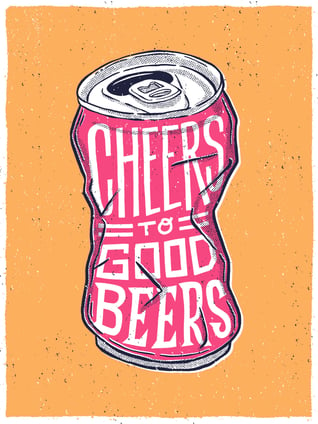 Honestly, this whole becoming a published author thing is still something that is very surreal to me.
Where do you set your sights from here?
Mildly unrelated, but I would love to do more art fairs. I have done a few in the past, and have always had a great experience. I get so used to posting artwork online and never interacting with people about it. One of the best thing about art fairs or galleries is sitting back and hearing people talk about your work - whether it's good or bad, feedback is important.
I would also love to start experimenting with painting my lettering and designs on a large scale.
What artistic rule do you love to break?
Sometimes I think society takes artwork too seriously, as though it all needs to be utterly profound. I like to create artwork that is sometimes anything but profound.
What are some of your favorite tools to work with, and why?
About a year and a half ago I completely transitioned my workflow over to an iPad Pro with an Apple Pencil and it has been a huge time saver. I used to sketch with pencil, and trace my sketch with ink and scan the art onto my iMac. Now I handle every stage of the process on the iPad - no more graphite all over my hands, yahoo!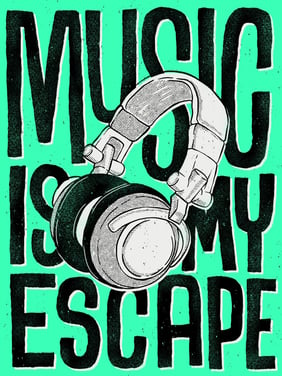 Any recommendations to artists who are just starting their creative journey?
Please please please: make mistakes! You cannot improve as an artist until you commit to creating art on a regular basis, and you will make plenty of mistakes along the way. Don't get discouraged and stick with it.
I have always felt that the most successful artists are the artists who are the most committed. There are an endless amount of talented people out there, but a very small amount that are truly committed. It's basically a lifestyle. Also, drink loads of coffee.
You can keep up with Jay on Instagram, Twitter, and Facebook. Discover his Indiewalls profile and, of course, peep his book!