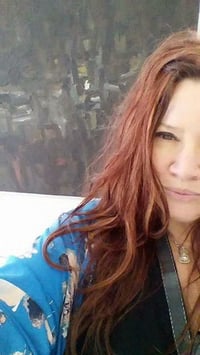 Indiewalls artist Susan Washington has been painting for as long as she can remember—raised among artists in Brooklyn, New York, painting came naturally. The enigmatic, engaging, and vivacious artist, who lives in the Poconos with her artist husband, has a distinctive abstract, modern, and emotive style of art. Her passion and unique aesthetic strikes through her paintings, digital collages, and textiles.
Through Indiewalls, Susan's pieces fill the walls of trendy hotels in Palm Springs, Mexico, and Los Angeles; swanky downtown restaurants in Manhattan; and historic buildings in downtown Chicago. Her mixed media collages and paintings are visually striking yet also soothing, making them an excellent fit for a variety of corporate design projects.
Susan took some time to chat with us about her studio (messy), her loves (the beach, her garden), and her ability to find inspiration in everything (even the bad stuff).
---
Tell us about you. Where are you from?
I'm originally from Sheepshead Bay, Brooklyn. My family moved between Miami Beach and Sheepshead Bay, so I am a beach girl. I love the water, sailing, sand, and sunshine! Now, I live in the Poconos mountains with my British husband, who is also an artist. He actually just built me a little "Mini Ibiza" in our garden…it's very mini but it's as beachy as you can get in the Poconos! So, I'm feeling right at home now and have even been using that area as a studio when it's nice out!
When did your interest in art begin?
From the first time my dad put a paintbrush in my hand! My Italian dad had a love of Asian culture and we had a big tatami room in our home. When I was little, I would sit in there with him for hours and watch him paint. My godmother, who was Japanese, was also an artist and would work in watercolor. I remember her bringing me origami papers and instead of learning the art of origami, I would tear the papers up and collage them into my own "paintings." As a teen growing up in Brooklyn, I would spend most of my weekends in the artsy East Village. Eventually, I went on to work in in the fashion industry. I met my husband years later, and that is when I made a full time career of it.
What was your first work of art?
My first work of art? Ripped origami papers pasted onto papers, of course! The first work of art that I ever sold, however, was a really bad painting, "The Angry Geisha." I was going through a really crazy time in life and took it out on a large board of wood. A friend of mine who was a gallery owner saw it and twisted my arm long enough to get it from my grasp and put it in her gallery. It sold a couple of days later.
Your mixed media collages are unique and inspiring—what inspires your art?
Thank you! I'm inspired by life in general. Even in the worst times (like with my angry geisha), we can find passion and beauty in things we might not expect. I'm thankful for the ability to work hard and to be able to make a living doing something I love so much. And, I've often been inspired by a quote of Picasso's that says "Inspiration exists, but it has to find you working." Some of my best work has come out of not knowing and just playing without expectation in the studio.
How do you begin a piece? Can you walk us through your creative process.
I usually begin my work manipulating digital files of my previous works. I cut, crop. and superimpose until I find a composition or layering that I am satisfied with and use this as my jumping point. If I am working with textile, I will hang up large sheets of fabric on the walls and paint them, wildly and with lots of paint, and water dripping and then let them dry. I transfer my composition onto the canvas with charcoal and then make patterns of the shapes and use that over the dried fabric and cut out my shapes to affix to the surface of the canvas. Other times I will rip the fabric into the shapes I need, creating an interesting edge.
What is your studio like?
It's a mess! But there is good energy—and always a great playlist on, and I love it!
What projects or pieces are you most proud of?
My very last painting "Wild Love" ! Well, it is always my last painting I like best, actually!
How has your work evolved over time?
When comparing my earlier to current works, it's easy a recognizable thread that runs through all my works. There is, however, a constant evolution. I move forward by analyzing each work and bringing away things I have learned from one painting to the next, and that changes the next piece. The larger shifts come when things get too familiar. I like to be pushed out of my comfort zone and when things become mundane I experiment.
What's next for you?
I have a bucket list of things I would like to do and explore at some point in my career. I love working with textile and would like to create large three-dimensional works with textile. I also want to work with wax, which I incorporated in my last oil painting. However, I really want to explore it on its own, dumping buckets of wax on large boards and chipping away at it—uncovering, exposing, using oil as well.
However, my more immediate thought is the actual oil paintings. I love R&F oil sticks, which are highly pigmented oil sticks with a very little bit of wax. It's like smearing creamy lipstick on the walls. Right now, I am moving in the direction of creating works that are more loose, intuitive, and passionate. Though, they are still familiar, organizing shapes and space, and reminiscent of landscapes or urban aerial views. Stay tuned for the results!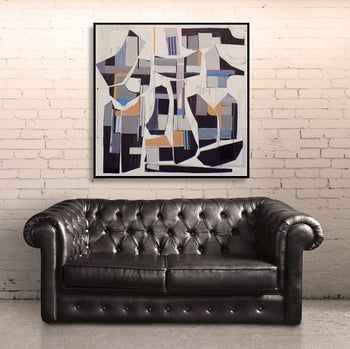 Tell us about your work with Indiewalls, what projects have you completed with us?
I have worked on a few exciting projects with Indiewalls! An interesting project was one of my large scale works that now lives in a hotel in Palm Springs! I supplied Indiewalls with a high-quality digital image and they had a print made on canvas. The canvas was a diptych, almost 15 feet long! Their client wanted the canvas print embellished so Indiewalls shipped it to me. I have to say I was really thrilled with the quality of the print on canvas, it was amazing. It took a bit of time, but I did embellish the canvas and shipped it back out to Indiewalls who stretched and sent it to the hotel for install. It was an excellent project!
Thanks to Susan for connecting with us!
You can find more of her work on her Indiewalls.