Last week, the Indiewalls team set up shop at NY Always Pop Up tradeshow at the Cubico rooftop in the SoHo. Multidisciplinary artist Nick Golebiewski joined the team to create a real-time pen and ink + watercolor illustration of the downtown skyline, with the finished painting going to a lucky raffle winner selected from the group of attendees. Golebiewski, who is based in New York, and known for his cityscapes that explore and demystify urban culture and city life.
With this particular painting, Golebiewski found himself particularly drawn to the the 56 Leonard Street building–colloquially known as the 'Jenga Building'–because of it's dynamic silhouette. "I was very taken by the way the light interacted with the boxy elements." Golebiewski's process typically begins with preparing all the materials, mounting his substrates to board and then launching into his paintings, though he added, "I like to do a loose pencil sketch before I get into the flow of painting to first figure out the composition."
"I'm fascinated by the things that are quintessentially 'New York' and tried to capture this moment in time when things are starting to open up again."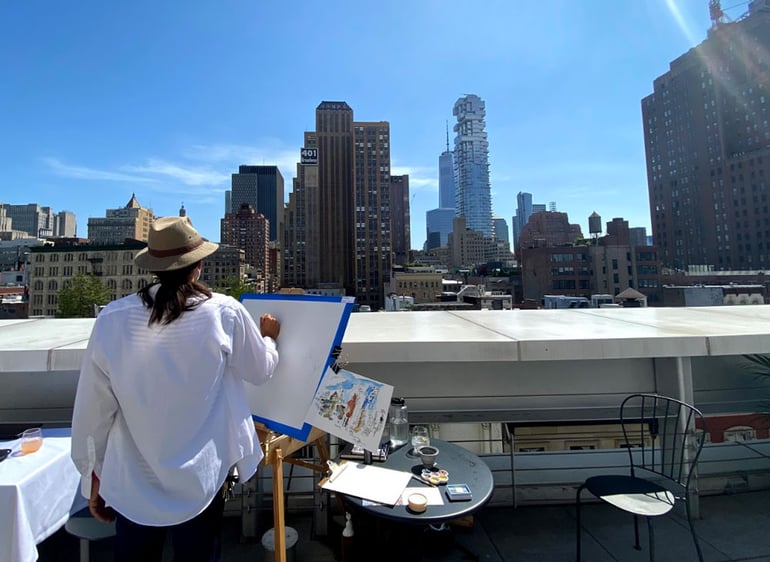 Nick Golebiewski begins painting the downtown New York City skyline at Cubico SOHO.
Golebiewski grew up in Buffalo, NY and studied painting at the University of Buffalo. He also spent time amongst the old masters, studying painting restoration in Florence, Italy. With his ongoing series "Nick's Lunchbox Series," Golumbiewski produces pen and ink drawings of wherever he happens to feel inspired by that day and posts them to his instagram daily. This type of meditative drawing practice helps Golebiewski hone his life drawing abilities and quickness in rendering accurate picture planes.
"I hope that my drawings help spark conversations," said Golumbiewski, adding "I like the idea of capturing this exciting moment in time when social gatherings are starting to happen again." On this recent evening in June, Golumbiewski created a cityscape that pays homage to New York and in composition and color palette, captures the hopefulness of the moment.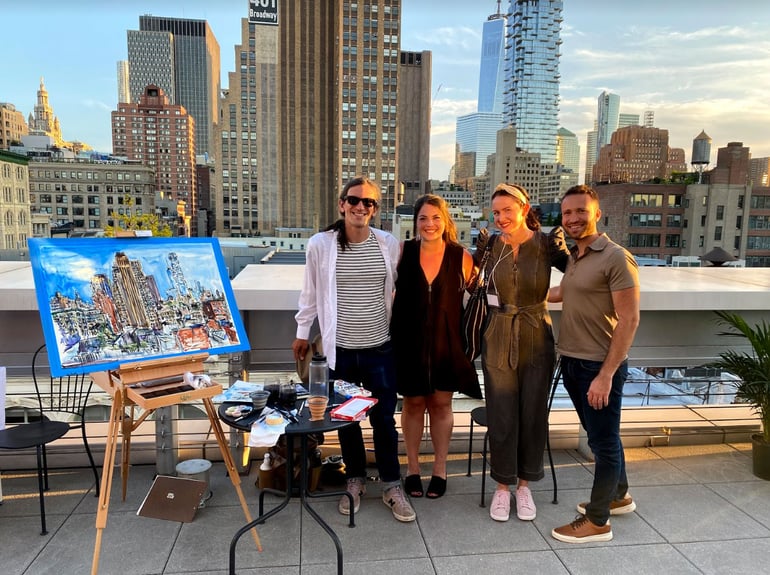 Nick Golebiewski and his finished painting with members of the Indiewalls team.
Follow us on Instagram to learn more about this project and others here.