In the last few years, we've seen a surge of food halls enter major urban areas. Whether a weekday work escape or a weekend afternoon hotspot, one element all these places have in common is their eye pleasing design …. And, of course, delicious food!
Many of these new spots reside in historic buildings, which have been restored by award winning architecture and interior design studios. What's interesting about food halls is that while they might not demand large art packages each of them have unique, artistic features and a few key works that pull everything together. See a few of our favorites below.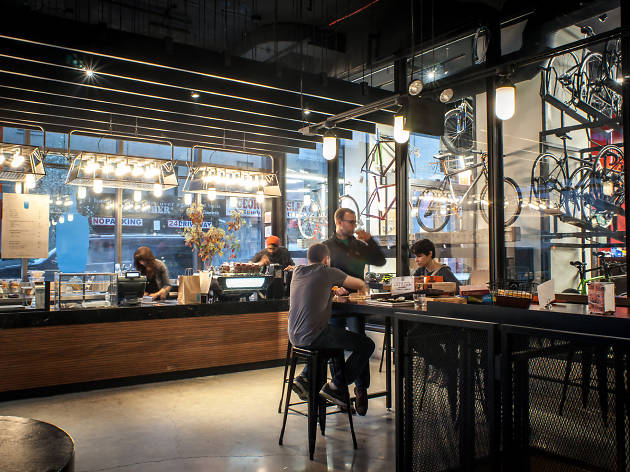 Gotham West, NYC (Hell's Kitchen)
Hell's Kitchen's first food market Gotham West is home to 8 iconic food purveyors of New York. Award winning firm AvroKo not only managed the interior design but also the branding, lighting, and custom furnishings.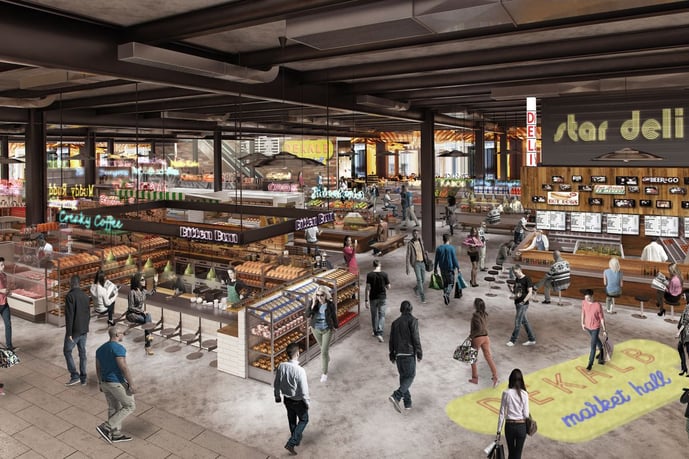 Dekalb Market Hall, NYC (Brooklyn)
Brooklyn's newest foodie destination Dekalb Market sits in the basement of the recently opened Brooklyn downtown destination City Point. COOKFOX was the architect behind this new hit spot while Daniela Perna Designs managed the design of the welcoming food kiosks.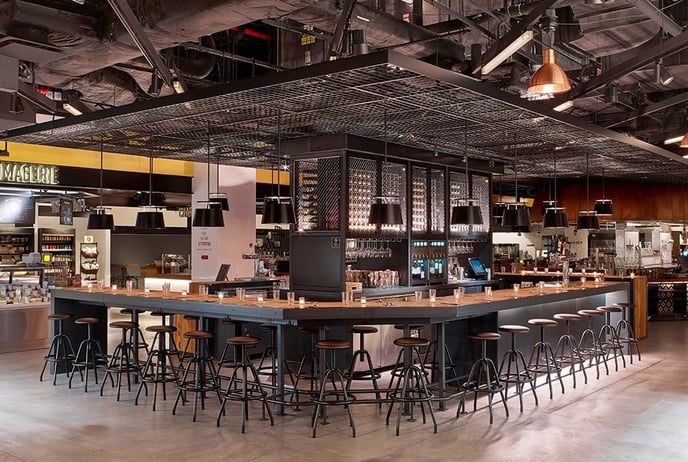 Le District, NYC (Lower Manhattan)
New York's first French themed Food Hall, Le District, is a feast for the eyes and the mouth. Make sure to admire the stunning interiors conceived by Innovation & Design Studio iCrave. They managed the interior design, brand strategy, web design, and lighting to name a few.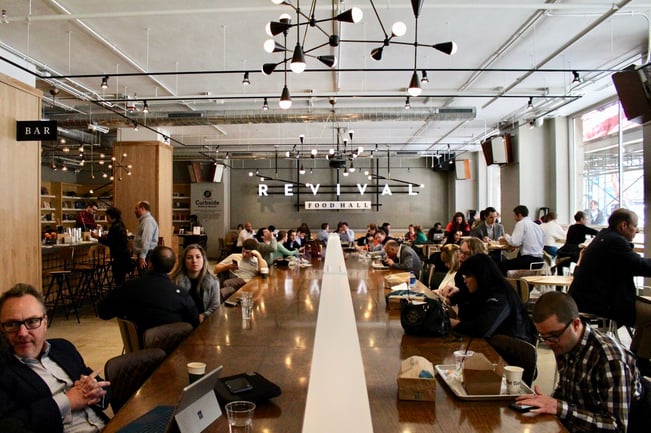 Revival, Chicago (The Loop)
Revival Food Hall boasts all-local dining by some of Chicago's favorite eateries in the form of 15 fast-casual stalls. Located in the basement of the historic 1907 Daniel Burnham-designed building, the famed firm behind Revival's renovation was HBRA Architects.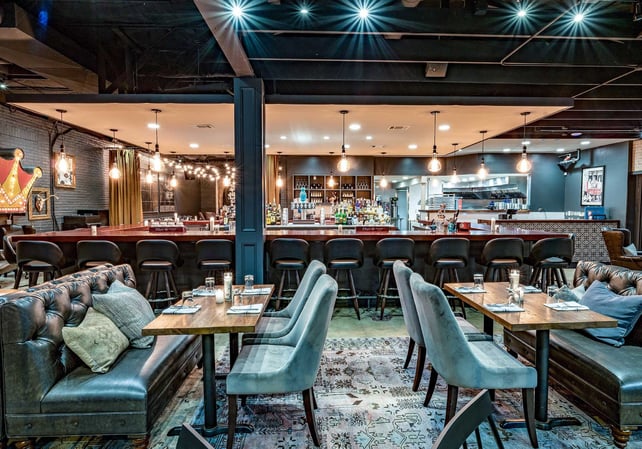 Fareground, Austin
Austin's first food hall Fareground opened to much acclaim just a few months ago in the ground floor of One Eleven Congress. The restoration of this historic space was undertaken by local firm, Michael Hsu Office of Architecture who has managed to transform the space into a lunch time hang out and after hours hot spot.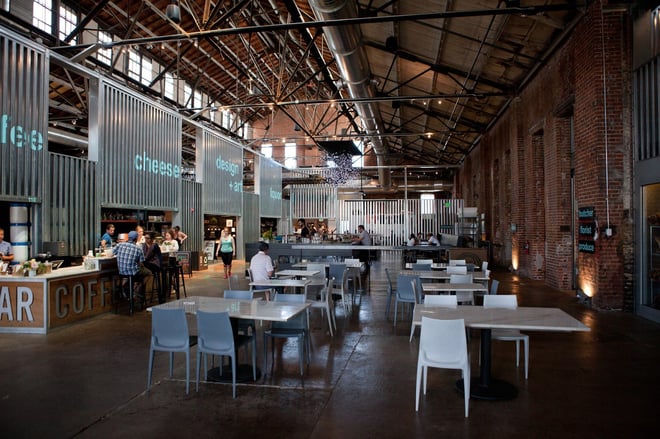 The Source, Denver (RiNO)
The Source Market (and soon to be hotel!) is a mixture of some of Denver's best food and beverage purveyors in the heart of design-forward River North. Brought to life in an old 1880s Brick Foundry, The Source's expansive and rustic interiors came together under the direction of Dynia Architects who served as the Design Architects. (BRS served as architect on record.)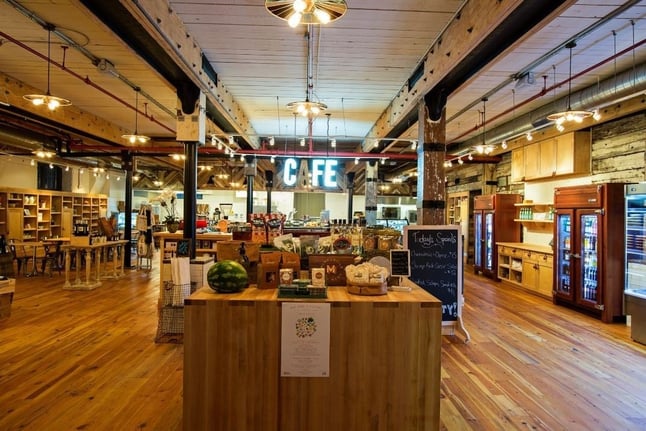 Mercantile and Mash, Charleston
Gourmet Foods Emporium Mercantile & Mash has taken over a historic cigar factory in South Carolina. Visitors will find grab-and-go food, artisanal gifts, and high quality meats and cheeses. David Thompson Architect helped bring this space to life with artistic, rustic elements and an open floor plan.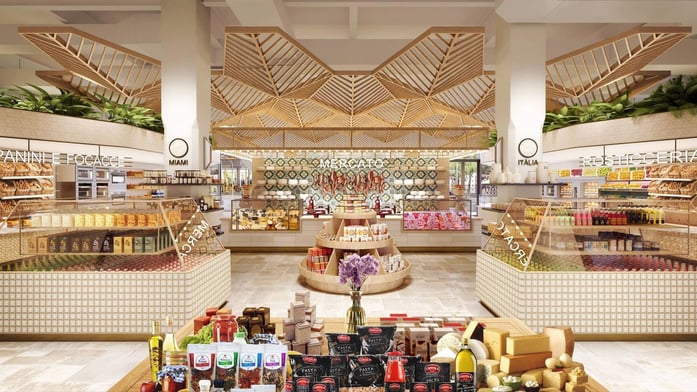 La Centrale, Miami
La Centrale is Miami's largest Italian Food Hall in one of the city's hottest new developments - Brickell City Centre. It features restaurants, markets, bars, stands, and a cooking kitchen. Local firm Urban Robot brought the spaces architecture and interior design to life through the use of natural, understated materials and key artistic moments. Make sure to check out EAST, Miami after a visit to Le Centrale :)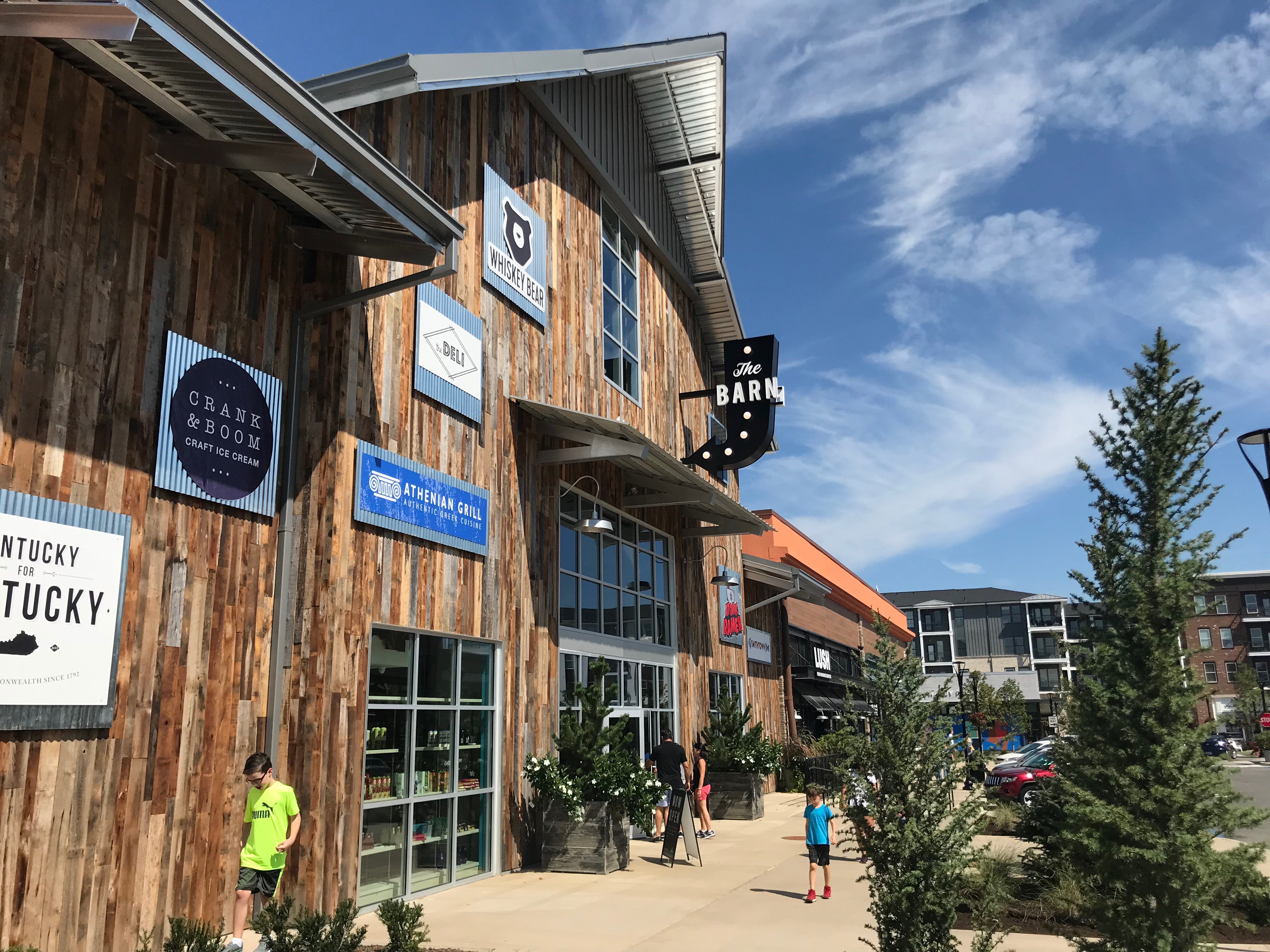 The Barn, Kentucky
Kentucky's first artisanal food hall, The Barn, is located at The Summit at Fritz Farm. The all-local, all-independent food stalls give visitors a taste of authentic Kentucky. Architecture and Design Firm Shook Kelley worked directly with Bayer Properties on bringing this space to life. They put a modern take on historic architecture to create an approachable eatery and hang out for everyone.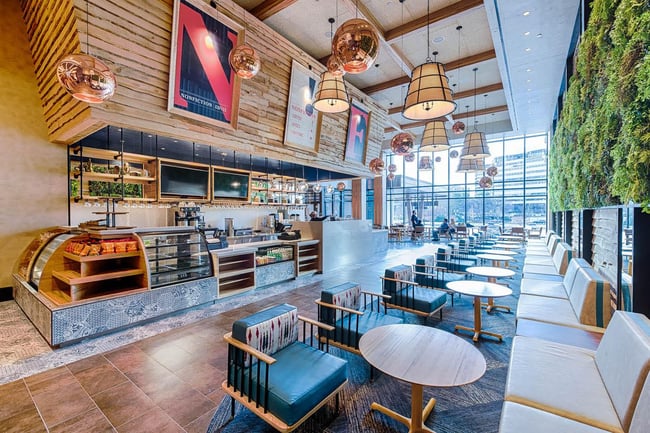 Isabella Eatery, Tysons, Virginia
Located outside DC in Tysons, Virgina, Isabella Eatery brings together dining, carry-out, markets, and specialty stores. Designed by the acclaimed firm Streetsense, Isabella commands a welcoming vibe due to rich materials and jeweled hues that create a space, which is both communal and private depending on where one sits.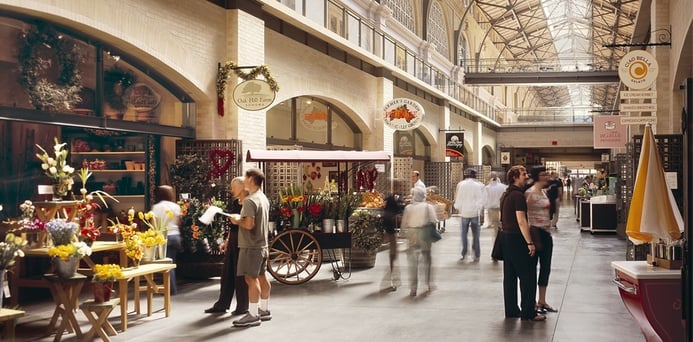 The Ferry Building, San Francisco
As one of the first historic renovations and food halls, The Ferry Building in San Francisco remains an icon of design and mixed-use. BCV Architects were the team leading the renovation of the space as a whole as well as many of the food stalls. Their design approach blends indoor and outdoor seamlessly together.
This is by no means a comprehensive list of food halls in the US and more crop up each year. These highly curated, elevated food courts are soon be a staple of American culture. Let us know your favorites or ones that we missed in the comments!
---
To stay on top of art, design, and tech news OR to learn more about Indiewalls. Sign up for our newsletter below.